The Blackberry Pearl 8100 has evolved past its legendary email functions, adding multimedia support and slimming down by about thirty pounds. Unfortunately, in addition to skipping meals and spending too long in the bathroom, the Pearl ditched QWERTY to fit in that sexy red pocket of yours. After our incredible graphics are done rocking your eyeballs, hit the jump for our freakish but lovable patchwork culled from the undead limbs of other write-ups from the WSJ, PC Magazine, CNet, and NY Times. After the jump, we give you Frankenreview.
Frankenreviewer says:
"All shiny black and silver, the slender Pearl looks more like a fashion phone than a keyboard-equipped smart phone."
"...we had no problems slipping it into a purse or pants pocket, and it felt solid and comfortable to hold up to our ear for phone calls."
"It's much smaller than a Treo, Sidekick or Motorola Q."
- Maybe not MUCH smaller than the Q.
"...the Pearl has a pea-size, illuminated white trackball centered below the screen (like a pearl, get it?)"
"...you can finally move the cursor horizontally without resorting to a key combination."
"It's not that the new setup doesn't allow for one-handed operation; it's just different and takes some acclimation."
- How can all these reviewers talk about one-handed operation with a straight face?
"...the full keyboard has been replaced by a smaller version that squeezes two letters onto most keys..."
"We've never been big fans of the SureType keyboard, and we're still not."
"...has the uncanny ability to guess the word you meant to type in almost all cases."
"...the keys are really, really small. I definitely felt more comfortable typing long e-mails on the Moto Q..."
- If the Pearl had QWERTY, it would have kicked butt.
"There's no belt holster included with the Pearl, but RIM said this is because it's such a slim device that it doesn't warrant one"
- It's for your own good...trust me.
"You can change the white balance and compression rate, but there are no burst, macro, or video modes."
- Macro and burst? Now we are just pouting.
"Though the Pearl supports popular music and image formats, re-encoding video for the phone requires an unfortunate amount of geekery."
"We just wish there were a full-screen mode since...player controls take up the lower quarter of the screen."
"Though revolutionary for the product line, these new multimedia features are pretty basic compared to those of other smart phones on the market."
G/O Media may get a commission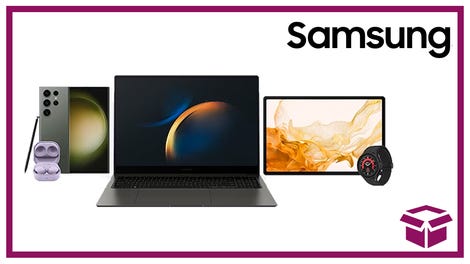 24 hour deals
Discover Samsung - Daily Deal
Stat-Smather:
1.3 MPixel camera, with online storage of photos
Officially can be used as a laptop modem
Quad Band GSM, with EDGE data (even if it's the slow T-Mobile kind)
A 240 by 260 resolution screen
Thinner than a RAZR (But not smaller)
MicroSD expansion, and MP3 ringtone support


Blackberry Pearl 8100 [Gizmodo]
Blackberry Pearl 8100 Reviews [NY Times, CNet, WSJ, PC Magazine]