GoDaddy may claim to be "neutral" about SOPA, the shameful censorship law cheered by a bunch of greedy copyright corpocrooks, but that isn't stopping thousands of people from leaving their dreadful service.
That's great, except GoDaddy seems to be delaying the transfer process, pissing them off even more.
GoDaddy and its owner, Bob Parsons, have a long story of being shameless dickheads. If this is true, this move wouldn't surprise me at all. It disgusts me just the same.
Many users were reporting delays, and now other competing domain registrar companies are confirming the hold ups. According to Namecheap, GoDaddy is trying to stop the transfers by returning incomplete WHOIS information to other registrars. If you do that, you need to contact the domain owner and process every domain transfer manually. That's the reason for the delays.
G/O Media may get a commission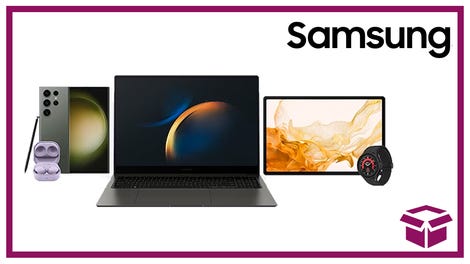 24 hour deals
Discover Samsung - Daily Deal
Namecheap believes that this is not a coincidence, as GoDaddy is doing it systematically, independently of where the domain is moving to:
As many customers have recently complained of transfer issues, we suspect that this competitor is thwarting efforts to transfer domains away from them.

Specifically, GoDaddy appears to be returning incomplete WHOIS information to Namecheap, delaying the transfer process. This practice is against ICANN rules.

It's a shame that GoDaddy feels they have to block their (former) customers from voting with their dollars. We can only guess that at GoDaddy, desperate times call for desperate measures.
(The quote above was originally blockquoted. It was incorrectly formatted, however, because of a typo in the HTML code. Fixed.)
I hope ICANN acts promptly and investigates this. Of course, I expect GoDaddy to claim that it's some kind of technical glitch, but it's going to be hard to justify this "problem" happening right now, just when there's a major exodus of clients. Could this be a coincidence? Maybe. I just don't believe in tens of thosands of coincidences.
Update: Surprise! GoDaddy says that it's not their fault. They say that Namecheap had limited access to their WHOIS service—the directory that relays information about domain's contacts and IPs. The limitation was in place to combat general WHOIS abuse. This resulted in the incomplete WHOIS results that Namecheap and other registrars were seeing.
Because some registrars (and other data gathering, analyzing and reporting entities) have legitimate need for heavy port 43 access, we routinely grant requests for expanded access per an SOP we've had in place for many years. Should we make contact with Namecheap, and learn they need similar access, we would treat that request similarly.
"As a courtesy", they have removed the limit for Namecheap, adding that "there still may be back-end IP addresses affiliated with Namecheap of which [they] are unaware." They also accuse Namecheap for accusing them publicly instead of contacting them first. [TorrentFreak, Namecheap via Twitter]