When the trailer for Gods of Egypt came out earlier this month, everyone noticed a couple of things: it's cast was predominantly Caucasian, which is weird, considering where and when it was set. Now, the studio and director have admitted that they could have done better there.
After the trailer and posters for the film arrived, the film began to generate a considerable amount of controversy for its casting choices. In response, both Alex Proyas and Lionsgate issued statements:
Alex Proyas: "The process of casting a movie has many complicated variables, but it is clear that our casting choices should have been more diverse. I sincerely apologize to those who are offended by the decisions we made."

Lionsgate: "We recognize that it is our responsibility to help ensure that casting decisions reflect the diversity and culture of the time periods portrayed. In this instance we failed to live up to our own standards of sensitivity and diversity, for which we sincerely apologize. Lionsgate is deeply committed to making films that reflect the diversity of our audiences. We have, can and will continue to do better.​​"
This sort of whitewashing is just the latest in a long line of examples: just look at Ridley Scott's film The Exodus, which did pretty much exactly the same thing. It's also not like we're lacking in choices: as one of our commenters (Ghost) noted, Rami Malek (who's currently starring in Mr. Robot), is not only Egyptian, but he played a Pharaoh.
While it's nice to see the admission that they could have done more, there needs to be more done: firm changes to casting choices. This is a change that won't happen overnight, but hopefully, an admission like this will be the first step in a longer line of changes.
G/O Media may get a commission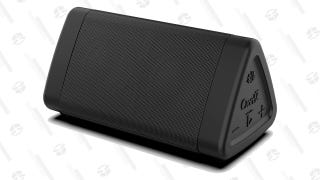 Save 31%
Oontz Angle 3 Portable Bluetooth Speaker
Gods of Egypt will hit theaters in February 2016.