Snot fetishists, your day has come! This week in cult check out the very naked (and very slimy) trailer for Contagion, a glimpse at the Makoto Shinkai's new anime movie, and Tom Holland's (Fright Night, Thinner) latest project.
Twisted Tales
Horror legend Tom Holland has been busy putting together a collection of horror shorts entitled Twisted Tales. Take a look at the lot below — some are quite clever. After spending a lonely night lost on the dark turnpike of New Jersey, we're pissed we didn't think of Fred And His GPS first! Seriously, die evil GPS lady, die.
"Written and directed by Master of Horror Tom Holland, Twisted Tales is a brand new series of short films created in the great tradition of anthology shows like The Twilight Zone, Outer Limits, Tales from the Crypt and Amazing Stories."
Hoshi o Ou Kodomo: Children Who Chase Lost Voices from Deep Below
Twitch has director Makoto Shinkai in the running for "the next Hayao Miyazaki" and from the look of his vivid trailer for Children Who Chase Lost Voices From Deep Below, we have to agree. Here's a short synopsis of the new movie along with a translated trailer. What do you think?
The film centers on Asuna, a girl who spends her solitary days listening to the mysterious music emanating from the crystal radio she received from her father as a memento. However, she embarks on a journey of adventure to meet a boy again, and thus comes to know the cruelty and beauty of the world, as well as loss.
[via Twitch]
Contagion
Previously titled Bio-Slime, we've been excited for John Lechago's film since last April. Sure, at times it seems like an excuse to make some softcore, live-action, tentacle porn, but what isn't these days? All kidding aside, the FX have us on the edge of our seat, and the rule around these parts is: the more snot-monster-hive-mind-sex-play the better.
G/O Media may get a commission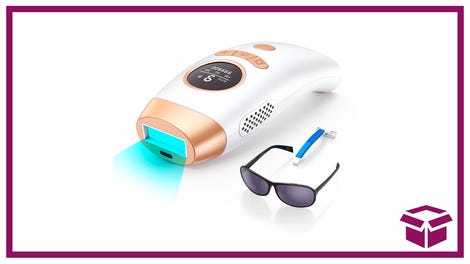 58% Off + Coupon
IPL Hair Removal Device
FYI: THIS TRAILER IS NOT SAFE FOR WORK.
Hinnon Valley
Filmmaker Rick Greenwood has put out a trailer for his zombie short Hinnon Valley. Two ladies and a band of military folk wage war against their town of recently turned zombies. We don't know much about it other than Dread Central's report that the Living Dead Lights can be heard in the trailer and provide some tunes for the film.
An outbreak of a deadly virus takes over the small secluded city of Hinnon Valley. A woman and a young girl team together to stay alive from the cities flesh eating inhabitants and the malicious military presence that lurks around every corner.
[via Dread Central]
Snow Blind
Many moons ago, we reported on the post-apocalyptic snow Western with bikers flick, Snow Blind. In the trailer, there was a lady dressed in leather, flying on her motorcycle, screaming and shooting in the snow. Needless to say, we were interested. Now you can watch the entire thing, right here, right now.
Synopsis:
The setting is a parallel universe in which earth has been hit by a second ice age in the middle of the 20th century, which is a great excuse for having cowboys riding around on heavy motorbikes and toting machine pistols.