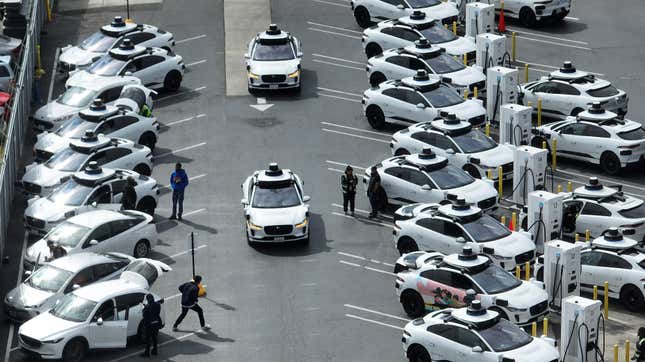 General Motors and Google parent Alphabet are silently pushing the city of San Francisco to expand the number of beta-testing self-driving vehicles allowed on the road. In protest, hoards of city denizens have figured out a way to combat the multi-billion dollar companies' high tech, AI-driven cars: the humble orange traffic cone.
No Google AI Search, I Don't Need to Learn About the "Benefits of Slavery"
For more than a week, the online protest group Safe Street Rebels has promoted that anybody walking around the city by the bay who spots an empty Cruise or Waymo vehicle should place a traffic cone on its hood. The group has posted a promotional video of locals doing just that, an action that seems to stop the cars in their tracks. The group started their protest in the lead-up to a hearing from state regulators on expanding self-driving car's access to SF streets. The hearing was scheduled for Thursday, but on Tuesday, the California Public Utilities Commission delayed the decision until Aug. 10.
"It's really fun, and anyone can do it," the group's video said. The city's MTA told Local station KRON4 that each time a cone is placed on a vehicle a company maintenance worker needs to reset the vehicles' systems.
In addition to the multitude of reported traffic hiccups caused by Waymo and Cruise cars, the group also complained that the cars are further promoting more car traffic, rather than promoting walkable space or public transit. Videos have also shown driverless cars jumping in front of busses and causing more than a few near-misses. KRON 4reported that the San Francisco Fire Department noted self-driving cars have impeded emergency vehicles 66 times this year alone.
Protesters also mention their concerns that these AI-operated cars are just another option for more police surveillance. A Bloomberg report from last month showed San Francisco cops have requested self-driving car footage at least 10 times since they've been on the road.
Waymo told Gizmodo in an email that "Not only is this understanding of how AVs operate incorrect, but this is vandalism and encourages unsafe and disrespectful behavior on our roadways. We will notify law enforcement of any unwanted or unsafe interference of our vehicles on public roadways."
Curise spokesperson Hannah Lindow said "Cruise's fleet provides free rides to late-night service workers without more reliable transportation options, has delivered over 2 million meals to food insecure San Franciscans, and recovers food waste from local businesses. Intentionally obstructing vehicles gets in the way of those efforts and risks creating traffic congestion for local residents."
The upcoming CPUC vote would expand the number of self-driving cars on SF past the current 100-fleet limit. It would also allow these vehicles to charge customers while they're out and about until midnight. Paris Marx on his Disconnect blog quoted one of the anonymous activists who said the regulators' vote delay showed that the protest and outcry against both companies was proving effective. The vote had previously been delayed from June 29.
Last month, reports came out about a May incident where a self-driving Waymo car killed a dog. Neither the vehicle nor a safety drive inside the vehicle stopped in time as the dog ran out in front of the vehicle.
The cars have been spotted interfering with bus traffic on city streets, making illegal turns, or otherwise acting as a inconsiderate, ill-considered menace to other drivers. Though the two self-driving companies haven't contained their operations to San Francisco. Waymo announced back in May it was expanding the range of its self-driving taxi fleet in Phoenix, Arizona. At the same time, there has been little to no movement on more regulations for AI-driven vehicles. Last year, a pair of bipartisan congresspeople set up their own Autonomous Vehicle Caucus to try and drive more attention toward self-driving cars.
Update 07/12/23 at 12:06 p.m. ET: This post was edited to include comments from Waymo and Cruise spokespeople.