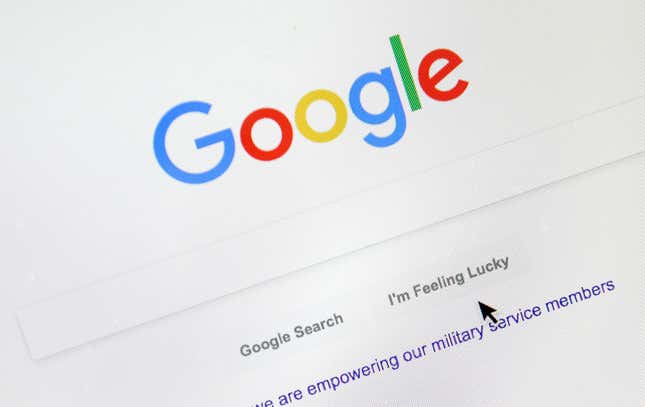 Google is just plain tired of all your grammar flubs in Search. The company announced Monday it had added a simple grammar check feature into the world's largest search engine, though you won't be using it to shore up any writing you want to show someone else.
No Google AI Search, I Don't Need to Learn About the "Benefits of Slavery"
When users type a sentence into Search, they can now add a note to "grammar check," "grammar checker," or "check grammar." The search should include a top result right below sponsored posts that corrects simple mistakes. Google then lets users copy the sentence to clipboard. The feature was first spotted by 9to5Google, and the company now has a fact page about the system. The in-Search spell check is only currently available in English for now.
Google noted that the AI systems that analyze users' text "might not be 100% accurate, especially with partial sentences." In our own tests, the grammar check is, in fact, not very accurate. I type in "Gramar check I tought I saw a putty cat," and Google's search automatically changed it, then the AI claimed that the sentence was accurate, though it rewrote the sentence to "I thought I saw a pooty cat."
The system seems to refuse to grammar check sentences with certain proper nouns. The system will grammar check a sentence with celebrities like Tom Brady typed in the search bar, but it seems it won't check anything with companies like Apple, Salesforce, or Google. If I type "There is too many tech layoffs this past year," Search corrects it. If I instead write "There is too many tech layoffs at Google this past year," then the system does not correct it.
Google did note that the system would not check the grammar of dangerous, harassing, hateful, violent, or vulgar content. The system did restrict any grammar checks for both NSFW prompts as well as meaningless insults when we tested both. And yes, it is only an open beta, but it seems like a rather strained use of Google's AI systems considering spell check has been a part of Word-like software for decades now. Gizmodo reached out to Google for comment about its grammar check limitations, but we did not immediately hear back.
The grammar check works on all users' browsers, even those not currently enrolled in the Search Labs beta test for the company's generative AI like Bard. Last week, the company added several new features to the Search Generative Experience (SGE) beta, with a stated faster generation speeds and new publish dates included next to each reference link. The system also now shares more images and videos based on users' prompts.
The SGE still will not grammar check users' prompts. Instead, it will try and sell you on other grammar tools that could check the sentence, including Google Docs. Why place this limitation on SGE is one open question of many, but it's not like you can wholly depend on AI for completely accurate spell check. You can put the incongruous sentence "Crunching on cereal, the bowl I ate from had a paisley design," and Google's search will simply not show a grammar check. We put the same sentence into ChatGPT, and the system claimed it was correct, despite the glaring inversion issue.
I wrote this article in Google Docs, and even that system failed to pick up on these and other grammar issues. Despite Google proclaiming modern AI's capabilities, it still seems it's unable to equally match a trained editor even on its best days.