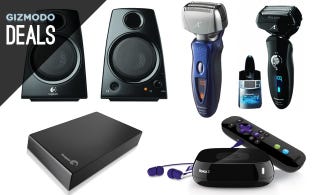 We've dug up great deals on a nice variety of products today, from cheap but popular Logitech computer speakers, to high-end shaving gear. And of course, who wouldn't like to get $50 off a $100 purchase at Advance Auto Parts? That's like half off a new battery!
---
Everyone needs a decent set of computer speakers, and this 4 star-rated set from Logitech delivers excellent bang for the buck at just $13 today.
---
Astra 8000mAh Ultra Slim Aluminum External Battery | $13
---
The Panasonic Arc 4 finished second in Gizmodo's ranking of the best electric razor, and today represents a rare chance to score it for under $100 on Amazon. The step-up Arc 5 model is also on sale today, and adds an extra blade, multi-flex pivoting head, and an automatic cleaning and charging system.
---
Monoprice's 5.1 channel home theater speaker system is one of tech's biggest bargains at $91, but today, you can get the entire set for only $75 from Rakuten. If you have even an inkling to set up surround sound in your home, this is a no brainer. If you're a frequent Rakuten shopper, be sure to use promo code SUPERTECH for some extra points as well.
Pickier consumers may prefer the Energy Take 5.1 Classic Home Theater System, on sale today for $300. This system carries excellent user reviews and a Wirecutter recommendation, so you can't go wrong.
---
Starting April 17, Amazon is raising the price of Amazon Prime by $20 per year, up to $99. Even at the new price, it's still the best deal in tech, but non-members can lock in a year of the service at $79 if you sign up now.
If you are already a member, and your subscription won't lapse in time to re-up at $79, there is a workaround to secure another year.
---
refurb Roku 3 | $70
---
SONOS products rarely go on sale, but today on Amazon, you can get up to $40 in store credit back when you purchase select speakers and accessories. Check out Gizmodo's review of the PLAY:1 if you need a better idea of how this system works, and Android users can download the newly-refreshed controller app starting today.
---
This is one of the cheapest prices we've ever seen on a 4TB external. Grab one before they're gone.
---
If you own a car, odds are, you can think of something to spend $100 on at Advance Auto Parts, whether it's a fresh battery or a new sound system. When you order online today, you can save $50 with promo code WD12.
Update: It looks like this deal was limited to the first 1,000 customers, though you may be able to get $40 off $100, so it's still worth a shot. In any event, you CAN get 15% off most items in their online store, plus a $25 voucher mailed to you if you spend $50 or more using coupon code MAC9. Depending on what you're buying, that might be worth more than $50 anyway.
---
Get 15% off any one item at Gamestop
Use code PAYPAL15 to get 15% off almost anything at Gamestop, combine with code SAVER for free shipping. This obviously isn't going to work on consoles, but will work on pretty much anything else, including pre-orders and collector's editions. This is one of best coupons a console game retailer has ever offered. [Gamestop]
---
Time to boldly pay less than any man one has paid before. The first five remastered seasons of Star Trek: The Next Generation on blu-ray are all discounted today, hitting some of their lowest prices so far. It's going to be a long long time before these sets ever become what we consider cheap, so grab them while they're within reach. [Amazon]
---
Be sure to head over to Kotaku to nominate your chair of choice.
---
Storage
Power
Headphones
Home Theater
TVs and Projectors
Media Players
Sound and Accessories
Phones and Tablets
Computers
Displays
Speakers
Networking
Photography
Apps
iOS
Android
Entertainment
Books
Gaming
Apparel
Home
Fitness
Inventory
---
This post is brought to you by the Commerce Team, a dedicated group of deal hunters and product enthusiasts. We operate independently of Editorial to bring you the best bargains every day, share our favorite products with you, and ask you about yours. When you buy something we recommend, we may also get a small share of the sale. We welcome your questions and want your feedback.