If you've filed tax returns in South Carolina sometime since 1998, you might be in a little bit of hot water. An unidentified, foreign hacker has gotten into the state's Department of Revenue, pilfering around 3.6 million social security numbers, and 387,000 credit and debit card numbers. In other words, no small haul.
It's a pretty devastating, wide-reaching hack. South Carolina Governor Nikki Haley described the situation this way:
The number of records breached requires an unprecedented, large-scale response by the Department of Revenue, the State of South Carolina and all our citizens.
In the wake of the attack, Haley has assured citizens that the exploited security holes have been patched, and steps will be taken to ensure that this kind of break does not happen again. It's a good move, but you might say it's too little too late. As for the person who pulled off this theft? Haley "[wants] this person slammed against the wall." Efforts are currently underway to find this person—who authorities are certain is located outside the U.S.—by the FBI and the U.S. Secret Service. You can bet cyber-security will be a bigger issue from here on out.
Anyone who believes their social security number is at risk should call 1-866-578-5422. If you're an (un)lucky winner, you'll be eligable for a free year of identity theft protection via Experian's ProtectMyID service. No one can get your Social Security number back though. [WLTX via The Verge]
G/O Media may get a commission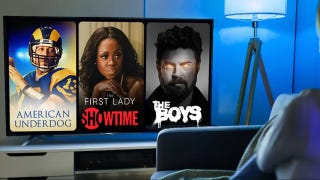 UNDER $1
99¢ Prime Video Channels