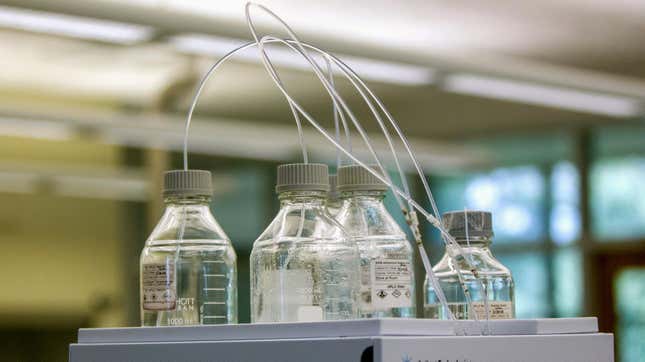 The U.S. ecosystem is riddled with PFAS. And a new study released this week by the U.S. Geological Survey (USGS) revealed that these toxic chemicals are in almost half of the country's tap water.
Biggest Forest Fire in New Mexico History
This is the first time a government agency has tested for and compared PFAS found in private and public water supplies throughout the country. 45% of the locations tested positive for PFAS chemicals. This stands for per- and poly-fluoroalkyl substances. They're also commonly known as 'forever chemicals' because they don't break down over time in nature or in the human body. It is also used to describe over 12,000 different chemicals that can be found in everyday items like packaging and cosmetics. The use of these chemicals has been linked to various public health concerns, including cancer and birth defects.

The USGS tested for 32 PFAS chemicals in kitchen sinks across 716 locations. Researchers did this from 2016 to 2021. At 269 of the locations, the water was sourced from private wells, and 447 of the locations tested used public water. Many of the positive tests showed that the water tested has several forms of PFAS, the median amount of the chemicals tested for a lot of the positive sites were two types of PFAS chemicals, according to the study. Two pervasive forms of PFAS, which are PFOA and PFOS, posed the highest human exposure risks from tap water.

Sadly, this risk is not distributed equally among the nation—most PFAS exposure was found near urban areas throughout the country. Chemical waste facilities and factories are more likely to be located in or near cities, raising the risk of exposure for people who live there. "The study's results are in line with previous research concluding that people in urban areas have a higher likelihood of PFAS exposure," a USGS statement said.

There are some steps that individual households can take to improve the quality of their tap water. Research from Duke University has found that at-home filters can remove some PFAS from drinking water, but they don't completely remove all of the chemicals from the water. And personal filters don't address the larger problem, which is the fact that companies are allowed to use PFAS in the first place, years after the public has known that major corporations have lied about the dangers of these chemicals.

The federal government is taking some steps to prevent future PFAS contamination. Just this year, the U.S. Environmental Protection Agency announced a proposal to regulate PFOA and PFOS. Some local governments have begun pushing for stricter regulations, but there is currently no federal limit for PFAS chemicals in drinking water.

3M, one of the country's largest PFAS manufacturers, recently said it would stop producing forever chemicals by 2026. Retailer REI also recently announced that it would ban all PFAS from its items including clothing by 2024. Major companies including DuPont and 3M have recently agreed to pay out billions of dollars in settlements due to the use of forever chemicals in their products. But this comes a little too late. Major manufacturers have known about the public health risks their products posed to the public for decades. The chemicals are already in our environment, the exposure risk will continue to persist until stricter regulations are put in place throughout the country.
Want more climate and environment stories? Check out Earther's guides to decarbonizing your home, divesting from fossil fuels, packing a disaster go bag, and overcoming climate dread. And don't miss our coverage of the latest IPCC climate report, the future of carbon dioxide removal, and the invasive plants you should rip to shreds.