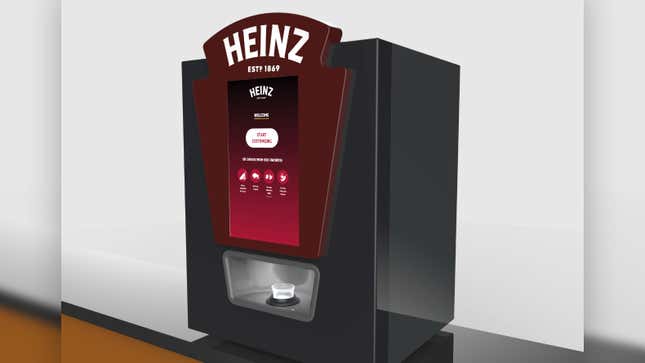 With its Freestyle soda fountain machines, Coca-Cola empowered fast food patrons to come up with their own perfect mix of the company's various fizzy drinks. With the Heinz Remix, Kraft Heinz wants to do the same thing with condiments, letting restaurant customers create their own pre-mixed custom dipping sauces with just a few button presses.
Does Beyond Meat's Plant Have a Mold Problem?
If you haven't experienced them yet at a food court, a fast food joint, or at a movie theater, Coca-Cola's Freestyle fountain drink dispensers (which were co-invented by Dean Kamen, the father of the Segway) replace a counter full of separate beverage dispensers with a single machine featuring a large touchscreen display. Customers can choose what Coca-Cola product they want, with some machines offering well over 100 different flavors, or create their own custom mixes with just a few screen taps. The only limits are a customer's imagination and the resilience of their taste buds.
The Heinz Remix is being introduced at this weekend's National Restaurant Association Show in Chicago, and could be arriving in select restaurants by the end of this year as part of a trial program to see how the machines land with customers. A touchscreen interface is used to select a base sauce: ketchup, ranch, Heinz 57 sauce, or BBQ sauce, which can then be enhanced with other flavors, which currently include jalapeño, smoky chipotle, buffalo, and mango, with three levels of intensity. Eventually, over 200 different flavor combinations will be available, without requiring customers to mix their own.
These types of machines come with more upfront installation costs than a simple ketchup pump, and as anyone who's come across one that was out of order will know, they have their own unique maintenance challenges. But besides offering customers more dipping sauce choices without requiring restaurants to find room to stock a wider variety of sauce packets, the machines allow companies like Coca-Cola and Kraft Heinz to collect data on what beverage or sauce combinations are trending. Insights provided by Coca-Cola's Freestyle machines resulted in new bottled flavors like Cherry Vanilla Coke being introduced nation-wide. Maybe if Mango Ranch Ketchup becomes wildly popular, you might one day see it showing up on grocery store shelves in a squeeze bottle.