TNT is going into production on The Last Ship, a TV show based on William Brinkley's 1989 novel about a U.S. Navy vessel that survives a global catastrophe. (In the book, it's a nuclear war. But in the TV show, it's something more complicated. Scroll all the way to the bottom to find out what.)
Michael Bay is producing, Jonathan Mostow (Terminator 3, Surrogates) is directing, and the first castmembers were just named. So what's this show really about? And just how cheesy and over the top will a Michael Bay TV show about the U.S. Navy be?
We read a ton of script pages from the pilot, released for casting purposes, and this is what we found out. Spoilers ahead...
Top image: Getty Images.
So here are the main characters in Last Ship, along with who's playing them according to Deadline:
Captain Chandler (Actor Unknown): The captain of the U.S.S. Nathan James tries to hold his crew together after everything is destroyed, telling them in a moving speech that they're the "most courageous and resilient crew in the United States Navy," and they will prevail as long as they believe in themselves as much as he believes in them. But he's soon facing a mutinous XO, who wants to go ashore to help some sick people — and possibly go AWOL altogether. Meanwhile, Chandler's wife and two kids are hiding out at his father's cabin, and Chandler gets a message from her which mentions the power grid is down and there are roving militias everywhere. The Speaker of the House has become acting President, and Chandler's mission may be the last chance to save humanity.
G/O Media may get a commission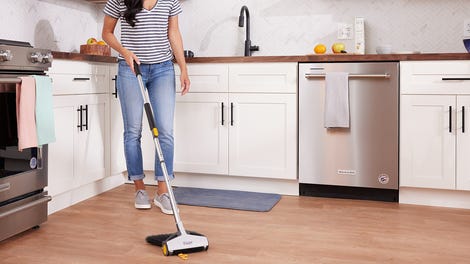 BOGO 50% Off
Flippr - BOGO 50% Off
CMC Hugh Jeter (Charles Parnell): The Command Master Chief believes in the Captain, and refuses to let one of his men go AWOL with the XO. He goes so far as to threaten to shoot a sailor who attempts to leave the ship without permission. And when the captain gives his big inspirational speech, Jeter asks, "Permission to salute the Captain?" Permission is granted.
Danny Green (Travis Van Winkle): The leader of a small group of Navy SEALS aboard the Nathan James. He's involved with Lt. Jackie Makena (see below), and he's one of the people who leaves with the XO to go help a group of survivors who are suffering from some kind of sickness.
Lt. Alisha Granderson (Christina Elmore): She's the one who co-steers the ship, according to Deadline. She's worried about her loved ones back home, as everything seems to be falling apart.
Lt. Jackie Makena (Michaela McManus): She runs the CIC and is in charge of missile deployment, and she helps to shoot down some Russians who come attacking at a bad time. When her boyfriend Danny goes off with the XO, she gives him her sidearm, even though she disapproves of his decision.
Rachel Scott (Unknown): She's a "paleomicrobiologist" who travels aboard the Nathan James to the remote and icy Barents sea, to do some mysterious experiments. And it sounds as though she's in charge of trying to come up with a vaccine for the mysterious pandemic that's killing everybody. At one point Rachel explains that 14 months ago, there was an outbreak of a "virus of unknown origin" outside Dar Es Salaam, Tanzania, which killed everyone. Six weeks later, it struck rural Bangladesh. When Scott saw how quickly the virus was mutating, she realized they had to track down the source — in the Arctic. Where the virus "came from deep in the permafrost, where it lay dormant for hundreds of thousands of years." Until global warming. And now the birds are carrying it and spreading it to the human population. It's spread like nothing anybody's ever seen — and Dr. Scott and her assistant are the only ones who can stop it.
Quincy Tophet (Sam Spruell): Rachel's assistant, who helps her dig in the ice for samples.