The Walking Dead spinoff Fear the Walking Dead is going to look at how different family units operate at the beginning of the zombie apocalypse, and one of those families will feature a Salvadorian immigrant and his first-generation American daughter, examining the American dream in the Walking Dead world.
During a roundtable press interview at San Diego Comic-Con, The Walking Dead and Fear the Walking Dead executive producer Gale Anne Hurd explains that the key thing that distinguishes the spinoff show is that, instead of focusing on a former police sheriff and his tribe, Fear the Walking Dead looks at ordinary people with ordinary jobs coping with the growing apocalypse. Among those people is Daniel Salazar, played by Rubén Blades, a barber who came to Los Angeles from El Salvador years ago with his wife:
We'll deal with the immigrant experience, immigrants who come here for a new life and what they want for their children, to have a better life than they did. That has all changed irreparably.
Blades likened the series to October 11th, 1492, the day before Christopher Columbus landed in the New World. After all, we're seeing a time four or five weeks before The Walking Dead's lead protagonist Rick Grimes woke from his coma. And as for Daniel Salazar, Blades said:
He came to the country like many Latinos come to the country, because of political issues in the country of origin. He's trying to reinvent his life, basically.... So when this happens, we are forced to relive the issue. Some people are better prepared than others and don't know this.
G/O Media may get a commission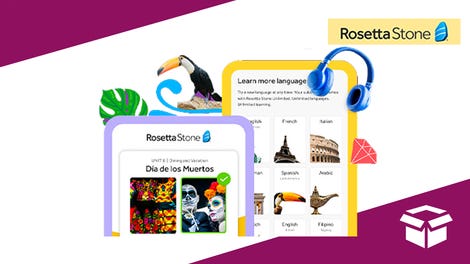 Extra 20% off
Rosetta Stone Lifetime Subscription - All Languages
Mercedes Mason plays Ofelia Salazar, Daniel's daughter and a first-generation American who only learns the truth about
Ofelia is the daughter of immigrant parents. So she has a lot of allegiance to them. So she loves her parents, obviously, and she wants what's best for them. I come from immigrant parents, so I know even growing up, you feel like you have to cater to them, take care of them. English isn't their first language, so you end up defending them a lot and you want to protect them.

So when this happens, when people start turning, she doesn't know who she can rely on, because she doesn't start discovering things about her parents — she gets an idea that maybe they aren't who they said they were and maybe some of the reasons they left El Salvador, she was unaware of. So she's sort of stuck in this world now where yesterday, October 11th, she had every sort of opportunity and hope and great future, and now she's literally questioning everything. Her world is tumbling and she's grasping for straws, trying figure out who she is. It's almost like puberty again, figuring out who you are and what you're capable of and who you can rely on.
The Walking Dead has a lot of characters who find that they have unexpected strengths (and weaknesses) in the post-apocalypse, and Blades hints that this will be a major theme of Fear the Walking Dead as well:
It's interesting that the first person who realizes what is going on [with the apocalypse] is a drug addict. I thought that was very interesting. It wasn't the school teacher or the counselor.
We're very curious to see how well prepared Daniel Salazar is when it comes to surviving the undead.