Jules Verne's novels may have done as much as anything to spur man to new heights—literally.
In 1862 Verne had much to do with a new society founded in France. Its founders were an aristocrat, a sailor and a journalist-photographer. As disparate as were their backgrounds and professions, they were as one in their belief in the future of heavier-than-air flight. They founded their group to propagate this prophetic belief.
The new organization began life un­der the ponderous title of Societe d'encouragement pour la locomotion aerienne au moyen d'appariels plus lourds que l'air. This was quickly short­ened to the Societe d'aviation. This was, incidentally, the first use of the word "aviation" in the name of an organiza­tion. It was in fact a word coined by one of the society's three founders, the sailor, Gabrielle de la Landelle, inventor (on paper at least) of the great "Steam Air Liner."
His two co-founders were the Vicomte de Ponton d'Amecourt (pictured), who had actually built a working model of a steam-powered helicopter, and the flamboyantly eccentric "Nadar." Nadar was the pseudonym under which Felix Tournachon worked as one of the conti­nent's, and indeed history's, great pho­tographers. Among his many accomplish­ments was the invention of the photo-interview and the first aerial photo­graph. By 1862, his energies had turned to the problem of aerial navigation.
G/O Media may get a commission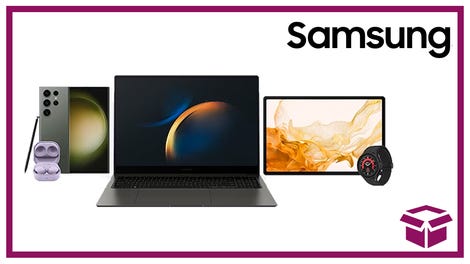 24 hour deals
Discover Samsung - Daily Deal
By the end of the society's first year, Jules Verne had also become an ac­tive member, as its recording secretary. The society had also drawn other distin­guished members, including Verne's close friends George Sand and Dumas, father and son.
Aviation historian George Gibbs-Smith described the Societe d 'Aviation as a "syndicate'' dedicated to the promotion of heavier-than-air flight, adding that Jules Verne was one of its "most power­ful aerial propagandists.'' By its second year the society was publishing its own magazine, Aeronaute, with contribu­tions by its members. In an 1863 article (for Musee des familles), Verne conclud­ed: "Then let us predict the helicopter, and take for our motto that of Nadar: all that is possible will come to pass." In response to this piece, de la Landelle wrote: "[Jules Verne] has given to aeri­al navigation an article which could not have come from a pen more competent or far-seeing than his." A far-seeing comment itself, as Verne had only just recently published his first novel, Five Weeks in a Balloon.
Nadar, like de la Landelle, had invent­ed a helicopter—on paper.
Fascinated by the possibilities of rotary-winged flight, Nadar hoped that the society would be able to raise funds to build a working model. In order to do this, Nadar built— ironically—the world's largest balloon, appropriately named Le Geant.
Many of Le Geant's features mirrored those of the title balloon in Verne's nov­el—illustrating how closely Verne had been working with Nadar's schemes.
Meanwhile, d'Amecourt was building a working model of his helicopter. It was exhibited at the London Aeronautical Exhibition of 1868, and was a wonder of engineering and workmanship with boiler and frame of aluminum and steam cylinders of bronze.
Jules Verne was busily soaking up all of the information and theory that he could from these three men and their enthusiastic associates. Their work drew correspondence from aeronauts from all over the world, eager to share their dis­coveries, plans and theories. Verne be­came familiar with the helicopter designs of such inventors as Cossus, Bright, Pomes and de la Pauze, Acher-bach, Dieudade, Melikoff, Castel, Forlanini and scores of others (in the novel that was to come, Verne credits more than 70 individual inventors). Just as his first novel had been born of his interest in ballooning, Verne the heavier-than-air propagandist could not resist the oppor­tunity to popularize the aims of the Societe d'Aviation.
Five Weeks in a Balloon had been a great success. Its publisher, Jules Hetzel, had immediately signed Verne to a lifelong, two-book-a-year contract. The new, best-selling author followed his in­itial success with such classics as A Journey to the Center of the Earth, From the Earth to the Moon (in which Nadar makes a thinly disguised guest appearance as "Ardan"), 20,000 Leagues Under the Sea, Around the World in 80 Days and more than two dozen others by the year 1886. All the while, Verne continued to take an active interest in the progress of aviation, taking notes, meticulously gathering material. (By the way, the oft-repeated story that Verne was inspired by American dime novels is simply untrue.)
The novel that all this research finally produced is Robur the Conqueror (1886). It is the ultimate manifesto of the 19th century's quest for heavier-than-air flight.
The book opens with a description of what today would be a classic UFO flap: mysterious lights, sounds and objects seen in the skies of all the world—mysti­fying those who see them, hotly denied by the scientific "establishment." It is finally revealed that all of these phe­nomena have a common source: a giant flying machine. It is an amazing device, invented and constructed by the enig­matic genius engineer "Robur" ("I am worthy of the name," boasts Robur, whose name is the Latin for "oak"). His machine, the "Albatross," brings to vicarious life all of the dreams of de la Landelle, Nadar and d'Amecourt, im­proved and perfected.
The Albatross brought literal meaning to the word "airship." It was a slender, clipper-shaped hull made of hydraulically compressed paper, 100 feet long and 12 feet wide. Above its flat deck stood a veritable forest of slender masts, 37 of them, each with twin, contra-rotating propellers at the top. At the bow and stern were two more pro­pellers. A large rudder steered the "clipper of the clouds," and spring-loaded shock absorbers cushioned its landings. Its motive power was elec­tricity, stored in accumulators "of ex­traordinary strength." All of the non-metallic parts of the machinery were made of cellulose. Top speed was 120 miles an hour; its range was vir­tually unlimited.
As a best-selling author, Verne was al­ways very fortunate in his illustrators—as a best-selling author his publisher spared little expense in making the books lavish productions. Most of his books contain from 80 to more than 100 woodcuts. Robur the Conqueror was il­lustrated by one of the best, Leon Ben­nett, who created the art for many of the author's novels. As he often did, Verne provided Bennett with reference materials and his own sketches, so that the Albatross accurately depicted what Verne envisioned.
One of the enthusiastic readers of Robur the Conqueror was a young boy in Kiev, reading the book in a Russian translation. He had long been a fan of the French author and was especially fascinated by the description of the Al­batross. The boy was Igor Sikorsky, and he never forgot the dream inspired by his favorite author. He hoped to some day create a machine like the fabulous Albatross. When, at the age of 19, he read of a demonstration flight the Wright brothers had recently made in Europe, he decided that his contribution to aviation would be the invention of the helicopter. He had not forgotten the inspiration of his favorite story.
His first attempt at constructing a working helicopter was a failure, and Sikorsky abandoned the idea for 30 years, turning instead to the airplane, where his successes were history-making. Not until he had been working for many years in his adopted country, the United States, did he finally attempt another helicopter—this time with three decades of aviation experience behind him. Sikorsky was joined by his youn­ger cousin, Igor Alexis, who also had been led into a career in aviation by his boyhood reading of Verne.
On September 14, 1939, a spindly framework of tubing, wires and machinery—it could not have looked more like a farmer's windmill after a tornado—left the ground. During the maiden flight of the VS-300 it rose only a matter of inches, but it was the first flight of the world's first practical helicopter and the direct ancestor of the giant military and civilian Sikorsky helicopters of our day. The dream of Jules Verne and the Societe d'Aviation had finally come true.