Robert Moses changed New York forever, razing neighborhoods to build the gargantuan Brooklyn-Queens Expressway. But did you know he dreamt of doing the same to Manhattan?
It was called the Lower Manhattan Expressway, or LOMEX, and while we've looked at the ill-fated project before, a new exhibit is a chance to look back at how dramatically NYC could have changed. The exhibit, In the Shadow of the Highway: Robert Moses' Expressway and the Battle for Downtown, opened this week in the lobby of the New York City Municipal Archives, and shows off photos and plans beneath metal struts designed to look like those which would have created a raised six- to ten-lane elevated expressway across Manhattan.
You should go check out the exhibit if you can, but if you're wondering what LOMEX even was, here's the backstory. The plan was to run a two-pronged elevated highway from the Williamsburg and Manhattan Bridges up to Broome Street and west across to the Holland Tunnel. At the time—in the middle of World War II—Moses posed it as a security issue; there was no good way to get quickly from Long Island to New Jersey.
A map by the architect Paul Rudolph, who was hired by the Ford Foundation to study LOMEX in the late 1960s. Library of Congress.

G/O Media may get a commission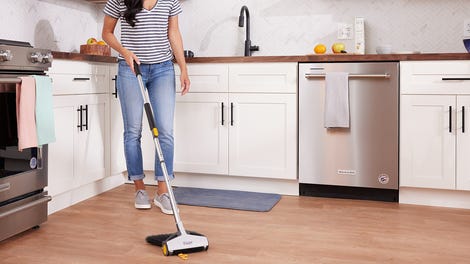 BOGO 50% Off
Flippr - BOGO 50% Off
But over the following decades, it became clear that his plan was more than just about defense. It would have razed neighborhoods that were then considered undesirable—old-fashioned and clogged with aging buildings. Just like Moses razed whole neighborhoods in Brooklyn and Queens to install a sprawling elevated road, he intended to turn Lower Manhattan into a sparkling example of modernity.

The Meat Ax and the Sick City
Even Moses acknowledged that his methods were extreme. In fact, he had a term for it: The meat ax. New York, he argued, was already so dense and complex that you had to make cuts somewhere. Sure, other newly-planned metropolises could preserve history and make sure everyone was happy. But according to Moses, New York City needed drastic measures, as he argued in a quote from The Power Broker:
You can draw any kind of pictures you like on a clean slate and indulge your every whim in the wilderness in laying out a New Delhi, Canberra and Brasilia, but when you operate in an overbuilt metropolis you have to hack your way with a meat ax.
Imagine a bureaucrat saying that today! It was a time before preservation and urban advocacy existed in organized form. Preserving the grit of the city was a laughable idea—the city needed to be purged of its dirt, not protected.
The East Side Express Highway under construction in 1937. AP Photo.
This strange, antiseptic mindset can be traced alllllll the way back to Europe at the turn of the century, when academics and architects first started thinking about cities as living networks. The sociologist Georg Simmel, writing in 1903, was the first to really describe how cities affected the mental outlook of their inhabitants—city dwellers, Simmel reasoned, were blasé, even neurotic, because of the impersonal, overwhelming, and money-obsessed demands of the city.
But to the architects of 1920s and 30s Europe, the city wasn't just neurotic. It was actually sick. The thinking went that a city's ills—crime, poverty, you name it—could be linked to its poor design its thoughtlessly narrow alleys and dirty streets, its crumbling tenements and poor plumbing. Le Corbusier described "the Cancer of Paris," as Andrew Lees recounts in his book about the urbanism of the time. (Here's a great essay on sickly cities by Teresa Almeida if your interest is piqued.)
Instead, Le Corb and his peers offered a futuristic vision of the city that was spare, clean, full of housing stacked in high-rises and surrounded by plentiful parks.
Renderings by the architect Paul Rudolph, who was hired by the Ford Foundation to study LOMEX in the late 1960s. Library of Congress.
To your 2015 eyes, this vision probably looks doomed, knowing what happened to the public housing works in American and European cities designed around this idea. But in the 1940s and 50s, it was still the pervasive way to talk about the problems of the modern city. Moses wasn't just going to cure Manhattan, he was going to cut the cancer away.
Again, with his meat ax.
Hell's Hundred Acres
The Lower East Side and the neighborhoods of Little Italy and Chinatown didn't seem significant at the time. To Moses' eyes, the old factories and cast-iron facades were relics of the 1800s.
By Moses's day, it was a dismal part of the city—and, crucially, not home to any well-to-do New Yorkers, but to mostly poor immigrants. Many of the buildings were in deep disrepair, and present-day SoHo's nickname was "Hell's Hundred Acres"–given, according to the New York Public Library, because of the many fires that sprang up in the neighborhood's aging buildings.
Turkeys for sale on Orchard Street on the Lower East Side in 1939. AP Photo/John Lindsay; A pushcart vendor on Mott and Grand in 1958. AP Photo/Dan Grossi.
Moses didn't exactly want to demolish all of these old streets; he wanted to bypass them completely. Most of the old grid would exist beneath the steel skeleton of a new city, where powerful trucks and high-speed transit sped into New Jersey, and America at large, at high speed. Sure, almost 2,000 families would be displaced; but he imagined rehousing them in the gleaming, spike-like towers that would grow up along the edges of LOMEX.
Models created by Paul Rudolph. Library of Congress.
Not many design drawings exist of the concept from its early days, but most of the images you'll see here were actually a study of the concept by the architect Paul Rudolph, who in the late 1960s was hired by the Ford Foundation to study the idea. His renderings and models, which depict a vivid vision for future-Manhattan, were all but forgotten until the were rediscovered a few years ago by Brett Littman.
Too Poor to Preserve, Too Expensive to Tear Down
The story of how LOMEX died is well-known: A determined group of activists, led by Jane Jacobs, valiantly turned the tide of public opinion against the proposal in the late 1960s, sparking the first flickers of preservation in the city.
In fact, a famous building that did end up as rubble during the years when Moses was pushing for —the original Penn Station—ended up playing a role, catalyzing New Yorkers against other renewal projects. "[T]he loss of Pennsylvania Station awakened all New Yorkers to the specter of urban renewal that haunted their city," write Harvard's Andreas Georgoulias and Ali Khawaja, and "a consequently strong preservation movement froze the Village fabric in time to continue the dialogue that Jacobs and Moses began for generations to come."
But there were other reasons the project was defeated, too—namely, its cost, which totaled $749 million in today's dollars. Here's how the SoHo Memory Project explains the survival of SoHo, using the words of the preservationist Brendan Gill:
Much of the most admired architecture of older New York—the SoHo district, for example, and scores of square blocks in Greenwich Village and Little Italy—have survived because, at a critical moment, the city didn't have enough money to pay for knocking them down.
It's funny now to think that some of New York's most valuable real estate today—and its most architecturally important—was saved, in part, because it wasn't valuable enough to pay to destroy it.
You can check out In the Shadow of the Highway: Robert Moses' Expressway and the Battle for Downtown until March 15.
[In the Shadow of the Highway; h/t Untapped Cities; lead image based on a photo of Robert Moses in 1956, AP Photo]
---
Contact the author at kelsey@Gizmodo.com.