You hear it about Comic Cons every year - "It's not about the comics any more". Sure, the rise of alternate media at Comic Cons is a big thing, and NYCC 2014 was no exception - but this year more than ever recently, it also feels like it was about looking ahead to the bright future for the Comics industry and its fans.
Header Image via New York Comic-Con on Instagram
One of the biggest things I felt looking at the Comic book news coming out of NYCC this past weekend was that it felt like the big figureheads of the industry, Marvel and DC, were more keen on bringing their movie-going fans to comics, instead of sending the comic book fans to the movies. Before I really started reading comics again in the past few years, I was primarily a fan of superheroes through their 'alternate media' - cartoons growing up in the 90's, then the movies as Marvel and DC heroes started taking to the big screen in the past decade plus. Unlike these shows and the movies, the comics world felt impenetrable to me, nowhere to start or nothing like what I'd seen and loved in the cinema. Despite wanting to know more about these characters I'd seen on TV and in movies, it felt confusing, like there was no real clear way for fans who'd seen the movies and wanted more to find a good starting point.
It finally seems like that's really changing this year. One of Marvel's big reveals this weekend was a new ongoing Ant-Man series featuring Scott Lang ahead of his movie début next year. There was a new Gamora standalone to join the recently kicked off Star-Lord and Rocket Raccoon series, all off the back of Guardians of the Galaxy's smash hit successes at the box office. For the video game fan in me, DC revealed a new series based on Telltale Games' Fables adaptation, The Wolf Among Us. Everywhere I looked, there was news post after news post highlighting the worlds of the comic book movies and TV shows coming to the Comics themselves. It finally feels like Marvel and DC want to rope more and more of their fans to the comics themselves, and considering that there's plenty of people out there who willingly flock to the theatres for the next Captain America or Spider-Man film who don't read comics, it's an indicator of the big two using comics to reach out to wider audiences, instead of just relying on the custom of the diehards who've read them for years, and that can only be a good thing for the industry.
G/O Media may get a commission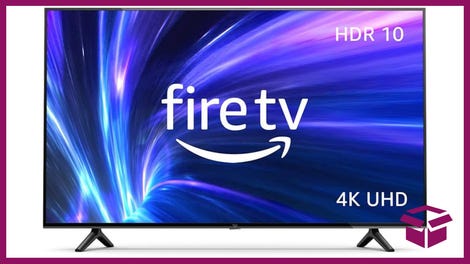 42% Off
Amazon Fire TV 50" 4K Smart TV
The other great thing to see as well was a more diverse range of comics from Marvel and DC as well - especially the great focus put on more series for female characters.
Between DC Digital's new Wonder Woman '77 series starting in December and the recent big hoo-ha about the new Batgirl run, Marvel's new Gamora series I mentioned above and a new ongoing series for Gwen Stacy's Spider-Woman character first created for the Spider-Verse event (based on the wide praise for her amazing One Shot comic last month), it was really nice to see female characters taking much of the spotlight at NYCC alongside their male counterparts.
The fact that these weren't just throwaway announcements either, but some of the biggest news for DC and Marvel out of the Con, speaks to the importance for getting a wider variety and diversity of characters out into fans hands. The fact that they're tentpole releases (Wonder Woman '77 itself will head the vanguard for the latest batch of DC Digital releases, another welcome trend of Comic's embrace of the digital age), accompanied by madly popular panels devoted to the women of comics and the industry itself from both DC and Marvel goes to show how they are slowly but surely getting better at nurturing their female fanbases as well. Lord knows they've both screwed up lately, but it's nice to see positive news on this front for once.
But it wasn't just on the comic book front itself that NYCC highlighted progress for gender issues - it was on the floor itself with the Con's no-nonsense anti-sexual harassment banners.
The past year has seen a growing discussion about sexual harassment amongst cosplayers, and whilst much of that dialogue was sparked by San Diego's event earlier this year, it really came to the fore at New York Comic Con. The convention runners made it easier than ever for people to report abuse, and the harassment policy was on banners everywhere across the con floor, making a simple but effective statement: no one would tolerate people abusing fellow con goers, people there to show their love for comics and nerdery in general.
Such a blanket acknowledgement and rigorous support from members of the industry showed that whilst there is a problem that needs to be (and is being) tackled, creators and fans were united in making comic book fandom an exciting, vibrant and safe place for people from all walks of life to express themselves. If anything, that's what Comic books have always been about, inclusion, acceptance and understanding - and it's awesome to have seen it in action over the course of NYCC.
It's easy to get jaded by 'the state Comics' sometimes - whether it's the books themselves or the industry at large. But as someone who's learned to dive in and love comic books in recent years, it's awesome to see that as the industry grows and expands across different forms of media, as its audience gets broader and more diverse, that it feels like now more than ever, it's a great time to be a Comic Book fan. Comic-Cons might be about more than just comics these days, but looking back on NYCC 2014, it goes to show that the Comics themselves are still the beating heart of our superheroic popular culture.
---
You're reading Toybox, io9's new blog for all things pop culture. From merchandise to awesome fan creations, TV recaps and critical commentary on the hot topics of the day, you can find it all here!