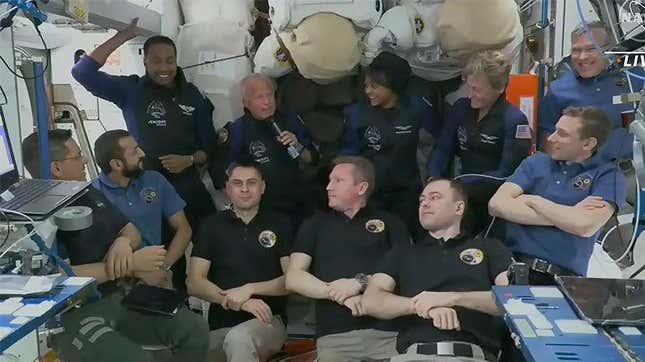 The International Space Station (ISS) just welcomed new guests, a private crew of four astronauts who are settling in on board the orbiting lab and learning to adapt to the microgravity environment.
Better Mobility & Cameras: NASA & Axiom's New Spacesuits | Techmodo
Axiom Space launched its second private mission to the ISS on Sunday, with the crew members arriving to the space station at 11:00 a.m. ET on Monday following a roughly 16-hour journey through space. The crew members are set to spend around eight days on board the ISS.
The Ax-2, or Axiom Mission 2, crew is led by veteran astronaut Peggy Whitson, who is currently Axiom Space's Director of Human Spaceflight. Saudi Arabia bought two tickets for its astronauts, mission specialists Ali Alqarni and Rayyanah Barnawi, while pilot John Shoffner purchased a ticket to space through Axiom Space in 2021. Aside from Whitson, the mission marks the crew members' first time in space.
The Ax-2 crew members spent all of Tuesday familiarizing themselves with the ISS operations, and practicing everyday chores like preparing food and drinks, going through safety procedures, and operating lab equipment, NASA wrote in a blogpost. The space agency also mentioned that the crew was "conducting hygiene practices," which might include learning how to shower and use the bathroom on board the ISS. The space station bathroom is equipped with footholds and handholds so that astronauts can stay firmly on the toilet seat, but it still doesn't sound very comfortable.
The ISS is buzzing with astronauts, with a total of 11 crew members on board the space station at the moment. The Ax-2 crew joined the seven members of the Expedition 69 crew, and they went over roles and responsibilities for each member in case of an emergency on board the ISS. "The international crew of 11 located safety gear such as fire extinguishers and portable breathing gear, followed escape routes, and coordinated communications with mission controllers in response to fire, ammonia leak, or pressure leak events," NASA wrote in its blogpost.
Along with Ax-2 commander Whitson, NASA flight engineer Stephen Bowen, who launched to the ISS in March as commander of the SpaceX Crew-6 mission, transferred emergency gear and safety hardware from the SpaceX Dragon capsule (which the Ax-2 crew arrived on) to the space station. The space station also got a fresh batch of supplies on Wednesday that were sent to low Earth orbit on board Russia's cargo ship Progress 84. The spacecraft, which docked to the ISS at 12:19 p.m. ET, was carrying 5,492 pounds (2,491 kilograms) of food, water, fuel, and other supplies.
During their time on board the ISS, the Ax-2 crew members will conduct a variety of scientific research and experiments, including one to examine the effects of microgravity on the production of stem cells.
For more spaceflight in your life, follow us on Twitter and bookmark Gizmodo's dedicated Spaceflight Spaceflight page.