Various countries and corporations have been trying to shut down the Pirate Bay for years, and yet, the site keeps soldiering on. This is not an accident. It's actually the result of an ingenious cloud-based hardware setup that's spread all over the world and more or less bulletproof.
The Pirate Bay team recently shared the details of this setup with TorrentFreak. While highly sophisticated, the system is more streamlined than you might imagine. It's made up of 21 virtual machines that are hosted in various locations around the world by commercial cloud hosting providers who don't even know that they're hosting Pirate Bay machines. Eight of the machines are used for serving web pages, while six handle search queries. The remaining machines control the database, load balancing, statistics, a proxy site, torrent storage, and a controller.
Here's all of that same info in handy list form:
8 VMs for web pages
6 search VMs
2 database VMs
1 load balancing VMs
1 stats VM
1 VM proxy site on port 80
1 torrent hosting VM
1 control VM
TorrentFreak explains the capacity of the whole "raid proof" system:
In total the VMs use 182 GB of RAM and 94 CPU cores. The total storage capacity is 620 GB, but that's not all used. Needless to say, that is relatively modest considering the size of the site.
If you can say anything about the Pirate Bay, you can say that those are 21 well-oiled virtual machines. It's pretty incredible that the site stays up and running despite all of the adversity. If police ever shut down the site, the operators could have it back up and running in very little time.
TorrentFreak explains that the organization's biggest liability is actually the domain itself, which has changed fives times last year alone. And while it's wonderful that the site appears to be safe, the Pirate Bay founders themselves remain on lockdown. Because not even great engineering can put a stop to bad copyright law. [TorrentFreak]
G/O Media may get a commission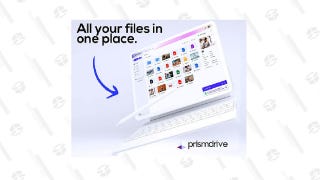 Save 97%
Prism Drive Secure Cloud Storage: Lifetime Subscription
Image via Pirate Bay