Are you really getting the best possible look at Stranger Things (or whatever other show you're currently bingeing)? The answer depends on both the way you've configured the app and even which browser you're using. Here's what you need to know.

First of all, there are the obvious settings screens, which you can find on the web by clicking Your Account in the drop-down menu under your avatar and username. Select Playback settings and you can tell Netflix to always use a high video quality rather than automatically adjusting it to your connection speed.
You will be restricted by what plan you're currently on—only standard and premium users get access to HD and Ultra HD streams. If you're watching on a mobile device, there's a similar quality setting, but keep in mind that high-definition video can quickly eat through your data plan.
What you might not know is your browser can also make a difference. Because of the way they handle HTML5, streams in Chrome, Firefox, and Opera are capped to 720p HD, and you need to fire up Safari, Microsoft Edge, or Internet Explorer to be guaranteed the full 1080p video goodness.
G/O Media may get a commission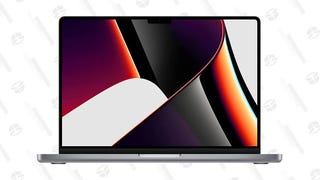 Save $300
2021 14" 1TB MacBook Pro
Here's the Netflix support page on the topic. Press Ctrl+Alt+Shift+S while watching to see the available bitrates. If you're seeing a maximum of 3,000 or less then you're stuck on 720p. To specify the video quality to use, choose a bitrate and click Override. Hitting Ctrl+Alt+Shift+D will show the actual current resolution up on screen.
On Windows, switching to the Windows 10 app rather than using your browser is another way of maximizing the video quality you're seeing. And of course, you're going to want to make sure your broadband connection is working as well as it can be (simple tools such as SpeedTest.net can help with this).