Video chatting—the future is now! But it sure is expensive. Between Logitech's Revue ($300 for the box and $150 for the cam), and Cisco's $600 Roman emperor-priced offering, you might feel left out. But you have (affordable) options.
Deadly Mississippi Tornado Kills More Than 2 Dozen | Extreme Earth
FaceTime is new, and awesome, and laptop video calls are cool—of course. But being able to plop down on your couch with your kids, wife, dog, or just by yourself, and fill your television screen with the live video of loved ones (or enemies) has always been one of tech's big promises. And now it's gradually reaching the consumer market—which is great, and will make grandparents across the world ecstatic. But does vividly and conveniently keeping in touch have to be so expensive? No.
So what does the playing field look like?
Cisco Umi - $600
G/O Media may get a commission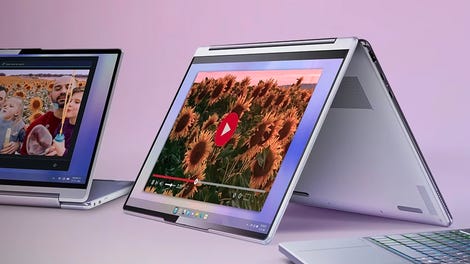 up to 70% off
Lenovo Spring Clearance
Cisco's video offering isn't just chat, it's telepresence, baby. Which means nothing. So what are you getting for your delicious marketing buzzword? 1080p video calls, 720p call recording, and a staggering $600 price tag, plus $25 per month for unlimited calls (an extra $300 a year). As Kyle reported yesterday, the Umi "has autofocus, autoexposure, white balance, optical zoom, and a motor for panning and tilting as needed." It'll also interface with Google video chat. But $600 is prohibitively expensive for many (most?) of us. Let's keep digging.
Logitech Revue - $450
In the name of fairness, we'll get this out of the way right now: the Revue does far, far more than video chat. So, with that caveat, let's make it clear that we're only taking its video chat functionality into consideration here. The Google TV-capable box alone will run you $299—it's the separate camera and mic apparatus that bumps the price up to $450. That being said, Logitech is aiming to sell the box with a heavy emphasis on video calls.
When we checked out the Revue's first live demo yesterday, we were quite impressed by the fidelity of its video chat powers. Placing and receiving calls seemed to be a cinch, our video interlocutors were easily heard, and the zoom function seemed handy for those with distant couches. That being said, $450 is still $450—likely far more than most want to spend to see their friends' pretty faces, and a relevant knock against the Revue given the time Logitech reps spent fawning over the video chat functionality.
So there we have it—the heavyweights. Cisco's Umi and Logitech's Revue are atop a price tag hill. But they are by no means king of the vid chat mountain. If you don't want to spend more than $200, you can still enjoy clear, easy video calling from your TV.
Microsoft LifeCam Studio - $100
Jason's impressions say it all—only a hundred bucks for 1080p video that's "pretty darn good." Now, this is just a webcam—it doesn't have internet connectivity of its own. But all you'll need to get yourself couch-chatting with it is something you probably have anyway—a laptop. Hooked up to a PC or Mac, you can place video calls via Skype or Windows Live Messenger for free. Stick the LifeCam atop your TV, plop the laptop next to the TV, and connect the two with a dirt cheap DVI or HDMI cable. Boom. You've got HD video calling on your television with an SD price.
Skype for TV - $149 to $179
If you've got a Panasonic or Samsung TV, there's a chance you'll be able to place video calls with the hardware you already own, adding only a Skype-approved camera that goes right up top. Several TV series within both companies lineups have Skype support built in. For Samsung owners, the $149 FREETALK cam will give you free VGA video calls, while the $169 Panasonic version offers full 720p calls.
Microsoft Kinect - $149
If you own an Xbox, the $149 Kinect will give you free VGA video calls to any other Kinect owner or Windows Live Messenger user. Like the Samsung Skype cam, this isn't HD, but it's specifically designed to keep couch-based chatters in the picture. Windows Messenger support also means you'd be able to use the Kinect to video dial anyone using the aforementioned Microsoft LifeCam setup.
So there you have it. No solution is perfect, and each has clear limitations, whether they be quality, setup, interoperability, or the thing is just too damn expensive. But before you consider sinking part of your paycheck into any of them, consider your options. And please, feel free to contribute your own budget couch call solution below in comments.