The Republican candidates have been relatively quiet recently. Too quiet. That all changes tonight when Donald Trump, Ted Cruz, and John Kasich converge on the city of Milwaukee for a special town hall hosted by CNN. It should be a glorious shitshow filled with questions screened by CNN. Here's how to watch!

Who: Donald Trump (probably), Ted Cruz, and John Kasich

What: Televised mud wrestling airing on CNN, CNN International, and CNN en Español. Streaming online at CNN.com (for cordcutters) and CNNgo (cable subscription required)
When: 8pm Eastern time, 5pm Pacific time, 1957 Make America Great Again time

Where: Milwaukee, Wisconsin

Why: At this point I really don't know

A lot has happened since the candidates last had formal TV platforms on which to accuse each other of practically everything short of genocide.
The National Enquirer accused Ted Cruz of having five mistresses, John Kasich somehow managed to offend both the overeducated and the undereducated, and Donald Trump's campaign manager has been charged with assaulting a journalist. Expect roughly zero of those things to be mentioned tonight if all goes according to plan.
Tonight's questions will be coming from The People™ so we can safely bet on three things: 1) Donald Trump will accuse anyone giving him anything approximating a tough question as being a Republican establishment plant, 2) Cruz will answer the question he wished he was asked rather than the one he's actually asked, and 3) Kasich's answers will be roughly 80 percent less exciting than the list of side effects you hear during tonight's drug commercials.
G/O Media may get a commission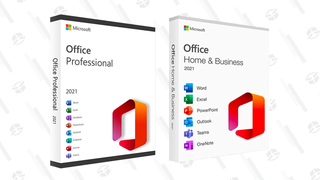 89% off
Microsoft Office Professional 2021 Lifetime License
CNN has nothing to gain by letting salacious questions get through their filters at this point. It's smart enough to realize that this is a marathon, not a sprint, and Trump has done plenty to wear out practically everybody with over eight months to go until the general election.
Tune in. Or don't. It's a free country. At least for now.