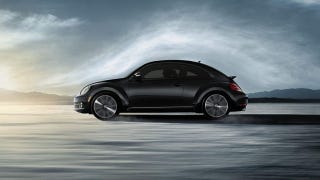 Updating an icon is quite a challenge. But VW Group Design Chief Walter de Silva and VW's Brand Design Chief Klaus Bischoff figured out a way to make the 2012 redesigned Beetle longer, lower, and wider—thus, sportier—while somehow retaining it's visual cachet. They managed to create "a new original" by basing the redesign on the earliest Beetle, rather than the 1998 New Beetle.
How did de Silva and Bischoff design a car that respects the past but looks toward the future? They kept the lines of the rear sections but broke free of the design geometry defined by three semi-circles-front fender, rear fender, and domed roof above it. They lowered the roof and increased the car's track widths and wheelbase.
"The Beetle not only has a lower profile; it is also substantially wider, the front hood is longer, the front windshield is shifted further back and has a much steeper incline. All of this creates a new dynamism," explains Bischoff. The redesigned Beetle is 71.2 inches wide (3.3 inches wider), 58.5 inches tall (0.5 inches lower) and 168.4 inches long (6.0 inches longer).
The new look is just one of the many changes to the Beetle. There's an available 200-hp Turbo model, 18" alloy wheels, and touchscreen navigation. Three colors of interior ambient lighting and Bluetooth technology come standard.
And on the available Turbo model, there's a integrated rear spoiler. Click here to check out all the features of the all-new redesigned 2012 VW Beetle.