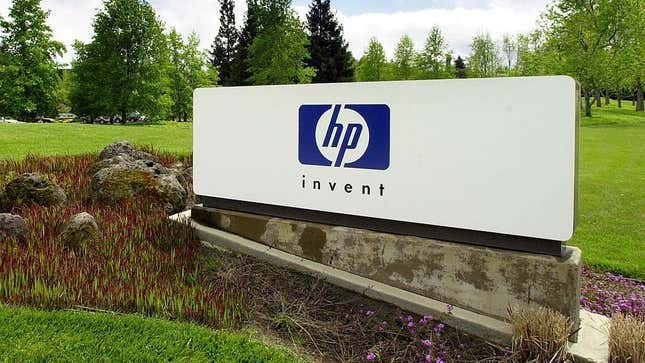 HP is receiving backlash after users reported that their non-brand ink cartridges stopped working following recent firmware updates.
Gizmodo Back to School 2023 Tech Guide
The company support center has justified its updates, saying it implements "dynamic security measures" to ensure that the printer can actively connect to the security chips or electronic circuitry used in the ink cartridges.
According to the company, including these security measures helps to "maintain the integrity of [its] printing systems, and protect [its] intellectual property." But customers feel tricked as affordable ink cartridges that were perfectly good on one day, become useless the next. HP has been involved in numerous class-action lawsuits in the U.S., Italy, and Australia over its shady sales tactics. The U.S. lawsuit was filed in 2020 and claimed the firmware update was used to "block customers from using third-party ink and toner cartridges and force them to buy more expensive HP-branded supplies." Despite paying millions of dollars in settlements, the profits from this strategy appear to outweigh the penalties.
HP printers are designed to work with original HP ink and toner cartridges, HP Printers said in an emailed statement to Gizmodo. The company added that it is standard protocol in the printing business to "authenticate cartridges." HP continued, "HP uses Dynamic Security measures to protect the quality of our customer experience, maintain the integrity of our printing systems, and protect our intellectual property."
The firmware update effectively acted as malware to block third-party cartridges from working with the printer, the 2020 lawsuit alleged. Customers argued they weren't warned about the update and were unaware that it would eliminate the option of buying less expensive cartridges for the HP printer.
"HP deliberately provided false representations and omissions to prevent customers from learning the intentional and unlawful design of HP's firmware updates and authentication procedures and further inducing its customers to purchase new supply cartridges from HP," the lawsuit says.
Despite the existing complaints and lawsuits, HP continues to issue firmware updates that give users no discernible options outside HP-branded ink, sparking outrage amongst customers who thought the disruption was resolved. One HP user posted a complaint via Reddit on Tuesday and shared a screenshot of an HP notice that popped up when trying to change the cartridge, saying it was blocked by the printer firmware because it doesn't contain an HP chip.
The customer wrote, "HP has updated their printers to outright ban 'non-HP' ink! They no longer show the 'can't guarantee quality' message, but instead cancels your print completely until you [insert] an HP ink cartridge. After contacting HP, they advised 'this is due to the recent 'update' of all printers.'" The post attracted hundreds of comments as others piled in with their own stories and theories for getting around the cartridge ban.
HP's customer support page does warn users that non-HP cartridges will not work unless it is validated by the company and "has an original HP security chip or unmodified HP electronic circuitry." It's just become increasingly unclear which cartridges are compatible with what models.
Before purchasing a non-HP brand cartridge, HP suggests checking with the supplier to ensure that it will work with its printer. Or, ya know, you could just buy a printer that doesn't require a bunch of additional time and money to handle the basic function of printing.