The oversized jeans bunched up comically and uncomfortably around my waist as I tightened my belt last night, and I realized that I'd totally fallen for a diabolical scheme. I believed a brand and had been owned very hard.

This past summer, Japanese clothing retailer Zozo, formerly Start Today, publicized their polka-dotted ZOZOSUIT. It looks just like a CGI suit, and its purpose is nearly the same. According to their advertising, the suit captures and processes your "exact" measurements taken from your phone camera using their "proprietary algorithm." The company swears it's "more accurate than a human tailor." Then, using their app, they send clothes "custom-fit to you" based off those measurements. When my clothes arrived, I felt like a kid playing dress-up in my father's clothes. I'd fallen for an ad.

News outlets everywhere touted the suit as "revolutionary" and "revolutionizing the fashion industry," bringing their "custom fit" clothes to the masses—all before ordering the actual clothes. For once, I turned off my skeptic's brain and believed it. I ordered the suit, sent in my measurements, and used the app to order $170 in shirts and a pair of jeans.
Despite telling Quartz that they'd be able to ship the clothes in two weeks, I didn't get mine for three months. Then I opened up the bags. Everything fit wrong. The jeans wouldn't stay up without a belt. The button-down shirt's extra material hung over the pants and could probably have fit a person twice my size—even the t-shirt fit like some shitty promo swag launched out of a cannon at a baseball game. The quality felt no better than a shirt from Old Navy, which probably would have fit me better.

G/O Media may get a commission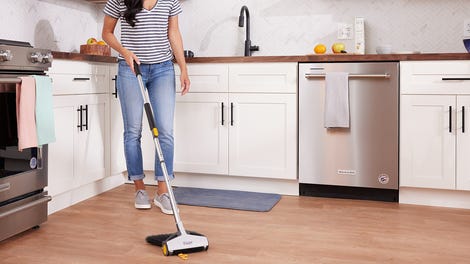 BOGO 50% Off
Flippr - BOGO 50% Off
This might seem like a simple case of a company pushing some gimmick that I ultimately fell for. But it reveals something much bigger. We've become so used to mass-produced clothes that look handsome on models, often thanks to Photoshopped illusions. When we then try the clothes on ourselves, they don't fit. In turn, people say "there are no clothes that fit me" or "it's so hard to find clothes in my size." But most of us wouldn't think to bring the clothes we buy at H+M or Old Navy to a tailor because the alterations might cost more than the clothes themselves. So we're stuck buying clothes that don't fit, and Zozo used these insecurities and the fact that we like ordering things online instead of going to the store to try things on to their advantage.

I should have known. News broke that Zozo's profits were down just before the ZOZOSUIT media blitz. A few weeks later, SpaceX announced that Zozo's CEO, Yusaku Maezawa, had purchased a private flight to the moon and would be bringing artists with him. I don't think it was a coincidence—Zozo is in the midst of expanding beyond Japan, and according to Quartz, hopes to take on global companies like Gap and Uniqlo.
Moon missions and marketing blitz's aside, I couldn't find anyplace on Zozo's website where they mentioned actually producing bespoke clothes since the hype only centered on the polka dot suit. In this day where online privacy is on everyone's mind, Zozo found a way to prey on our insecurities in order to collect data on our bodies.
I've reached out to Zozo for comment asking what they'll do with the data and how the clothes are made. I'll update if they respond, but either way, I'm not alone in my gripes. The Economist's Charlie Wells seemed to have had a similar experience to mine and felt similarly used. Of course, people are also expressing their disappointment on Twitter. And, as the icing on the cake, Zozo said they'd ditch the suit by next March in Japan (but not in the US, according to an update from a spokesperson), saying that they've collected "enough data" to allow people to order clothes by height and weight alone—despite the fact that two people of the same height and weight can have distinctly different measurements.

I have been utterly owned by advertising. I will be returning my clothes. But I shouldn't have ordered them in the first place.

Update 12:00PM, 12/5/18: Alisa Gould-Simon, ZOZO USA's VP of Marketing and Business Development, apologized for my negative experience and said they'd be happy to alter my clothes. She pointed me towards their Promise, which more or less says that the measurement data is anonymized and not passed along to third parties, and is used solely for product development and "improving service." She also told me that they do not plan to eliminate the ZOZOSUIT outside of Japan. Full response below.
1. How are the clothes produced to tailor to the measurements?

Our clothing is produced in one of two ways. 1. We have an extremely large and growing database of garment patterns. Having these patterns already created allows us to shorten the time required to produce new clothing upon receiving an order and to hold limited stock. If we receive an order that can be supported with an existing pattern, that will provide the basis for the garment being ordered. Products that fall into this category can be made-to-order, or, if they are held in stock, they can be shipped immediately from within the local market. 2. If we receive an order that cannot be supported with an existing pattern, we will create a new one. Any products that fall into this category are made-to-order.

Made-to-order products require a long shipping period. However, I understand your delivery took 3 months. This is far too long and we are deeply sorry for this inconvenience. As a result of unexpected demand and manufacturing delays, some of our initial customers experienced unacceptable wait times. We have since further streamlined our process and expect 4-5 weeks at most for the delivery of any made to order product.

 2. What will you do with the data you collect from our bodies?

Via the FAQ on our website, you can access what we call The Promise. Here we speak exactly to how we handle customer data. As per your comments about Japan's machine learning, we do not have any plans to get rid of the ZOZOSUIT outside of Japan.

3. Was Yusaku Maezawa's SpaceX announcement timed with the ZOZOSuit release?

The timing of Yusaku Maezawa's Space X announcement was not coordinated with ZOZO. Maezawa's personal endeavors and projects are explicitly kept entirely separate from the ZOZO brand.

4. What has been your average customer satisfaction?

We have heard from a lot of satisfied customers (and plenty of them are speaking out on social as well) and have received an incredible amount of support and enthusiasm for the mission driving our business.