Kayaking the entire 2,552-mile length of the Mississippi River has been a challenge. It would be for anyone, but for novice paddlers like me and the now heavily-bearded boyfriend, it amounted to the biggest challenge we've ever faced. Here's why.
Out of the nearly two-and-a-half months we spent on the river, it was the last few days, the last 300-odd miles, which truly tested us. Why? Traffic.

At the port of Baton Rouge, LA, we entered the section of water lovingly nicknamed "Chemical Alley." Talked about in hushed tones by those further up the river and stretching all the way to and a little past the irrepressible port of New Orleans, it is recognizable by the industrial sprawl lining the river's banks. The water these factories surround is clogged with an exotic mix of international ocean liners, heavily loaded barges and moored vessels seeking repair, fuel or new cargo. And all of them are big…really big.

G/O Media may get a commission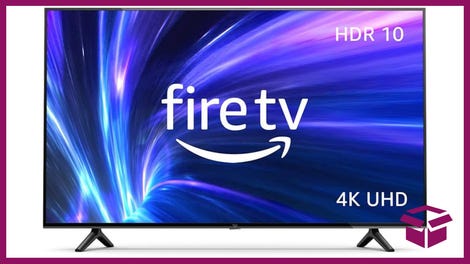 42% Off
Amazon Fire TV 50" 4K Smart TV
And there we were in their midst, two kayakers with nothing but a dollar store umbrella for protection.
Sometimes, over our Standard Horizon marine radio, we would hear the boat captains refer to us as "crazies" and I could not help but agree with them. We spent our days, all 50 miles of them, dodging in and out of these giants. Playing heart arresting games of chicken with the working boats that would appear out of nowhere, our Adventure Technology paddles rhythmically slapping the water as we dreamt, sweat drenched in the 100-degree heat, of air conditioning.

Then, alongside the levee, a few miles outside of NOLA, our otherwise brilliant Brooks Range tent broke. A huge hole opened in the top, just in time for an incoming thunderstorm. For the first time in months, it was brought home just how worn out all of us really were. Amit and I didn't have any holes, but we were just as tired — mentally and physically — and were noticeably thinner than when we'd started.
But, the end was in sight. And a few days later we passed Venice, the 0 mile marker at the head of the passes, the solitary lighthouse at Port Eads, and finally, the sand bar that marks the Mississippi's border with the Gulf of Mexico.

Smiles, beers and slightly maniacal laughter commenced. Then a last dip in the salty water and it was over. The goal that we'd been working towards for months had been reached and having survived, all I could think was that I really, really wanted a shower.

IndefinitelyWild is a new publication about adventure travel in the outdoors, the vehicles and gear that get us there and the people we meet along the way. Follow us on Facebook, Twitter, and Instagram.