Intel's Classmate Convertibles have been a huge success: 7 million of these PCs are scattered across the globe in classrooms in more than 70 countries. Now Intel is introducing a new product to the Learning Series; a cheap, versatile, tough, education tablet.
The new Intel Studybook tablet is a reference design: Intel won't actually manufacturer the product, but it will offer the design license for free to any company interested in making it. As with all of these education products the bottom line is price. Intel figures that the tablets can be produced for less than $200—a price cheap enough that Intel thinks that with the help of its more than 500 alliance partners, this tablet can be placed in the hands of millions of K-8 students worldwide.
The price of the Studybook, of course, varies depending on what specs a particular manufacturer decides to use. The tablet is designed to run either WIndows 7 or Android, with Android being optimal because it is much better suited to a touchscreen interface. Intel told us that while it doesn't have official plans to adopt touch-friendly Windows 8, we should expect to hear some new announcements closer to the unspecified Windows 8 launch date.

G/O Media may get a commission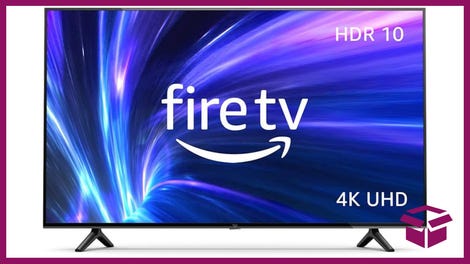 42% Off
Amazon Fire TV 50" 4K Smart TV
The 7-inch looks like a regular tablet covered in an easy-to-grip plastic shell made from gas-injected plastic. If the kids who do get their hands on the new Intel Studybook manage to drop it, it'll survive: The specs say it can survive a 27-inch drop, but based on the sturdiness of the construction, I suspect it could do even better than that. All of the tablet's I/O ports are gasketed and have water-tight rubber plugs that cover the ports and make the tablet resistant to some underwater submersion. What ports does it have? A USB port, micro-SD slot, 3G card slot, mic and audio out, and optional mini-HDMI and SIM card slots.
As for its guts, the Studybook would stack up as a pretty solid tablet even for grown ups: It's designed with a 1.2 GHz Intel Z650 Atom Processor, it can take up 2GB of RAM, and up to 32GB of flash storage. It supports both 3G and 802.11b/g/n Wi-Fi connectivity. The 7-inch, multitouch LCD screen has 1024x600 resolution, and the tablet has both front and rear-facing cameras. Intel says the tablet will get 5.5 hours of life off a charge, but it remains an open question because Intel Atom processors are notorious battery suckers.
Actually using the tablet is going to be a pleasure for kids in the way that a computer has never been. If you think about it, tablets really are the ideal learning device—especially now that kids basically grow up with tablets in their hands. We demoed a few different programs running on an Android version of the tablet, and the results were impressive. While using a textbook e-reader application, performance was snappy for a $200 tablet. There wasn't any overwhelming or distracting lag when scrolling or swiping through pages. The Intel Learning Series LabCam was similarly impressive. This application allows you to replicate many of the science lab work that would usually require very expensive tools. For example, by using inexpensive camera add-on and a plug-in USB light I was able to examine the crystalline structure of a stone—no microscope required.
Overall, this should be an exciting addition to the learning series for people in education. For what you get for under $200, this a remarkable value proposition, considering how much money can be saved on textbooks and additional lab equipment with the investment. Best of all, because the tablet is so tough, teachers might actually let their students hold it. Hands-on learning is what this is all about after all. [Intel]