I try to keep my FireFox plug-ins streamlined, but after testing Invisible Hand only this morning, I'm addicted to its unobtrusive, deal-finding prowess.
Say you want to buy a new Sharp LCD. You pick out a model on Amazon or Best Buy, and while you're inspecting the product page, a small drop-down may inform you that Buy.com (or one of 50 other comparison stores) has the television for 1% cheaper than where you were shopping.
It's not the only plug-in of its kind, and I was able to beat that tested deal pictured above by searching myself, but the visually quiet interface may keep you from uninstalling the thing by the end of the week.
As an Amazon addict (on small purchases), I've basically sold my soul for convenience, accepting that 5 minutes of googling may have saved me 20 cents. But having the comparison shopping cruising in the background...we'll see whether or not I reassess that position (whether I'm cheaper than I am lazy). [Invisible Hand via Red Ferret via LifeHacker]
G/O Media may get a commission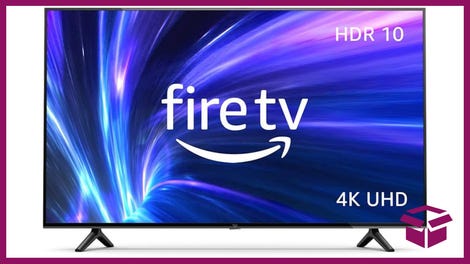 42% Off
Amazon Fire TV 50" 4K Smart TV