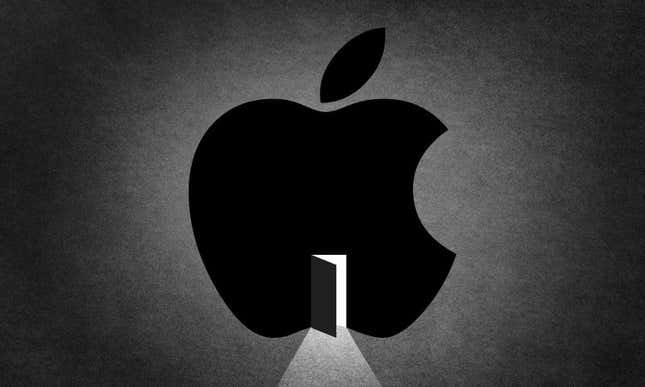 Every year for almost a decade, the most anticipated gadget release has been Apple's iPhone. It makes sense. In 2007, Apple completely changed the way we physically interact with our digital selves and went on to sell a billion iPhones across the world. Even though the iPhone is losing its luster with each passing year, an iPhone is still an iPhone.

And with any iPhone release, there are also swarms of rumors, leaks, hearsay, and arguments that begin to paint a convincing picture of what's coming in September. Now we know that Apple will officially unveil its next iPhone on Sept. 7.
Although rumors and features are always subject to change, this is most likely the next iPhone.
[Note: We'll be updating this post with new rumors and hearsay until Tim Cook officially announces the thing.]
G/O Media may get a commission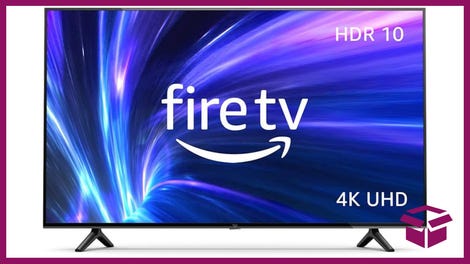 42% Off
Amazon Fire TV 50" 4K Smart TV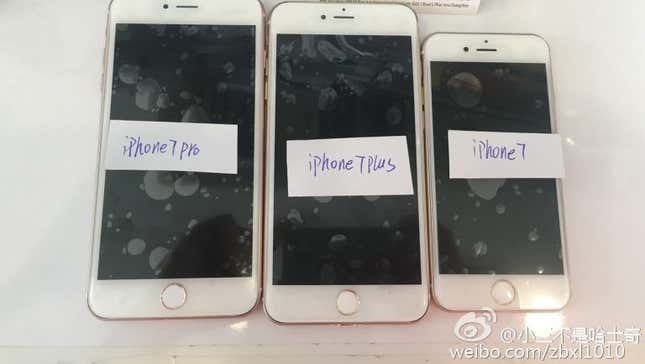 Name
iPhone 7, right? But it's not that simple. Although the iPhone commandment reads something like "thou shalt always be an S, and only an S, in betwixt two new iPhones," things might be changing for 2016. A majority of earlier reports say that the new iPhone (all two/three variants) will be called the iPhone 7, iPhone 7 Plus, and iPhone 7 Pro (maybe). However, a report from a German gadget blog says the device could be called the iPhone 6SE, a continuation of the moniker that debuted with the 4-inch iPhone SE in March, and the embracing of a major change to the iPhone naming scheme. Number to S to SE.
The next rumored iPhone in 2017 will supposedly come with much bigger changes, including an OLED display and an all-glass design. It's the kind of update you'd usually expect from a "new number" iPhone. Which means it could be another year before we see the real iPhone 7.
But this September's phone is probably called the iPhone 7.
[Update:] A "reliable source" via Macotakara says that the new iPhones will be called the iPhone 7 and iPhone 7 Plus
[Update:] A Forbes contributor found a Russian trademark filing for two new iPhone models, the A1778 and the A1784. This confirms that Macotakara's report that there will just be two devices. We still fully expect the larger device to have the dual-camera system.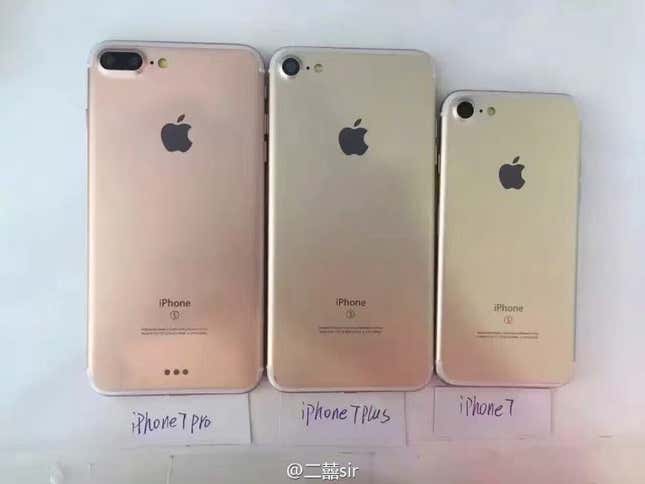 Design
This is where Apple is probably going to get the most shit from Android fanboys. (OMG, IT'S THE SAME PHONE. WHATABUNCH OF SHEEPLE.) Right now, all leaks point to the iPhone 7 looking very similar to the iPhone 6s, which looked identical to the iPhone 6 the year before. It's a weird bubble of hypocrisy where people jab at other companies for not changing up their design year-after-year yet Apple always gets off scot-free.
An all-metal design, LCD display, all-glass front display is what we think is staying the same. But much like the last year's iPhone 6s, there are some tweaks if you know where to look. The Wall Street Journal reported in June that the new iPhone would be one millimeter thinner, putting it at around 6.1 compared to the 6.3mm we have now. That's not crazy thin like Motorola's new 5.2mm Moto Z, but that's thin enough to possibly force you to invest in a new case.
That's also thin enough to mean that one much beloved port may be axed: the headphone jack. This longstanding iPhone rumor dated all the way back to 2014, when Lightning-based headphones started popping up. Only difference is this time it's most likely going to happen. Not only have leaks (for the most part) supported the idea, but The Wall Street Journal also confirmed the (missing) feature.
Japanese site Macotakara, who kicked off this whole audio jack rumor, reported that Apple won't be including wireless or Lightning earpods, but the standard 3.5mm Earpods with a converter. Steve Jobs probably would've vomited in his mouth a little bit, but here we are.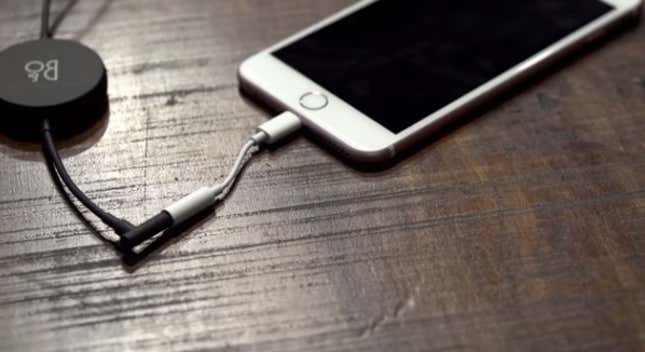 Supposedly, Apple will be adding a second speaker in the now abandoned audio jack real estate. However, it will probably not be stereo sound like Apple's new iPad Pros.
[Update] Pocket-Lint has a photo of an iPhone 7 case from case maker Gear4. This case, which has hit stores in the UK, confirms the removal of the headphone jack and the larger camera hole for the iPhone 7 Plus.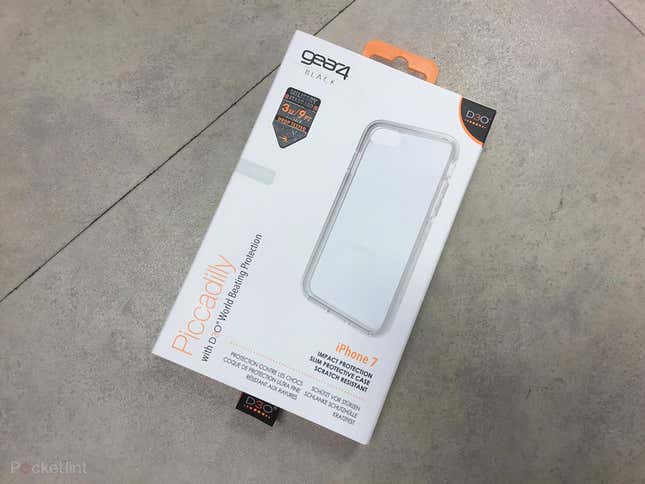 Additionally, Macotakara reports that the iPhone's home button, while still taking up an annoying amount of space on that bottom bezel, will actually be flush with the rest of the device instead of slightly dipped like other generations. The home button also won't click. Instead, it will be Force Touch-sensitive (the same tech Apple uses in its Macbook trackpads).

Flipping around to the back side, there are supposedly two visual differences. The first is a simple redesign of the iPhone 6's antenna lines. In leaked images above, they're still there, just slightly relocated. The other difference is a slightly modified camera bump, likely due to the iPhone 7's slimmer frame.
Of course, in many of these leaks you do see one big head scratcher: a third iPhone. This is apparently the iPhone 7 Pro. It will likely be the exact same size as the iPhone 7 Plus, but will feature an upgraded dual-lens camera, similar to camera units we've seen on LG's G5. The idea is that another lens will greatly increase the iPhone camera's field of view, something the iPhone could definitely use.
[Update] One of the big iPhone's advantage in the camera department might be coming to the smaller model. According to nowwhereelse.fr, the smaller iPhone will finally be getting Optical Image Stabilization (OIS), which should help make your photos (especially in low-light) less blurry.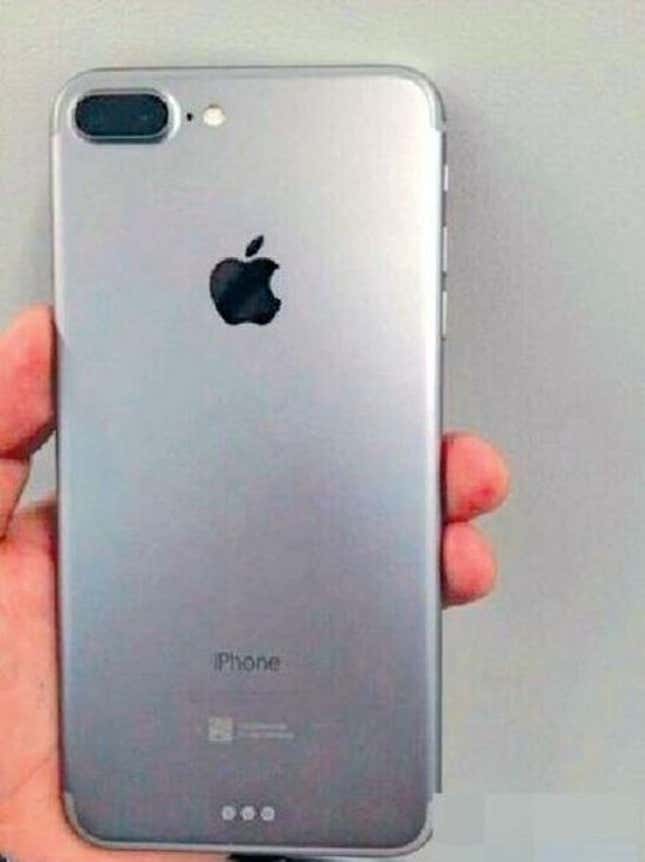 The other rumored addition on the Pro model is the Smart Connector feature also featured on the iPad Pro, which lets it charge or connect to a keyboard. However, recent reports suggest that after some initial tests Apple has decided to ditch the idea since it wouldn't really do anything. Probably a good call.

[Update] Unbox Therapy reportedly has an very accurate mock up of the iPhone chassis. However, it does retain the Smart Connector so it's possible it's not the final build. But it gives a decent idea what the iPhone 7 Plus/Pro might look like.
However, there is some debate that the Pro even exists at all. The all-around accurate leaker @evleaks says that there are only two models, but the wealth of leaks surrounding the Pro indicates that Apple has at least thought about it. Right now, the truth is a little hazy.
[Update] According to Bloomberg and Mark Gurman, it's beginning to look more confidently that the iPhone 7 will just be two models, the iPhone 7 and 7 Plus. The Plus' differentiating feature, apart from its size, will be the dual-lens camera.
[Update] Nikkei reports that the single-lens iPhone 7 Plus has been ditched by Apple. That means the iPhone 7 will stick with only two variants as usual, the iPhone 7 and iPhone 7 Plus.
[Update] A Czech blog published a high-resolution photo reportedly of a Gold iPhone 7 and 7 Plus. It's impossible to certify its authenticity, but it does match up with most current rumors (no Smart Connector, no iPhone 7 Pro, correct camera bump, etc.
[Update] According to a somewhat sketchy rumor reported by Apple Insider, the iPhone 7 could offer 4k recording a 60 frames-per-second, double the FPS of its predecessor. Apple Insider believes this could be why Apple recently introduced a 2TB iCloud tier in late August as well as bigger storage options starting at 32GB and going all the way up to 256GB.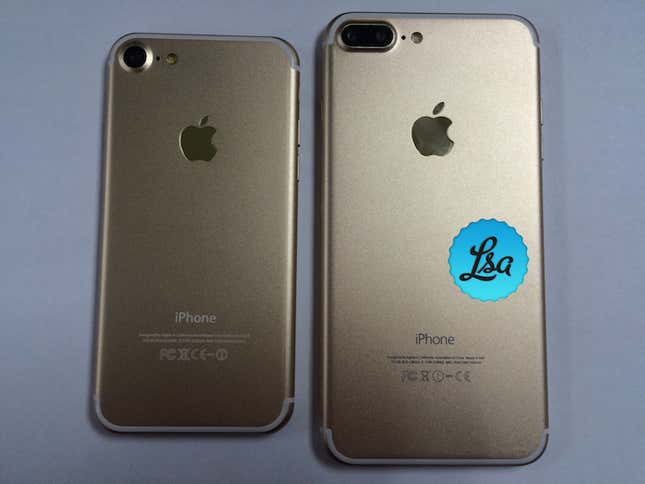 The last bit of big news is some Chinese blogs report that the iPhone 7 will be waterproof, which isn't too unlikely since the iPhone 6s was damn near waterproof already. If Apple is able to make a fully waterproof (IP68-rated) iPhone, it will finally catch up to Android makers like Samsung, which launched its own H20-defying smartphone with the S7 earlier this year.

[Update] New images show that the iPhone 7 will likely be IPx7 rated, meaning full immersion in 1 meter of water for 30 minutes. There is evidence of Apple adding rubber to the SIM tray to make a more waterproof seal around the phone.
Specifications
Although Apple's design decisions on the iPhone 7 can be best described as divisive, it could receive a generous spec bump. Once again, Apple is reportedly going with the ARM-based A10 processor, which will be built exclusively by Taiwan Semiconductor Manufacturing Company (TSMC). This will be the most powerful mobile processor Apple has ever made, outclassing the chipset in the already damn fast iPad Pro.
[Update] Apple analyst Ming-Chi Kuo, who has a habit of being right about all things iPhone, says the iPhone A10 processor will get a significant performance boost, coming in at 2.4GHZ. For comparison, the A9 packed inside the iPhone 6s clocks in at 1.85GHz.
The camera is also getting some love. As previously mentioned the elusive Pro model could have a dual lens system. But according to 9to5Mac, the normal 4.7-inch and 5.5-inch models will stick with 12 megapixels. However, the sensors will be bigger than those on the iPhone 6s models. This should significantly help with lowlight photography. And because of this dual lens, Apple might also be upping the RAM in its bigger phones to 3GB for photo processing while the normal iPhone 7 will stick with 2GB.
[Update] Here's a description of how the new camera could work in the updated iPhone 7 Plus via Bloomberg:
The dual cameras on the larger new iPhone will produce brighter photos with more detail, according to a person who has used a prototype version of the upcoming device. Both sensors, which each capture color differently, simultaneously take a picture, and the device produces a single, merged photograph, said the person.

The dual system sharpens photos taken in low-light environments, the person said. The combination of the merged photos from the two camera sensors also allows users to zoom while retaining more clarity, the person added.
As for battery, reliable leaker @Onleaks says that the iPhone 7 could see a 14 percent increase in battery size. Since the screen technology isn't changing much and the A10 should be more efficient than previous chips, this can only mean only good things for the iPhone's battery life. After all, more battery means more Pokémon Go.

A weird piece by The Wall Street Journal claims Apple's iPhone 7 will start with 32GB as its base model. That's good, because 16GB in 2016 is complete garbage for a phone that costs over $650. According to a rumor posted to Weibo, the iPhone 7 will also have a max storage size of 256GB, which is an unholy amount of storage.
[Update] An image of a box from a purported iPhone 7 Plus shows a phone with a capacity of 256GB. The box also purportedly contains EarPods with Lightning Connector (suggesting the EarPods themselves are identical, just with a Lightning end) and a Lightning to headphone jack adaptor.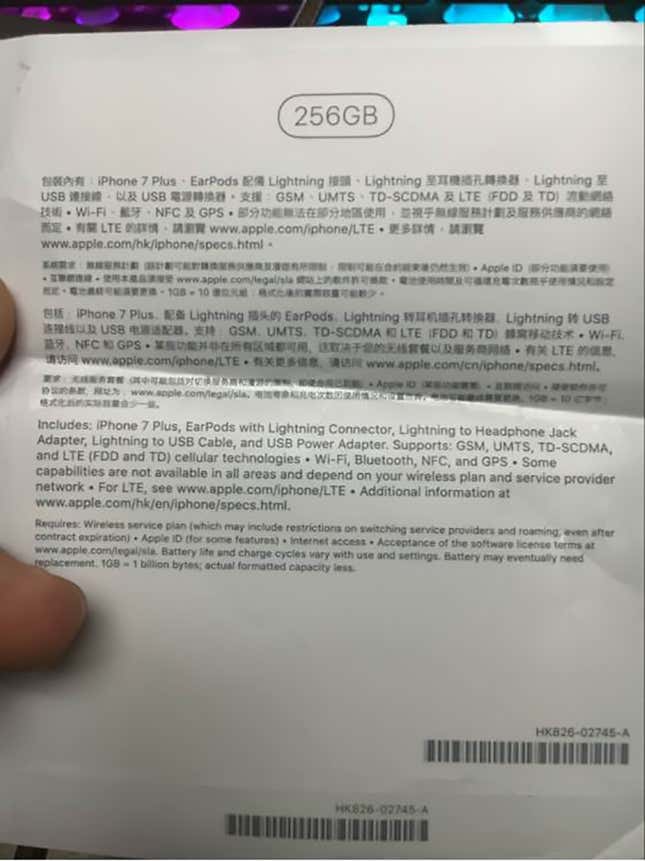 iOS 10
Most of Apple's software additions are already in the hands of tons of iPhone users thanks to Apple's new public beta program. You can read all about iOS 10 right here, especially all the weird stuff they've added to iMessage.
But much like Live Photos and 3D Touch for the iPhone 6s, it's possible that we might see hardware-specific software (like that dual lens camera, for instance). Also, with the improved home button, Apple might have specific hardware shortcuts or Siri capabilities just for the iPhone 7.
Price
Usually history can be a good indicator. The iPhone 6s and 6s Plus start at $650 and $750, respectively. And while discussing the supposed max storage size of 256GB, the Weibo rumor monger suggested a price for the iPhone 7 Pro: $900. Clearly, the Pro is either for people who don't fuck around or people that are stupid. One or the other.
As for colors, Apple might offer options: gold, rose gold, silver, space grey, and space black, according to Macotakara. This would match the options available with the Apple Watch.
[Update] Macotakara has photos of a purported SIM tray for the iPhone, showing off all of the color variations. Check out the glossy black hotness.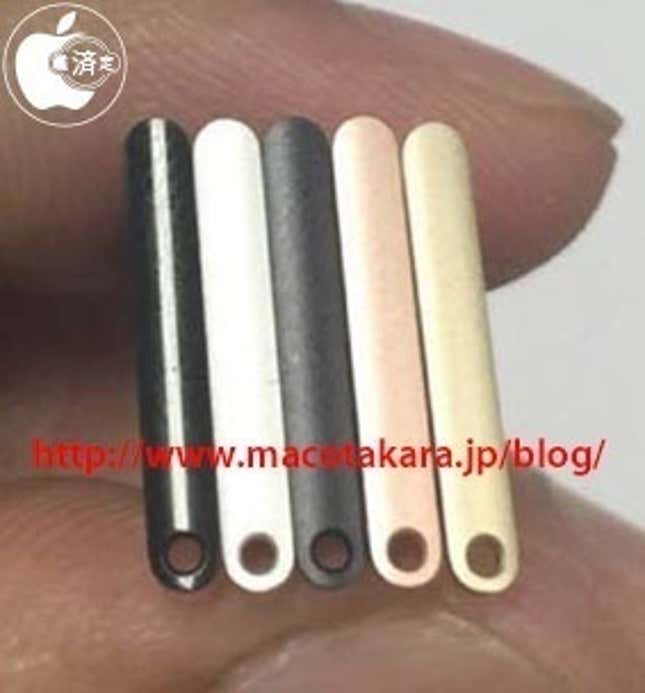 [Update] Apple analyst KGI confirms these five colors. Apple will supposedly be ditching space grey and adding dark black and a glossy "piano black."
[Update] Here, supposedly, is a picture of the piano black variant next to a silver model: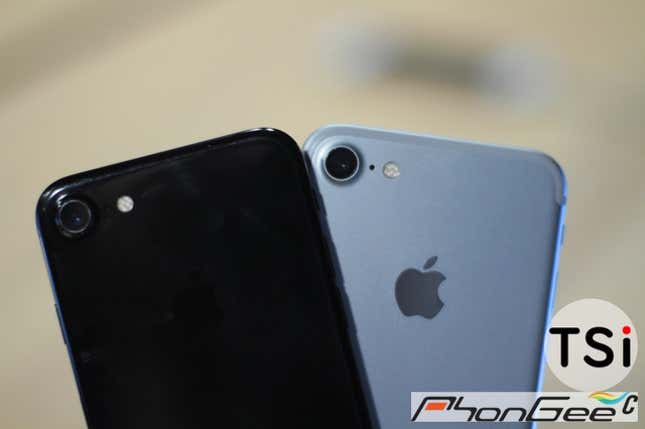 Availability
According to leaker @evleaks, the iPhone will go on sale September 16, meaning pre-orders will likely begin the week before.
[Update] An AT&T merchandise reset schedule says that September 23 could be the possible in-store date, according to MacRumors.
[Update] @evleaks recently confirmed his original leak, adding that pre-orders begin on September 9th. Usually, Apple's iPhone event falls very close to the 9th, so Apple could be planning an earlier event or speeding up iPhone pre-order and sales once the phone is announced.]
[Update] Apple sent out invites for its big media event. As rumored, it will be Sept. 7.