Read a description of a Tomorrowland scene that takes place at the 1964 World's Fair. Is the Star Wars trailer coming to your town this weekend? Frank Grillo talks Captain America 3. Learn what's ahead for Arkham, Poison Ivy, and Dr. Leslie Thompson on Gotham. And where is Father Gabriel on The Walking Dead? Spoilers now!
Top image: Gotham
James Bond
The source is The Daily Mail, so take this for what it's worth: The previous rumor that Christoph Waltz is playing a villain in the next Bond film has been beefed up with the added rumor that Waltz will actually bring Ernst Stavro Blofeld back to the big screen for the first time in 30 years. [The Daily Mail]
---
Star Wars
Rumor has it that in the impending teaser trailer, as Han Solo and Chewbacca enter the Millennium Falcon, we'll hear Han say, "Chewie, we're back home." [Star Wars Underground]
G/O Media may get a commission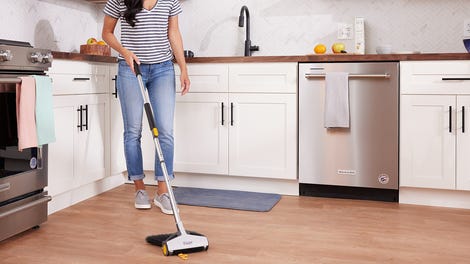 BOGO 50% Off
Flippr - BOGO 50% Off
It looks like it's official that the teaser trailer will be shown this weekend in theaters, with Regal Entertainment's website displaying a list of theaters that will have it:
These are only the Regal Cinemas that will have it, however, and earlier reports claimed that 100 theaters total will have it. [IGN]
---
Captain America 3: Civil War
Along with saying that he knows what we know — that Iron Man's got a significant role in the film and so does Black Panther — Frank Grillo spoke about returning as Crossbones:
[Winter Soldier] was only a taste of what's to come with the next film, and I couldn't be more humbled and excited. They just kind of called and said, 'What kind of shape are you in? We're going to need a body scan.' They scan your body so that whatever you wear fits you like a glove. ... [Crossbones is] a badass. He is just vicious. I like the idea that it's no holds barred. I love the physicality. We all know what Crossbones represents in his world.
---
Tomorrowland
A new clip was shown at D23's Destination D event, and this one showed what sounds like a flashback to the 1964 World's Fair:
The scene begins with young Frank Walker (the childhood version of George Clooney's character) arriving at the 1964 New York World's Fair via Grayhound bus. He carries a large canvas backpack with him. As the bus lurches to a stop, the driver exclaims, "Flushing Meadows, Corona Park, World's Fair! Don't forget your valuables, and enjoy the future."

Walking the grounds, the Fair is revealed in its full, recreated glory. Frank visits the Carousel of Progress, where the classic Sherman Brothers song "Great Big Beautiful Tomorrow" can be heard. He witnesses a demonstration of a "Probability Machine," at the IBM pavilion. The demonstrator explains, "Now, these balls fall in a random pattern, but advanced computing determines exactly where they will end up."

Frank sits on a bench where he us joined by young Athena, played by Raffey Cassidy.

"Don't turn around," she says. "Be cool. Count to twenty, then follow us." She presents Frank with a pin — more on that in a minute.

Frank hops the It's A Small World attraction queue and sneaks onto an empty boat with his bag. He floats through the ride we all know and love ... until he reaches the France segment. From the tip of the Eiffel Tower, a laser scans Frank's pin. His boat is isolated on its path, and the entire track DROPS into a ramp, sending him BENEATH the ride.

His boat approaches an isolated station in a black void. A faint blue fog represents the horizon. Lines of light encircling the station flicker on. Frank enters a retro-styled aluminum enclosure — an elevator — in which signs indicate directions for "WORLD'S FAIR" and "TOMORROW."

A modulated voice greets him, "Good afternoon. Please step aboard the transport. The site is active." The lights begin to flicker, and Frank himself begins to phase and distort.

He falls to the ground, the lights return, and the distortion normalizes. He schleps his bag onto his back and faces the door, which opens as binding white light spills in. The music swells, Frank walks out ... and the clip ends.
A post on Reddit says that editor Walter Murch spoke at an event, and explained that he couldn't talk about his last project because he had just been fired that day. It's assumed that he was talking about Tomorrowland. [Reddit]
---
Drafted
Benderspink productions has finalized a deal to adapt the comic series Drafted for the big screen. The original story from Mark Powers chronicles Earth's first contact with a race that warns of an upcoming invasion, leading to people being drafted from across Earth's population to fight the invaders. Victory brings questions of whether the humans fought on the right side. The comic is also being rebooted for another run in 2015. [Deadline]
---
Exodus: Gods and Kings
Here's a featurette about Ridley Scott's Biblical epic. [Coming Soon]
---
Home
At the link is a new trailer for the film. [Yahoo!]
---
The Walking Dead
Seth Gilliam explained where Father Gabriel is going after the last episode and why:
I have not actually seen the episode yet so I am not sure what is in and what is not, but he did have some lines where he was going out really to see if what was happening at the school really went down. Have people really reverted to cannibalism? Are they trapping other human beings and eating them? So I think it's more of an exploratory mission than an escape. And also, for someone who is not going to fight, the other alternative is fleeing, so having a little escape route, whether he is intending to leave for good or not, is just somewhat comforting for him.
He added that he's not sure what to make of this group he's encountered:
Yeah, I'm not sure that at this point why they do what they do to the extent that they do it. And I don't know if he thinks they're bad people or good people who do bad things. I know that he's very tentative in terms of trusting them any further because they're dangerous, and dangerous in a way that he's never come across, and that's got to be frightening for him. But I don't know if at this point he's made up his mind whether they're good or bad people.
Here's a sneak peek at the midseason finale:
Here are two photos from the midseason finale, "Coda." [SpoilerTV]
---
Gotham
Clare Foley, who plays Ivy Pepper (who will, in Gotham's telling, grow up to be Poison Ivy) talked a bit to Comic Book Resources about what she'd like to see from her character going forward:
At one point, Selina tells Ivy to calm down. What is Ivy like when she gets angry?

I am interested to see! You kind of get that a little bit in the pilot, when Ben McKenzie's James Gordon comes back to see the shoes. She might get very upset, so I'm interested to see what she does.

Is Ivy's obsession with plant life going to be explored further in future episodes?

That would definitely be interesting to see. It shows a bit of that in the pilot where she's watering her plants. Maybe it's because she is named Ivy. It would be interesting to see where that really came from.
Executive producer Danny Cannon explained that we will be seeing Arkham more and more this season:
Without a doubt. And Episode 11 will really solidify that. When you're making a show basically about the lunatics that are running the asylum — and I imagine that's what Gotham is — it's really good to actually go to an asylum and do stories there, because you can be as bold as you want to be.

TVLINE | A recent featurette suggested we will learn how it is that Gotham became this breeding ground for these particularly twisted characters. Is that where Arkham comes in?

Absolutely. Also, not only are there dangerously criminally insane people there, but some people are put there for the wrong reasons and swept under the rug. It's a big rug that corrupt Gotham can sweep people under sometimes.
He added that the earlier reference to the Indian Hill toxic waste dump wasn't a throwaway Easter egg and that it will come up again. He also mentioned that Morena Baccarin's Dr. Leslie Thompson will be sticking around for a while when she appears:
[She's arriving at a vulnerable time in Jim Gordon's life.] And maybe that's why their relationship may have some lasting effects, because I think they have a lot in common, too. He is vulnerable, and he can't really do this alone. No, we have a lot of plans for that relationship, and not just to support Jim but also to make him vulnerable.

TVLINE | Will, per DC Comics lore, Leslie also afford you an additional avenue to access the Bruce Wayne character?

Absolutely, but later. We're not going to rush that relationship.
[TV Line]
---
Childhood's End
Syfy's show has added Ashley Zukerman to the cast as a father of children with psychic powers. Zukerman will play Jake Greggson, "an American production designer with artistic sensibilities" in the adaptation of the Arthur C. Clarke's story of an Earth under the control of alien Overlords. [if.com.au]
---
The Originals
Executive producer Julie Plec said not to "write off" Hayley and Elijah, previewing a big moment to come for the two:
"He genuinely believes that if he loves too deeply, he will hurt the person that he cares for." Ironically, though, he has been hurting Hayley by avoiding her; in the final two episodes of the year, "she'll finally get to confront him about that."
[TV Line]
---
Sleepy Hollow
Neil Jackson, who plays Abraham, explained how he sees the motivations of the character:
"The way that I perceive Abraham to be is that he's only got one foot in Moloch's camp, and that Moloch was a means to an end so that he can enact revenge on Ichabod," Jackson says. "If he was given the choice, he would choose Katrina over Moloch."

That doesn't mean, Jackson hastily adds, that Abraham trusts the witch. However, "All that he wants is to recapture his humanity, and his one chance at that, he believes, is to rekindle his love with Katrina."
[TV Line]
---
Zoo
Nora Arnezeder has joined the cast of CBS' Zoo, a show about a wave of surprise animal attacks. No word on what her part is, but the series already stars James Wolk as Jackson Oz, a zoologist who works to unlock the mystery of why the attacks are happening. [Shock Till You Drop]
---
The 100
Go here for photos from episode 2.06, "The Fog of War." [SpoilerTV]
---
The Vampire Diaries
Go to the link for more photos from December 11's episode, which find Bonnie trying to recreate traditions and reminiscing about happier times. [TV Guide]
---
Resurrection
Here's the description of the November 30th episode, "Forsaken":
Pastor Tom's new church is becoming a refuge for the Returned as fear and anti-Returned rhetoric intensifies. Bellamy and Sheriff Fred are determined to track down the True Living members and stop them from causing any more harm, and Maggie is on the cusp of finding a cure for the virus until the unimaginable happens - a frightening kidnapping and a horrible hate crime brings everything to a grinding halt, on "Resurrection," SUNDAY, NOVEMBER 30 (9:00-10:01 p.m. ET) on the ABC Television Network.
Photos from the episode here. [K Site TV]
Additional reporting by Charlie Jane Anders and Diana Biller