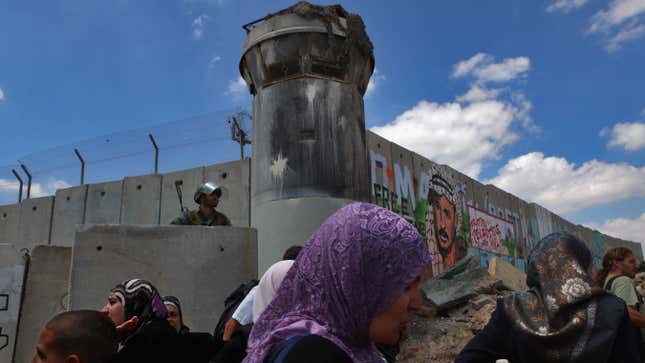 The Israeli military is increasingly deploying experimental new facial recognition software to monitor Palestinians and "supercharge segregation" in the West Bank, according to a new Amnesty International report released Tuesday. Amnesty found that Israeli authorities are using a little-known advanced surveillance tool called "Red Wolf" to monitor and restrict Palestinian residents' movements across key checkpoints in the region. Palestinians on the ground described the state's vast and growing web of facial recognition-enabled CCTV cameras surrounding them as "omnipresent" and inescapable.
Should Facial Recognition Technology be Banned? | Future Tech
"I'm being watched the whole time," Nedam, a Palestinian resident of East Jerusalem, said in the report. "Every time I see a camera, I feel anxious. Like you are always being treated as if you are a target."
What did the Amnesty report find?
The 82-page report, titled "Automated Apartheid," pulls from dozens of accounts of alleged surveillance of Palestinians living in Hebron and East Jerusalem. Palestinians who pass through checkpoints in those regions reportedly have their faces scanned by the Red Wolf software, often without their knowledge or consent. Those faces are then compared with a large database of Palestinian faces. Residents speaking with Amnesty claim the military's use of the tech has notably increased since 2021 when heated clashes between Palestinians and the military left 44 people dead in three days.
Israeli authorities on the other end of the system are presented with a color-coded system informing them whether to let someone pass or stop them for questioning, according to the report. New individuals not previously included in the system are automatically enrolled in the ever-growing database of faces, the report says. But not just any faces. Amnesty claims Palestinians are the "only racial group" in Hebron required to use the facial recognition-enabled checkpoints. Amnesty claims that unequal system amounts to "automated apartheid."
"In addition to the constant threat of excessive physical force and arbitrary arrest, Palestinians must now contend with the risk of being tracked by an algorithm, or barred from entering their own neighborhoods based on information stored in discriminatory surveillance databases," Amnesty International's Secretary General Agnès Callamard said. "This is the latest illustration of why facial recognition technology, when used for surveillance, is incompatible with human rights."
The report claims the previously unreported Red Wolf facial recognition system is part of a wider, sprawling network of Israeli military surveillance tools called Blue Wolf and a database called Wolf Pack. Soldiers can use the Blue Wolf software on their mobile devices, which gives them the flexibility to snap an individual's photo using the device's camera and add that face to the database. That software is reportedly supported by streets filled with CCTV cameras supplied by Chinese surveillance camera giant Hikvision and US-based TKH Security. Human rights organizations allege Hikvision cameras were used by Chinese authorities to surveil the country's Uyghur Muslim minority.
A single checkpoint in the region is jam-packed with 24 audio-visual surveillance devices and sensors, the report notes. Palestinians speaking with the researchers say the vast system of surveillance and cameras can intimidate them away from accessing certain areas and potentially increase their risk of being subjected to arbitrary arrest or detention. In some cases, Palestinians said authorities abusing the system kept them from being able to make it back home.
"They [soldiers] can tell you that your name is not in the database, as simple as that, and then you're not allowed to pass through [to] your house," Eyad a Tel Rumeida resident said told the researchers.
Israel following China's playbook
Facial recognition tech worldwide faces an inflection point. A growing coalition of lawmakers in Europe have supported putting in place measures banning use of the tech in public spaces, citing researchers' concerns the tech is biased against nonwhite people and can be used to surveil political dissidents. The United States, which lacks meaningful federal data privacy laws, has instead seen an upsurge in states and local governments turning against the tech. Industry giants like Microsoft and Amazon have even agreed to cease selling the tech to law enforcement.
Israeli's deployment of facial recognition to target specific ethnic groups moves the opposite direction and more closely resembles the types of hard-lined, rights-violating surveillance carried out by China in the Xinjiang region, where more than a million Uyghurs have been detained.