Earlier this month, Harry Potter creator J.K. Rowling released a short piece of prose that offered a quick look at Harry Potter and his Hogwarts classmates as adults. The response indicated that fans are still hungry for stories of the wizarding world—and perhaps it's time for someone other than Rowling to give it to them.
Top image by Viktoria Ridzel, who draws delightful scenes of the Marauders.
A large part of the excitement over Rowling's latest piece, which took the form of a Rita Skeeter gossip column set during the Quidditch World Cup, was that it was a Harry Potter piece written by Rowling herself. And it's a charming piece, a critique of society columns through the lens of Rowling's world. But some fans were frustrated by this tiny update on Dumbledore's Army. The Underwire's Devon Maloney neatly summed up those frustrations in a recent post:
Like so many half-baked sequels, these (extremely) short stories are starting to read like fan-fiction (no offense to fanfic authors), but unlike those writers Rowling created this story. Drawing it out with totally uneventful tidbits that serve to give lifelong diehards heart attacks for no reason is starting to feel disingenuous. New stories seem fun, but these aren't really stories; they're blog posts that devalue not only the magic that made Harry Potter so special, but also the mourning process with which fans already made peace. If the wizarding world is done, let it be done—at the very least so the tears my friends and I shed almost a decade ago weren't just the overemotional snifflings of hopeless dorks.
But other fans are reluctant to close the book on Rowling's world. Rowling may have originally intended for the tales of Hogwarts to end with the final page of Harry Potter and the Deathly Hallows, but the wizarding world feels as alive as ever. Fans still discuss their re-readings of the book, puzzle out the rules of Rowling's universe, and share remarkable fan works across the Internet. Visitors flock to Orlando to visit recreations of Hogwarts and Hogsmeade Village. Colleges have competitive Quidditch teams. And Rowling herself has agreed to tell another story of wizards—one set in New York decades before the Harry Potter books—in writing the screenplay for the upcoming film Fantastic Beasts and Where to Find Them. She's even collaborating on a play about Harry's life before Hogwarts, an odd choice, but one that will bring some co-writers in on a new Potter tale.
Now Rowling has other, non-wizarding stories she wants to tell as well. She has just released her second Cormoran Strike novel, The Silkworm, and it is understandable that, as a writer, she wants to move forward with new settings and new characters. But if she's willing to tease us with snippets about Ginny Potter's sportswriting career or a Dumbledore's Army reunion, it seems that even she admits that there are still more stories to tell about Hogwarts and the people in its orbit. But Rowling doesn't necessarily have to be the one to tell them.
G/O Media may get a commission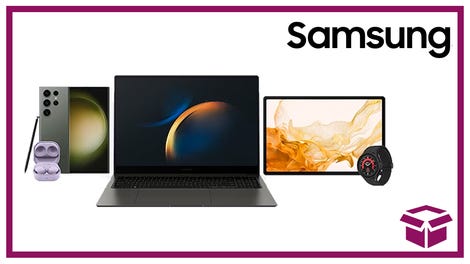 24 hour deals
Discover Samsung - Daily Deal
Update: I should add, because there has been a lot of discussion of this in the comments, that I certainly believe that J.K. Rowling has the right to ultimately make her own decisions as a creator. But as the Harry Potter universe has grown, it makes more and more sense to me to bring in other writers to explore that universe. This is intended as a suggestion, not a demand.
The Expanding Sandbox
While Rita Skeeter's column is the first tale featuring Harry Potter himself that Rowling has published since The Deathly Hallows, Rowling has done a bit to grow the wizarding world since the end of the Potter series, writing full versions of some of the books that appear in the series: Fantastic Beasts and Where to Find Them, Quidditch Through the Ages, and The Tales of Beedle the Bard. She's written additional content for her Pottermore website. She's offered insights into her characters and their futures in interviews.
Rowling has created a rich world, filled with creatures and grudges and old family lines, and it's no wonder that people love to play in that sandbox. And not everyone is intent on spending their energies with Harry, Hermione, and Ron during their Hogwarts years—after all, we know that story already. We see fan creators exploring the years that Harry's parents spent at Hogwarts, imagining the relationship between his daughter and Draco Malfoy's son, and picturing the adventures of aurors in the wizarding world.
Rowling sometimes chooses perplexing subjects for her return trips to the Potterverse. She writes volumes on the history of Quidditch and now she's looking at Harry's pre-magical life. But what most of us want to see is more stories—actual stories—set in that magical world, that world where children become wizards and, gradually, adults. And while Rowling is going to give us a trip to see the wizards of New York, there's more of Europe—and even of Hogwarts—that we'd like to explore. Those are the sorts of stories that so many fan writers and artists have invested their time and talents in, and if Rowling doesn't want to tell those stories, even as she builds out her universe, it makes sense to put them in the hands of people who do want to tell them.
Fresh Voices
And as the Harry Potter universe grows, it could benefit from some fresh blood. The Harry Potter series is delightful, but not without its flaws. There is a lot of rich discussion about how Dumbledore has been lionized after forcing Harry to grow up in an abusive home, and the treatment of class and gender in Rowling's books.
Sometimes, when new creators step into a universe, they create works that both critique and deepen the original creation. I look at Dave Filoni, whose Clone Wars TV series takes a hard look at the Star Wars universe, and the way that the various Star Wars video games, books, and comics have helped the franchise endure, not just as a story, but as a part of our cultural mythos.
Harry Potter may have originally started as an extended bedtime story, one to carry children from their pre-teen years to the precipice of adulthood, but thanks to both Rowling and her legions of fans, it has turned into something approaching a full-fledged universe, one that deserves to be explored. What is the wizarding world like in other countries? What was Hogwarts like during the World Wars? What if you're not at one of the best schools of magic? What was daily life like for Neville? A diverse group of creators could explore all of these questions and more, exploring topics of morality, community, family, and adulthood in the fantasy framework Rowling has provided.
There's also the fact that a lot of fan creators really did grow up with Harry Potter. Hogwarts has been with them since childhood, and while perhaps Rowling originally hoped that they would let go of his hand with the final book, ready to graduate from Hogwarts. But the truth is, many fans don't want to graduate into the muggle world; they want to see what the wizarding world is like as adults. Fantasy and magic aren't just topics for children's literature; they can help us through our adult lives as well, and we as readers could benefit from seeing the Hogwarts alumni navigate both the fantastical and the mundane as adults.
A Rich Community of Fan Creators to Draw From
To be honest, I came to Harry Potter later than most and a bit sideways. I read Harry Potter and the Sorcerer's Stone as a teenager, but didn't read the rest of the series until years later. What convinced me to plunge fully into Rowling's world? The massive amounts of Harry Potter fan fiction, fan art, and fan discussion I saw everywhere. I figured that anything that inspired that level of creativity and thought had to be worth reading. And as much as I enjoyed the Harry Potter books, my favorite aspect of the series is still the fan love it has inspired.
Whether they grew up reading Harry Potter books or got into them as adults, these creators have already poked at and enriched the universe through their fan fiction, their comics, their artwork, and their fan films. There is so much talent and energy among fans of Harry Potter and it would be wonderful to see a world where their efforts could be legitimized and compensated. The world could be more magical with more official tales from the wizarding world, even if Rowling isn't the one writing them.