An Avengers 2 tie-in promotion offers our best look at the Vision yet. Andrew Kreisberg talks about this week's big Flash revelations. Game of Thrones' Sand Snakes reveal why they want war with the Lannisters. Plus, Supernatural teases a big return, and what's in store on Gotham and Daredevil. Spoilers Now!
Top image: Guardians of the Galaxy.
Guardians Of The Galaxy 2
James Gunn has confirmed that the latest treatment for the film has been approved by Marvel, and the scriptwriting process will now begin in earnest. He also offered a few tidbits about the movie, saying that Ronan the Accuser is definitely dead and gone for good in the movie universe, the sequel will have a stronger focus on characterizing the Guardians, and that Karen Gillan will potentially have to find a way to play Nebula without shaving her head again. [ScreenRant]
---
Batman V. Superman
Collider has a rumor speculating that the long-awaited trailer for the movie will be attached to Mad Max: Fury Road.
G/O Media may get a commission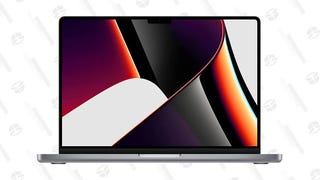 Save $300
2021 14" 1TB MacBook Pro
In an interview with Fashionista, costume designer Michael Wilkinson discusses the design elements that went into creating the new Batsuit:
"It's a very important thing to Zack that the Batsuit would be comfortable and very flexible but then would be able to perform in a very natural and forceful way," said Wilkinson, adding that the rigidity of the cowl and neck-pieces was "one of the first things that Snyder mentioned to me in one of our initial meetings." This time around, promised Wilkinson, "a lot of incredible engineering went into the development of the new black cowl."
[via THR]
---
G.I. Joe 3
Section 6 scribe Aaron Berg will write the script for the movie. [THR]
---
Hoax Hunters
Craig Titley will adapt this comic series from Heavy Metal, about a group of paranormal hunters who debunk supernatural events for a reality TV show, while secretly dealing with the very real threats they represent. [THR]
---
Rings
Johnny Galecki will play a lead role in the movie: Gabriel, a professor who mentors the main duo Holt (Alex Roe) and Julia (Matilda Lutz). [ Deadline]
---
Jungle Book: Origins
Deadline are reporting that Matthew Rhys is in talks to join the movie, potentially playing the human character John Lockwood.
---
Avengers: Age Of Ultron
Two new cast members have been revealed, via the guest list ahead of next week's global première: Julie Delpy and Linda Cardellini. Their roles are currently unknown. [ /Film]
A new batch of promo pictures from Audi's tie-in website offers a good look at the Vision as he'll appear in the movie. Check him out below, and see more here. [Audi]
---
The Flash
Andrew Kreisberg talks about how Eddie will handle knowing that Barry is The Flash:
It's interesting: part of the fun of Eddie is that he's such a nice guy and he's such a good guy, and when you have a love triangle, it's hard for Barry to not like Eddie even though he's dating Iris, because he is a stand-up guy and he clearly cares about her. I think the biggest conflict that's going to come between them is that Barry and Joe, whether it's right or wrong, have made this decision to keep Iris in the dark about things. Eddie, as always, is the much more emotionally in-touch character and is like, "This is ridiculous! By not telling her, you're actually putting her in more danger.

That actually starts to become the conflict between the three men. Eddie is not happy with how Barry and Joe have been handling this, and it starts to really impact his relationship with Iris. There's a great moment where he says to Barry, "How do you just lie to people like that?" It makes Barry look at himself and go, "Wait, when did I become such a great liar? I thought of myself as being so innocent and pure." It really starts to grate on Eddie. In the next episode, which is the crossover [with "Arrow"], Eddie, Iris, Barry, Felicity and Ray all go out for dinner. Everybody is talking about their feelings and Eddie and Iris get into a fight, and Barry is the fifth wheel. It's fun!
[ CBR]
Here's some promo pictures for the next episode, "All-Star Team Up" — go here for more. [CBR]
---
Supernatural
Jim Beaver talks about the return of Bobby:
Do you think he'd want to be brought back to life even though that usually comes with a pretty high cost?

Well, I can tell you that the actor who plays him would like to be. I've been very fortunate. I've had a ton of really other great other stuff since Bobby's demise and I wouldn't have given up any of it for anything, but I really do love playing the character.

And I think Bobby kind of feels the same way that "Yeah, what's going on here is great, but I miss the action with Sam and Dean and miss being part of—." You know it must be a heavy feeling being one of a handful of people on the whole planet Earth who knows about these dark supernatural goings on and not only knows about them but is capable of doing something about them.

I think Bobby misses that and I certainly miss playing it.
[ Buddy TV]
---
Arrow
Charlotte Ross talks about what Donna Smoak will do upon returning to Starling City:
TVLINE | So, what is Donna up to this time around?

Well, we know that Donna lives in Vegas. We know that when she travels on Southwest she's wearing an imitation Herve Leger, which I think says so much about her. [Laughs] Obviously what's going to bring her to town is her daughter, and anything her daughter might be going through that maybe I can help her with.

TVLINE | Does Felicity talk to her mother at all about the Oliver situation and the complications there?

Donna, being as "subtle" as she is, definitely wedges her way in a bit to get to the bottom of where her daughter stands emotionally. And Donna has some strong opinions on what she should do about it.
[ TV Line]
---
Hannibal
Guillermo Navarro and Michael Rymer have signed on to direct the last few episodes of the upcoming season. [ Fashion & Style]
---
Game of Thrones
Jessica Henwick and Rosabell Laurenti Sellers talk a little bit about the Sand Snakes' role in the upcoming season:
Jessica: We're Oberyn Martell's bastard children. We've grown up hearing all about how the Lannisters have abused our relatives, we've lived and breathed that for I don't know how many years. So when Oberyn dies we're just like, 'Okay, finally this is the time, we can't let this pass. We let the other things kind of slide but now we have to go to war for this.' We take up Oberyn's call for revenge and we've grown up with him telling us that the Lannisters are the root of all evil.

Rosabell: Yeah and we definitely unite for that, as in we put our own personal problems aside to be strong together. Obviously the dynamics are like between any sisters — there's gonna be some difficulties!
---
Heroes Reborn
Here's an impromptu cast photo from behind the scenes, via Zachary Levi.
---
Grimm
Here's some promo pictures for "Hibernaculum" — find more at the link. [Spoiler TV]
---
Daredevil
Matt Murdock enacts some rough justice (and gets some feedback on his costume) in the newest TV spot. [ CBR]
---
Gotham
Finally, get a glimpse of the last four episodes of season one in this promo trailer. [ Coming Soon]
---
Additional reporting by Abhimanyu Das and Charlie Jane Anders.