The blockbuster sequel to the blockbuster Jurassic Park reboot is currently grossing a zillion dollars, but did you notice how everyone in the movie was an imbecile? Their actions may be confusing, but don't worry—my patented Spoiler FAQ has all the answers to the movie I have retitled Jurassic World: Idiot Buffet.
Idiot Buffet?

Yes.
Why?
Because this is a movie about people getting themselves and others eaten by dinosaurs for the stupidest of reasons. Remember the Darwin Awards, about people who killed themselves doing something obviously deadly?
Yes.
Fallen Kingdom is practically a special edition. People who, despite dinosaurs getting loose and killing tons of people in both the original movies and the first Jurassic World, decide to mess with dinosaurs, or even straight-up let them loose.
G/O Media may get a commission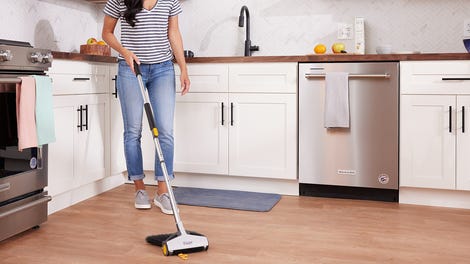 BOGO 50% Off
Flippr - BOGO 50% Off
Okay, so why didn't they just leave all the dinosaurs on the island? That's where they were stuck when Jurassic World ended, right?
Right (well, minus the pterodactyls, who can fly wherever, but don't worry about them). It turns out John Hammond, the guy who created the original Jurassic Park, built it on top of a volcano that has very suddenly become active. So now the populace needs to decide if the dinosaurs should be saved and kept from going extinct again, or let them get wiped out. Because, you know, they keep killing humans.
Maybe because I watched dinosaurs eat like a zillion people over the previous four Jurassic movies, I'm sort of leaning toward letting them get wiped out?
Then you would not be Claire (Bryce Dallas Howard), who watched dinosaurs kill a zillion innocent park visitors in World, but now works for an organization dedicated to saving the dinosaurs.
What's their plan to save them?
Claire doesn't really have one, it seems, which runs into the immediate problem of where do you put them, because… you know… they always get loose and kill people. Luckily, she's called by the elderly Benjamin Lockwood (James Cromwell), who is the very-secret former partner of John Hammond, and his assistant Eli Mills, who do have a plan: to catch as many dinosaurs as possible and take them to a new sanctuary island, with natural borders the dinosaurs can't possibly escape from, where they'll be safe.
Sounds like maybe Hammond and whoever built World should have put the dinosaur park there instead of the island with the volcano?
One might think.
Why does Lockwood want Claire?
He asks her to go to the island because she's one of the few people cleared to access the Jurassic World system, which will help them find dinosaurs to save—this includes Blue, the vaguely friendly velociraptor who occasionally helped Claire and Owen (Chris Pratt) in the first movie. So even though they broke up in the intervening years, she asks Owen for help, and Owen goes to save Blue.
So they are all, on purpose, going to an island full of dinosaurs that still want to eat them, but now there's also a volcano about to blow any second.
Exactly. Oh, and they're accompanied by a bunch of mercenaries with big guns led by the no-nonsense Wheatley (Ted Levine).
Wait, let me guess. Does it turn out that the mercenary is actually there for another reason that includes exploiting the dinosaurs for some nefarious purpose?
No, actually.
Really?
Nah, just kidding! Of course he is. Turns out Mills has a secret agenda that Lockwood doesn't know about—shocker, I know. He's seizing dinosaurs from the island not to rescue them, but to sell them to evil people and evil countries for standard evil things: turning them into weapons, hunting them, using them for genetic research, etc.
These are all stupid ideas that will get the purchasers killed.
Look, virtually everyone in this movie is idiotic, and things are about to get much, much stupider. Anyway, the secret reason Mills sent Claire and Owen to the island is so they can find Blue, as she's been too smart to be caught—which is also why she's so valuable. This more or less works exactly as they planned—and that's the last time you'll hear that—although the volcano starts leaking lava. Wheatley and his men decide to abandon Owen, Claire, and their accompanying nerd there to die by volcano and/or dinosaur. Eventually, they escape their various death traps and sneak aboard the mercenaries' many ships, which are taking a wide variety of dinosaurs somewhere that is obviously not the sanctuary.
But it's only "obviously" not the sanctuary because the military guys tried to kill Claire and Owen, right?
I beg your pardon?
If the mercenaries hadn't needlessly tried to kill them, they literally could have packed up the dinos, told Owen and Claire that they were headed to the sanctuary, and dropped them off somewhere and literally no one would be the wiser.
Well, it would also have helped if one of the mercenaries hadn't shot and wounded Blue, because, guess what—the dinosaur attacked him—but yeah, basically. Look, the evil people are just unbelievably stupid, but it gets so much worse.
How?
Well, it turns out that the dinosaurs are being taken to… Lockwood's house.
What? In… America?
Yes.
That's insanely dumb. All these dinosaurs do is escape places and eat people. And why the house? Does Lockwood have some kind of giant, cavernous lair beneath his mansion that includes countless cages for the dinosaurs in a location that somehow allows for easily loading and unloading of dinosaurs into said cages, but is also somehow super-secret?
Yes, actually!
Oh my god.
Oh, and also it has an auction room with a conveyer belt that somehow allows the many, many caged dinosaurs to be seen by all the bidders like it's a goddamn runway, but for animals that weigh several tons. It is so contrived that I was genuinely impressed at how much thought the filmmakers absolutely refused to put into it.
That's—
I am only getting started. It turns out Mills has scheduled the auction for the exact same night that they dinosaurs are being brought into the house/lair in a truly tremendous feat of poor time management. No time to make sure all the dinosaurs are secured, no time to check if the merchandise is okay, no time to spare in case the boat encountered bad weather or something.
Well, that's not—
Hey, remember how in Jurassic World the park decided to make the Indominus Rex, a bigger, smarter, deadlier dinosaur, because they thought people might be bored with "regular dinosaurs"?
Yeah, sure. It was the dumbest thing in the movie, other than maybe people reopening the park in the first place. Wait... wait. No. You can't mean—
Yes.
No.
Oh yes. Meet the Indo-Raptor, a cross between the Indominus Rex and a velociraptor that combines the deadliness of the former with the intelligence of the latter, created with the help of Jurassic Park character Dr. Wu, in an unnecessary but still welcome cameo by the wonderful B.D Wong.
WHY DO THEY KEEP MAKING DEADLIER DINOSAURS THIS IS NEVER A GOOD IDEA.
To be fair, Mills is selling dinos for people who are also idiots who want to make them into living weapons and will also inevitably get themselves killed, so, you know, know your market. Did I mention the Indo-Raptor is laser-guided?
WHAT THE FUCK ARE YOU TALKING ABOUT?
Never mind, I don't want to get into it. Anyway, of course Mills is keeping this perfect killing machine in the house, because if you're selling nuclear bombs, you definitely want to store them in your hall closet. More importantly, the Indo-Raptor is also being kept in a cage with a single lock, and when soldiers aren't needlessly poking it with electric cattle prods to make sure it's as angry as possible, it's being utterly unmonitored. Guess how this goes.
Arrgh.
My favorite part about all of this? Mills ends up selling the dinosaurs to people for like $10 million or so. Dude, Paul Newman's Rolex watch sold in auction for $18 million last year. These are dinosaurs. If you're idiotically going to endanger your life by storing them in your basement while you sell them, at least ask for a decent price.
So the dinosaurs get loose, all the bad people get eaten, the end, right?
Not quite. First, the Indo-Raptor gets let out when Wheatley tranqs her and enters her cage to grab a tooth for a trophy. Of course, the dinosaur is only pretending to be asleep—which is a sentence I never expected to write—then eats him and takes off. But this dude deciding to enter a cage containing an unrestrained dinosaur and leaving the door open is just about the stupidest thing anyone has ever done in these movies. Almost all the people watching the movie in the theater with me audibly groaned at how dumb this was. Truly. At any rate, Blue the regular velociraptor helps the Indo-Raptor fall from the roof onto some fossilized dino horns on display in Lockwood's house, and that's over.
Whatever.
Oh, and by the way, Lockwood has a granddaughter named Maisie who is actually a clone of his dead daughter, but this doesn't really figure into anything.
The hell?
And finally, the T.Rex, star of the original movies, pops out of nowhere to eat Mills just before he drives off and escapes, because the T.Rex is a prima donna who always has to be the one who really saves the day.
I repeat: Whatev—hey. Did the T.Rex escape? You didn't mention that.
Oh, didn't I?
No... wait. What's that weird look in your eye?
SIT DOWN. LET ME TELL YOU A TALE.
What's going on? What are you doing?
A TALE OF A BUNCH OF DINOSAURS WHO WERE TRAPPED IN THE BASEMENT OF A HOUSE WHERE THERE WAS A CYANIDE GAS LEAK THAT WAS ABOUT TO KILL THEM ALL.
I don't like this at all.
BRYCE DALLAS HOWARD HAD TO DECIDE WHETHER TO LET THE DINOSAURS OUT OR NOT. IF SHE DIDN'T, THEY WOULD DIE; IF SHE DID, THEY WOULD BE LOOSED UPON AMERICA. BRYCE DALLAS HOWARD MADE THE FATEFUL DECISION TO LET THE DINOSAURS OUT OF THEIR CAGES.
i'm scared
BUT THEN DECIDED NOT TO MAKE THE MUCH MORE IMPORTANT DECISION TO OPEN THE GARAGE DOOR AND LET THE DINOSAURS ACTUALLY OUT, SO EVERYONE WAS JUST WATCHING THEM DIE.
what is happening
THEN MAISIE DECIDED TO OPEN THE GARAGE DOOR BECAUSE THEY'RE ALL CLONES TOGETHER OR SOME SHIT. AND THE DINOSAURS ESCAPED INTO THE REAL WORLD, WHERE THEY ALMOST CERTAINLY STARTED KILLING DOZENS OF PEOPLE AT MINIMUM BEFORE THEY EVENTUALLY GET SHOT AND KILLED BY ARMED FORCES ANYWAY, BECAUSE THEY ARE DINOSAURS WHO LIKE TO EAT PEOPLE. MAISIE WILL BE CHARGED WITH MANSLAUGHTER AND TRIED AS AN ADULT.
oh my god
And thus, the Jurassic World was truly born. Of course, there are only like a few dozen dinosaurs that actually leave the house, but presumably they'll "life finds a way" into making babies. I am actually looking forward to Jurassic World 3, which should theoretically be a post-dinosaur apocalypse movie, which honestly sounds pretty cool.
I… I don't really know what to say. Except... huh.
Yes?
Hey, wait a second.
Hmm?
Mills and Dr. Wu made the Indo-Raptor at Lockwood's lab, yes? Because they had dinosaur DNA and cloned it.
Yeah. Although there was a big deal in the beginning of the movie about soldiers getting a sample of the Indominus Rex's bones, presumably for the DNA, but they clearly had some already.
And they also had velociraptor DNA, because they spliced that into the Indo-Raptor.
Yes, absolutely.
So they probably still had all the dinosaurs' DNA. They never would have gotten rid of it.
No, of course not.
Why didn't they just make new dinosaurs?
…
Dammit, answer me. Why didn't they just make new dinosaurs?!
Oh. You mean, why didn't Mills, instead of sending god knows how many men to an island death trap to find and capture dinosaurs who want to eat them, pay god knows how much to transport them, then house them in a location he himself is staying at despite the fact that they escape constantly, at needless risk to his own life—why didn't he just not do any of that, and then tell the lab techs to make new dinosaurs that he could easily sell at his leisure, without anyone ever knowing? And why didn't he start that process years ago until waiting for the week that the volcano was going to blow?
Yes.
Because he's an moron and they're all morons and they're all just moronic dinosaur food. Idiot Buffet.
Please tell me that at least Jeff Goldblum's return as Ian Malcolm is good.
He's… there? Briefly? Mainly he gives a short speech about how humans are idiots determined to kill themselves.
Wise words.
Well, he's watched idiots get themselves eaten by dinosaurs for 25 years. They're not that wise as much as stating the obvious.
Yeah, but apparently no one else has figured this out.
Touché.