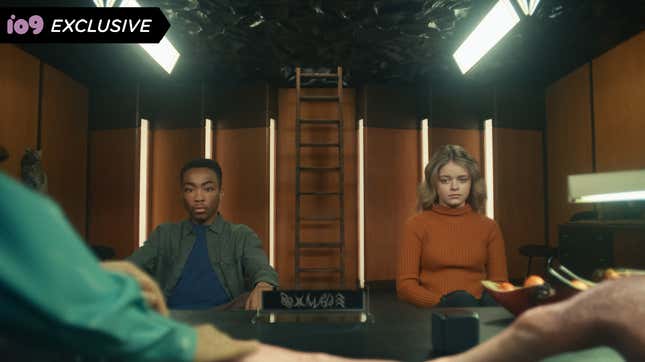 There are so many weird, awesome things to see in the upcoming sci-fi film Landscape With Invisible Hand. There's a world subjugated by aliens, and there are the aliens themselves—aliens living with humans, with a creepy alien way of communicating. And there are the very exclusive alien cities that float above the less fortunate.

See the Flying Cities of Landscape With Invisible Hand
While you'll have to watch the movie, which opens August 18, to experience most of that, io9 is excited to debut a clip revealing that last thing we mentioned. It's a scene from early in the film where Adam (Asante Blackk) and his sister get annoyed that they're about to be eclipsed by a giant floating city.
See the Flying Cities of Landscape With Invisible Hand
See the Flying Cities of Landscape With Invisible Hand
As we wrote in our review, one of the coolest things about Landscape is how it's always challenging your expectations. A scene like this, for example, is not only unexpected and interesting, it instantly makes you want to know more.
"The novel is a subversive take on the alien invasion genre, where the invaders take over the planet through economic soft power rather than through military might," writer-director Cory Finley (Thoroughbreds) explained in a statement provided to io9. "It's a colonial fable that is as funny as it is dark: a kind of E.T. where the alien living in your house is more likely to sue you than to become your friend."
Finley added, "Its vision of a slow-motion apocalypse felt deeply relatable: a world where everyday life is rendered alien, where human labor is economically useless, and where romantic and family love become commodities. And if there's anything radical about the movie's approach to the genre, I hope it's its intimacy: the way we observe intergalactic domination from the kitchen table. And the way that it finds hope not in a messianic savior but in a young artist, trying to make sense of it all, just like the rest of us."
He continued. "I focused on grounding it as much as possible and making it feel as grimy and human and as understated as it could be within this extremely bold setup. We set out to make the most realistic execution of a totally bizarre premise," Finley said. "It asks a lot of very pointed, interesting questions. Perhaps it will make people think about these very abstract, highfalutin' concepts about the economy, inequality, corporate control and colonialism. Or, you can just sit back and be fascinated by its strangeness, or drawn in by the characters, the human drama and the love story and loss. But I hope you will also walk out really chewing on some of the big themes."
Based on a novel by M.T. Anderson, Landscape With Invisible Hand was written and directed by Finley. It stars Asante Blackk and Kylie Rogers as kids who try and make money by faking a relationship for their alien rules to watch on social media, but then becomes much much more. Tiffany Haddish, Josh Hamilton, William Jackson Harper, and Michael Gandolfini all co-star. It opens August 18.
---
Want more io9 news? Check out when to expect the latest Marvel, Star Wars, and Star Trek releases, what's next for the DC Universe on film and TV, and everything you need to know about the future of Doctor Who.