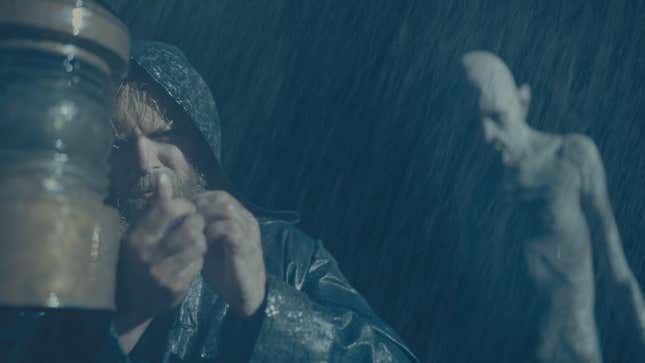 Finally, a movie will explore the age-old question "What would Dracula do on a boat?" It's called The Last Voyage of the Demeter and the trailer is here.
Spoilers of the Week: July 1st
Directed by André Øvredal (Scary Stories To Tell in the Dark, Trollhunter), The Last Voyage of the Demeter is based on one chapter in Bram Stoker's Dracula, "The Captain's Log," which tells the story of a ship traveling to England that left with a crew, but arrived without one. What happened on the ship? Well, Dracula happened. The film stars Corey Hawkins (Straight Outta Compton), Aisling Franciosi (Game of Thrones, The Nightingale), Liam Cunningham (also Game of Thrones) and David Dastmalchian (The Suicide Squad). Check it out.
A few things here. First up, since the chapter in Dracula ended with literally every single person on the boat dead, you have to wonder if the movie will go the same way. Are they going to kill that little kid? The dog? (Tell us at least the dog survives.) It would be an interesting, bold choice for a studio horror film to kill everyone, leave the villain alive, and then roll credits. So we'll see.
Second... I don't know. This trailer doesn't really do much for me. Am I crazy here? Smashing Pumpkins aside, it looks pretty familiar, even though I've never seen a Dracula-on-a-boat story. Maybe it's just the idea of a killer force in a singular location like in Alien that feels a little tired. At least the seafaring setting does offer some dynamic visuals, which you begin to see at the end of the trailer. But this trailer in particular doesn't quite psyche me up for The Last Voyage of the Demeter. Maybe I'm wrong. Let us know below.
The film opens in theaters on August 11.
---
Want more io9 news? Check out when to expect the latest Marvel, Star Wars, and Star Trek releases, what's next for the DC Universe on film and TV, and everything you need to know about the future of Doctor Who.