A few months ago, DC Comics announced the creation of the Sandman Universe, four new series taking place in the fictional landscape established in Neil Gaiman's award-winning run on Sandman. One of the new series, House of Whispers, is going to be unlike anything else ever before seen in the Dreaming.

One of the most exciting things about House of Whispers is that it marks the comics-writing debut of Nalo Hopkinson. Best known for her novels Brown Girl in the Ring and The Salt Roads, Hopkinson is an award-winning author of trailblazing fantasy and science fiction work. Much of her oeuvre concerns itself with speculative fiction steeped in Afro-diasporan folkloric traditions and that tendency will also manifest in House of Whispers.

During San Diego Comic-Con, I spotted Hopkinson multiple times a few days before interviewing her. She carries herself like a queen in outfits that all boasted crown-like headwear. When I asked her about those hats, she said that her sartorial plan for Comic-Con was to "Wakanda the heck out of it". You can read the edited, condensed conversation that I had with her and House of Whispers artist Domonike Stanton below.
---
io9: You two are the core of the creative team on House of Whispers. Talk to me about your previous engagement with the Sandman series, Neil Gaiman's work, and finding your own way into this universe.

G/O Media may get a commission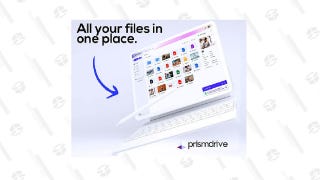 Save 97%
Prism Drive Secure Cloud Storage: Lifetime Subscription
Domonike Stanton: I guess I'll go first. So, my first experience with Sandman was Chris Bachalo. Chris Bachalo is one of my most favorite artists of all times and he drew the Death: The High Cost of Living series. Also, J.H. Williams did Sandman: Overture and I always loved his work. Just being amongst artists like that immediately drew me into the idea of this new series. So, when I was offered a chance to draw it, of course I said yes. Of course.

Nalo Hopkinson: So, I've read comics off and on since I was a kid and knew about Neil's work. I knew him best in his prose, but read High Cost of Living and definitely knew Sandman when it was out there. I've always loved Neil's writing, the way he took mythology which I grew up with, and folded it into the stories in ways that I would recognize. I remember reading American Gods and going, "Wait a minute. I know why this guy's name is Wednesday."

So yes. Then DC contacted me and asked if I would like to pitch for this… Yes, yes I would. I knew I wanted to be writing comics and had been working on little ones of my own. I have a project going with the artist John Jennings and he's been mentoring me towards doing that kind of thing. And I had written narrative tie-in stories for a game called Living Dark. So, yeah... I pitched it and they said yes, and here we are.

io9: I just started writing comics, too, and it's very different from prose. How are you going to grips with the form?

Hopkinson: I'm still coming to grips with the form. I've re-written issue one eight times. I've written issue two eight times. And I'm tired. But a little voice in my head says, "You're writing a Sandman comic." Okay! Not tired anymore! But yeah, things like, when you write your prose, you don't do a whole lot of info dumping. You explain things. I wasn't [doing that] so things were a little vague. My editors said, "You need to be more explicit." Then I have little structural epiphanies: "Oh, captions are a thing..." So now I'm all into captions. Other things have been challenging and exciting, like how to communicate what's in my head to the artist. For me, it's fun getting [the art] back and seeing how it takes my imagination and their imagination and something else happens.

io9: It's a syncretic, collaborative art form.

Hopkinson: Yes. And I've actually found working with three editors to be really, really helpful. For one thing, damn, do they know their jobs. And they have helped me when I get stuck and made suggestions. I'm used to sitting there going, "all mine, all mine" and I have to let that go. But it is collaborative and part of that is figuring out what I can keep and what I can insist on. The representation of the characters is very, very important to me. Writing a lot of characters of color, women, queer characters, I want them to be represented properly, and not in isolation. Because, you know, that can happen.

io9: Let's talk about that. The Sandman mythology has largely been a really white world. What are you trying to bring to the book to advance a more inclusive narrative without falling into a token trap?

Hopkinson: [laughs] Having been put in that token trap too many times, I think I can smell it coming. So, what's wonderful is that Neil and the artists who did the original Sandman series wrote the roads into to inclusivity. So, yes, it's a white world. It was really weird whenever everyone was looking African at certain points, but at least he thought to do that. But the spaces are there, the sensibility is there, and the support is there. Neil knows what I'm going to bring to it. He's read my work and my pitch. That encouragement is there.

I want to bring in a diverse diversity of African-ness. Our skin colors are different, we speak different languages, we have different socioeconomic backgrounds. I have so far used at least three languages. I'm hybridizing our existing mode. Yoruba is a religion that has numbers of different versions of it, and I'm hybridizing those. There's a feel of kind of breaking orthodoxy that sort of gives me pause, but I need to do it to make the story go where I want...

io9: So let's talk about the story and the characters...

Hopkinson: There's two set of characters: there's the Yoruba goddess Erzulie and basically her house gets lost and crashes into the Dreaming. All of the sudden, she's there beside the House of Mystery and the House of Secrets. So first of all, you have a god who is now disenfranchised.

In the [real] world, you have a young woman who goes into a coma, wakes up with a spirit disease and that's starting to spread. And Erzulie, she knows this girl's story and she's going to have to take care of them, but she can barely help herself out. So you have two sets of journeys happening. Erzulie and whether she gets back control over her world, and whether these — there's four of them — whether they're able to get some control in their world. Fiction is all about agency. So there's that.

io9: Domo, this is set in a Bayou milieu and New Orleans has so much unique architecture and history. It's like no place else in the United States. How do you capture that energy?

Stanton: Just have fun with it, you know. A lot of it, it comes through reference. I've actually been to New Orleans once and it's just about having fun with interpreting actual experience. I was just talking with somebody earlier about the way I represent the real world vs the dreaming world. And in the real world, you're going to see normal panels with some of that architecture that you'll recognize in New Orleans—the flower railings and the food that they eat there. And at the same time, you might even catch some of that in the gutters in Erzulie's world so I'm just having fun with making one bleed into the other, you know?

io9: Talk to me about Yoruba, vodun, and how you'll be tapping into Afro-diasporan mythologies, Nalo.

Hopkinson: There's going to be a lot and it will sort of be hybridized. My idea being what we believe about the gods is one thing, but what the gods actually do… they are mysteries. So, some of what they do is not going to be what we think they do. So that's how I'm getting my story mixed with the orthodoxy. But people who know my work know I do that anyway.

io9: We'll have the House of Mystery, Secrets and now Whispers… is Erzulie going to encounter Cain and Abel?

Hopkinson: Well, she lands beside their houses. So, they're going to notice. I actually don't know a whole lot more than that right now. I'm on issue three and I don't outline much.

io9: Domo, What's been the funnest thing she's had you draw so far?

Stanton: So far, I would definitely say I got to draw things breaking. And if you know my work from Deadpool and Moon Girl, I love to draw things breaking. Love to draw it. You definitely get some major action within the first issue, I would say. Something is going to break. I promise you.

io9: That bodes so poorly for the characters. Nalo, I feel like you were a groundbreaking trailblazer for black voices in speculative fiction and so much has changed since your earliest work. How do you process all of that?

Hopkinson: With joy. And glee. And a certain amount of wait-and-see, like everyone else. The fact that something like Black Panther could break film [records], it's like finally, we told you all. We told you all this would happen years ago, and now it's out there. But we've all seen moments like happen, and they get retracted. But my thing coming from the Caribbean is that I'm used to being in a majority. So I don't have the same [background]. Being in the US is extreme.

io9: I'm Haitian-American, and my mom never talked about it but I always wondered what it was like for her to come here. She grew up under the Duvalier regimes and their corruption came from socio-economical ideas that informed by white supremacy. But that didn't prepare them for what she'd experience here.

Hopkinson: I try to write from a perspective of black joy. I'm from a diverse blackness and diverse everything. The white characters, I need to not make them be the same old, same old. They need to be something else. Because nobody is the same old, right?