Motorola's Moto 360 stole the Android Wear spotlight when Google's smartwatch operating system was first revealed. But it's not the only tech-filled timepiece to sport a circular display, with this, LG's G Watch R, hot on its heels just a few months after the Moto 360's release. Depending on your aesthetic taste, the G Watch R may well be the best smartwatch yet. But just because the hardware is ready, doesn't necessarily mean that the Android Wear software is too.
What Is It?
A circular, £220 (~$350) smartwatch running Google's wearable operating system, Android Wear.
Who's It For?
Those that can't be bothered to take their phones out of their pockets to check on every Android notification as they come in. Fitness fanatics who want a wrist-based heart-rate tracker. Fans of Casio G-Shock watches. People who hate right angles.
G/O Media may get a commission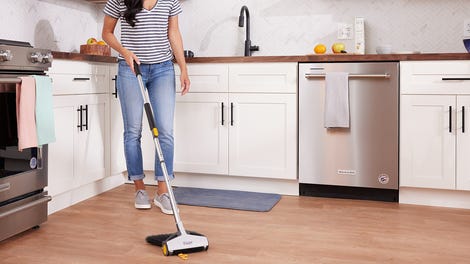 BOGO 50% Off
Flippr - BOGO 50% Off
Design
Whereas the Moto 360 went for a minimal look with just the smallest of bezels, the G Watch R tries a different tack, aping the chunky design of sports watches like Casio's G Shock range. It's a little taller and considerably wider than the Moto 360 as a result, but no heavier or any less comfortable than the aforementioned "traditional" digital watch brand's wares. As looks likely to be the defining point in the smartwatch market, it's all a matter of taste — I found the G Watch R to be comfortable and light enough for everyday wear, but I also can't imagine wearing it inconspicuously with a suit (which I probably could with the Moto 360, for instance). Neither is "right" or "wrong" in their approach, and I expect them to split opinion if sat side by side.
The G Watch R's perhaps-naive stylistic choice however is to etch hour markings onto its black, round, metallic bezel. It can make certain custom watch faces look a little odd, and doesn't even complement all of LG's own pre-set watch face designs. The presence of a fake crown by the quarter-past-the-hour mark is welcome however — though turning it doesn't offer any controls, long pressing it is an easy way to get to power functions and brightness levels.
Flip the watch over and you'll find a heart rate sensor sat in the middle of the watch's rear, alongside some contact pins for charging the G Watch R in its wireless cradle. It snaps into the power dock with a satisfying magnetic click too, so there's no chance of it slipping out unexpectedly. As for the strap, it is black "genuine leather" (with those very words embossed somewhat garishly onto the underside). It's a little stiff at first, but after a week wearing it, I can feel it starting to soften up. I'm not a fan of its clasp (it's a little difficult to slot the short fastener into the notches on the strap), but thanks to using standard sized straps, you could swap the one that comes with the G Watch R out for any off-the-shelf option that you desire. The smartwatch face piece itself is IP67 rated (30 minutes underwater to a depth of one metre), so it's safe to wear out in the rain, even if swimming with it on would probably be pushing your luck.
It's the screen though that's the real stunner. Unlike the Moto 360 whose thin bezel necessitates a "flat tyre" chunk of dead space at the bottom of its display to house the driver, the LG G Watch R sports a true 360-degree circular screen. That's why the chunky bezel is there, hiding all the driving gubbins and leaving you with just usable display area. A P-OLED, the 320 x 320 1.3-inch screen has a 245 PPI. That's not super-sharp in smartphone terms (and slightly smaller than Motorola's alternative), but gets the job done here attractively, with deeper blacks on show than the greyish Moto 360's LCD. Bright, you're able to view the G Watch R screen in direct sunlight without any problems, and it is responsive to the touch despite being relatively small and deeply set in the bezel. One thing's for certain with either the Moto 360 or LG G Watch R though — a circular display looks way, way cooler than a square one.
Using It
If you're going down the Android Wear smartwatch route, you're going to need an Android Phone to go with it — they're pretty much useless otherwise, and the LG G Watch R is no different. Any Android handset will do regardless of manufacturer, so long as it's running Android 4.3 or above — I paired mine with a HTC One M8 without problems after a quick trip to the Play Store to download the Android Wear app. iPhone or Windows Phone users, you're obviously out of luck.
Once fired up however, it's business as usual as far as Android Wear goes. Google so far has been keen to maintain a fairly tight level of control over how its wearable operating system works and looks. So apart from some custom watch faces, LG's G Watch R works almost identically to how previous Android Wear watches have.
The majority of the time with the G Watch R will be spent browsing through Android Wear-optimised Google Now cards. These are contextually aware, so if you've got a meeting coming up in your schedule, you'll get a little notification on the watch telling you about it. Swiping up from the bottom of the display will let you browse through all the notification cards that are currently vying for your attention, swiping right to left shows options relating to the card and swiping left to right will dismiss it. (This took me a while to get my head around — surely it's more intuitive to swipe left to right to drag in options? I accidentally swiped away a few useful cards getting used to this. Maybe I'm just an idiot…)
Tap the watch face and you'll turn on Android Wear's voice command option. Saying "OK Google" will throw up a list of available voice commands, and from there you can browse what phrases will register, and then speak them into the G Watch R. Voice recognition was good, understanding my cockney tones nine times out of ten. But it was disappointing not to be able to control every option with voice commands — though I could ask the watch to set an alarm for instance, I'd still have to scroll through and tap the time I wished it to go off on, rather than just saying the hour and minute. Dictating a message was handy though, and I could see that being useful when walking down a busy street.
LG's pre-installed watch faces are attractive and varied. With 24 on offer in total, they range from minimalist, slightly esoteric designs to straight-forward 12-hour armed faces and digital options. Some have extra functionality too, offering world-clock times in multiple cities, or even showing the phases of the moon. Many use a red, white and black colour scheme, which complements the hardware design nicely. Of course, there are plenty of other options available to load onto the watch too from third-party developers.
Finding your Android Wear apps is a little confusing initially. You have to activate the voice command and then ask the watch to "Start" the app of your choosing. I'd have prefered the option of placing an app as a permanent shortcut somewhere below the Google Now cards, but that's not possible. The likes of Gmail, Hangouts, Maps and Calendar come pre-installed, while there's also an app that ties into the heart rate monitor included on the watch. You can also use an app to monitor a step goal, but not much else, so you may want to head over to the Play Store for some more robust fitness-tracking options. Remember though that not all third-party Android Wear apps have been designed with a circular screen in mind, which can cause visibility issues in some cases. But the catalogue of wrist-based apps is growing every day. I found a free metronome app, complete with wrist buzzes for every beat, very useful whilst playing guitar — it was functionality that wouldn't be possible in any other form factor and showed that, with a little thought, Android Wear apps can offer some uniquely helpful tools.
I can't think of anything more frustrating than a laggy watch, and thankfully, the G Watch R dodges that bullet. With a 1.2GHz Snapdragon processor and 512MB of RAM the LG G Watch R has no problems diving around its menus and interface, swiping through Google Now cards and firing up apps without any issues.
Like
The LG G Watch R feels like a proper watch which just so happens to be smart. It's futuristic, but not showy about it — the last thing I want is strangers on the tube peering over my shoulder every time I give my wristwatch a glance.
No Like
But look they will, once you start talking at the thing. Despite what decades of sci-fi movies or Dick Tracy comics may have told you, you look like a dick when barking voice commands into a watch. It's a credit to LG that the only serious issues I have with the G Watch R actually lie with Google's Android Wear OS, rather than LG's hardware.
It really didn't take long for the novelty to wear off and for me to start wondering, well,what's the point? I still love the idea of Android Wear, but that's the thing — I love the idea more than the current reality of it. All too often when using the G Watch R, I couldn't do what I'd hoped to without pulling my phone out. For maps, fitness regimes and setting the odd reminder or alarm it's great. For practically everything else it seemed more convenient to just pull my phone out and use that — Android Wear would inevitably tell me that that's what I'd need to carry out the task I required anyway. Maybe it's just me, but I at least want the option of doing most Android-based tasks direct from the watch itself, or it just becomes a >£200 way of reminding you that yes, you own a smartphone.
Test Notes
— In an ideal world, we'd have smartwatches that run for a week or longer without needing to charge. But unless you opt for an e-Ink number like the Pebble, you're not going to approach anything near that long. The LG G Watch R performs as good as any other smartwatch with a similar display though, if not better. You should only need to charge it every other night unless you're absolutely glued to its screen — which is apparently half as often as you'll need to charge the Apple Watch. With a 410mAh battery, its P-OLED (plastic OLED) draws only minimal power when it's in its darkened dormant "Ambient Mode" state, only springing into action at brighter settings when you raise your arm. This way, it can display a low-power (and "always-on") watch face without eating into the battery too significantly. There's the option of turning the always-on mode off too, if you prefer ultimate battery preservation, but from my experience it'll make little difference.
— I found the notifying vibration buzzes of the G Watch R to be a little weak, to the point where I missed a few important messages for having left my phone in my bag.
— The circular screen causes the text in some default Android Wear apps to be cut off near its edges. It was never so bad as to be unreadable, but I found it disproportionately annoying. It just feels a little bit sloppy, and shows that there's a little way to go yet before developers will have completely wrapped their heads around the best way to display information on a round display.
— There's no GPS in the G Watch R, which may not have been a big deal when it was being developed, but is a bit of a shame now as Google's latest Android Wear update (revealed last week) adds support for GPS. While you can still piggy-back off your phone's GPS connection, if you're going off on a hike or bike ride, you'll still need to keep a (potentially-bulky) smartphone with you if you want to track the route.
Should You Buy It?
The LG G Watch R's hardware is ready for your wrist. Android Wear? Not so much. As far as smartwatches currently go, the G Watch R sits in the top tier. It may even be the best, if you like its black chunky look, which I'm sure many will. But for me, Android Wear is just too limited at present to be worth your time. That may change relatively soon as the platform matures. When it does, the G Watch R will be ready to take pride of place at the end of your arm.
LG G Watch R Specs
• Operating System:Android Wear
• Screen: 1.3-inches, 320 x 320 P-OLED
• Processor: 1.2 GHz Snapdragon 400 processor
• Memory: 512MB RAM
• Storage: 4GB
• Connectivity:Bluetooth 4.0
• Dimensions: 46.4 x 53.6 x 11.1 mm
• Weight:62g
• Battery Life: 410mAh
• Price: £220 (~$350)
---
This post originally appeared on Gizmodo UK, which is gobbling up the news in a different timezone.