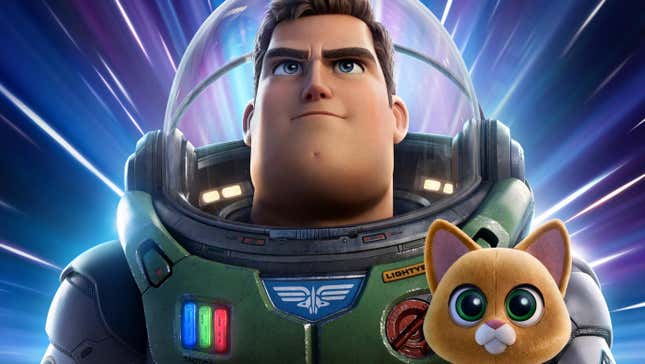 At the start of 2022, few films felt like as sure of a bet as Lightyear. It was a new film from Pixar, a company known for its high standards in terms of story, and was part of the Toy Story franchise, one of the most beloved animated series of all time. And yet, from the first day the film was announced, everyone was a tiny bit confused about it—and eventually, it ended up being a major box office disappointment.
What Exactly is the New Movie, Lightyear?
The question at the time was what, exactly, is Lightyear? It's a question we talked about a lot on this site and the movie itself very succinctly answers in its first few frames. But that the movie actually needed explaining at all is why Pete Docter, the current Chief Creative Officer of Pixar, thinks it didn't live up to those lofty expectations.
"We've done a lot of soul-searching about that because we all love the movie," Docter told the Wrap in an extended interview. "We love the characters and the premise. I think probably what we've ended on in terms of what went wrong is that we asked too much of the audience. When they hear Buzz, they're like, great, where's Mr. Potato Head and Woody and Rex? And then we drop them into this science fiction film that they're like, What? Even if they've read the material in press, it was just a little too distant, both in concept, and I think in the way that characters were drawn, that they were portrayed."
"It was much more of a science fiction," the Oscar-winning director of Up, Monsters Inc. and Inside Out continued. "And Angus [MacLane, director], to his credit, took it very seriously and genuinely and wanted to represent those characters as real characters. But the characters in Toy Story are much broader, and so I think there was a disconnect between what people wanted/expected and what we were giving to them."
You have to imagine Docter hits the nail on the head here. Disney announced Lightyear in late 2020 and at that time we thought it was a movie about the "Real" Buzz Lightyear. Evans himself tweeted, "And just to be clear this isn't Buzz Lightyear the toy, this is the origin of the human Buzz Lightyear that the toy is based on." Which, we later found out, wasn't the case. It was, in fact, the movie Andy from Toy Story watched that made him want the Buzz Lightyear toy. This then opened up many more questions, all of which MacLane was happy to answer, but it didn't make anyone's understanding of the movie clearer. So, even coming from Pixar and Toy Story, that kind of confusion didn't make for an easy sell. As a result, Lightyear ended up grossing only $118 million domestic and $226 million worldwide. In comparison, Toy Story 4 grossed $434 million domestic, $1.1 billion worldwide.
Have you watched Lightyear? Do you think it works? Let us know.
---
Want more io9 news? Check out when to expect the latest Marvel, Star Wars, and Star Trek releases, what's next for the DC Universe on film and TV, and everything you need to know about the future of Doctor Who.