NSA whistleblower Edward Snowden and the organizers behind the Snowden Treaty yesterday spoke to a gathering of tech journalists and activists in New York about the next step in the global fight for the right to data privacy.
The Treaty on the Right to Privacy, Protection Against Improper Surveillance and Protection of Whistleblowers—or the "Snowden Treaty,"—is the brainchild of David Miranda, Brazilian journalist, civil rights campaigner, and partner of Glenn Greenwald. Greenwald's the reporter who helped bring Snowden's revelations of widespread NSA spying to the world's attention, and is the co-founder of investigative journalism site The Intercept.
Dalia Hashad, an attorney with the campaign's agency, began today's conference by discussing how we are facing an "unprecedented mass invasion" of privacy, but there is also similarly unprecedented pushback from civilians.

The Mass Surveillance Arms Race
Snowden, who joined us live via link from Moscow, spoke about the need to move forward in a world now accustomed to his revelation of huge government spying operations. In the wake of his work, he said, governments are "empowering themselves at the expense of the public." He made clear that these are not just countries "like Iran"—that this is happening in places like Australia, Canada, the U.K. and France. Programs to expand surveillance are billed as public safety initiatives, but when the programs are investigated, there's scant evidence they do anything of the sort. In the U.S., Snowden pointed out, mass surveillance has never never made a concrete difference in a single terrorism case.
G/O Media may get a commission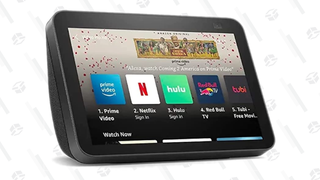 Snowden believes the true motivation behind mass surveillance is adversarial competition between countries—whoever has the most data from spying (both on their own citizens and the international community) is in the strongest position. And even if programs are launched with genuinely good "public safety" intentions against supposed foreign threats, Snowden warned that they inevitably come back to impact us at home. "This is a global problem that afflicts all of us," he said. "How do we assert what our rights are, traditionally and digitally?"
This is where Miranda and the Snowden Treaty come in. Back in 2013, at the height of Snowden hysteria, Miranda was detained at Heathrow airport for nine hours and interrogated by seven agents—essentially because he was Greenwald's partner and had been working with Laura Poitras, the director of Academy Award-winning Snowden documentary Citizenfour. The detention served as a wake-up call to Miranda that harsh government tactics could be used against ordinary people—that it "could happen to any of us."
Privacy Rights Start at Home
In the years since Snowden's NSA disclosures, corporations have taken steps to protect and encrypt their data against government interference—as a direct response to public demand for it, Miranda believes. Now we need a similar public interest demand for a treaty that would codify how governments use surveillance and treat whistleblowers. The treaty was "developed by experts in international law and legal experts on Internet freedoms and surveillance." Miranda believes this treaty could help ordinary citizens to protect themselves the same way corporations shield themselves now.
Then Greenwald joined us, speaking via link from Brazil. He believes the treaty initiative is crucial to build support for a digital right to privacy. More important is the treaty's emphasis on protection for whistleblowers. Snowden is viewed as a hero worldwide, but many countries who admire Snowden repress their own whistleblowers. Greenwald, and the Snowden Treaty, would see whistleblowers given international protection, freedom from prosecution, and guarantees of asylum. Greenwald pointed out that most treaties are negotiated behind the scenes, but on these matters, "public engagement is vital." The treaty campaign offers the chance for worldwide engagement.
I asked Miranda what regular citizens should be doing to get involved—should they be lobbying politicians about the Snowden petition, participating in social media, protesting in the street? He said it's essential that we "demand electeds get involved" and would love to see social media engagement (online forums to debate the treaty are pending, soon to be live), he also sees this as an "in house" issue. We should be talking about data privacy and the Snowden Treaty to our friends and family—to our parents, who might be older than the Internet generation and not understand the extent of spying, to our children or younger siblings, who have grown up in a world where it feels like the norm. He envisions a grassroots spread of information regarding the initiative: start at home, at school, at the office, in a bar. "We all have to do this," said Miranda. "This is our role."
Still Just a Dream — But a Good Dream
It seems like the Snowden Treaty, which is still in draft form and not yet public, is partly an idealistic dream. The campaigners say they are in discussions with several potential signatory countries as well as human rights groups. However, and it's possible more widespread support for the initiative will begin to emerge as the campaign kicks into gear. Some nations might be interested in signing or supporting such a treaty purely to show their opposition to U.S. policy. Meanwhile, corporations like Facebook and Google are in what campaigners called a "serious war" with governments over enhanced privacy and encryption standards.
If there is enough public interest generated to demand changes for individual people, the Snowden Treaty gives them the means. But to see it enacted, ultimately the group would need U.N. support.
Many brilliant people are engaged in the creation of the Treaty and its ongoing initiative, and we're excited to see if they can raise awareness about data privacy and whistleblower protection, two critical issues of our times. "The media needs to further the debate," we were told. I'm doing my part—now it's your turn to check out the Snowden Treaty. You can read about their plans here and follow them on Twitter @Snowdentreaty. The treaty may seem like a dream now, but it's one that deserves to become reality. Stranger things have happened, like Edward Snowden's impossibly brave actions on behalf of us all.
[Snowden Treaty; video from event; Treaty summary]
Top image: Kena Betancur/AFP