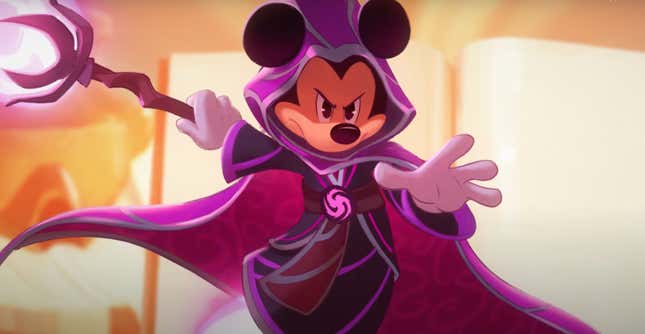 Upper Deck sent out a press release today stating that it is suing Ravensburger over the publication of Disney's Lorcana, which it alleges was stolen from an Upper Deck original game by a game designer previously contracted by Upper Deck. Lorcana is a trading card game that has already received a lot of hype from both Disney collectors and trading card game enthusiasts.
"We invested significant time and resources to develop a new and novel trading card game. Our current leadership values the importance of protecting intellectual property of both Upper Deck and its licensors," said Upper Deck president Jason Masherah in a press release. "We want gamers and fans to continue enjoying and having access to unique, innovative and immersive trading card games. We encourage competition in the industry, but also strongly believe in playing by the rules to ensure the gaming community benefits from the different creative choices by each manufacturer."
A Ravensburger spokesperson said to io9 via email, "Ravensburger has not been served with a complaint and thus cannot speculate on potential legal matters. We at Ravensburger stand behind the integrity of our team and the originality of our products."
Later, after reviewing the claim, Lisa Krueger, Sr. Communications Director, Ravensburger North America sent this statement via email. "We at Ravensburger stand behind the integrity of our team and the originality of our products. The baseless claims filed this week are entirely without merit, and we look forward to proving this in due time. In the meantime, our focus continues to be on developing and launching a fantastic game in August."
The complaint outlines how a single employee, the contracted lead designer of an in-progress Upper Deck product called Rush of Ikorr, left Upper Deck in the middle of the project. He then went to Ravensburger and began working on Lorcana. While proving ownership of mechanics is difficult—as many game mechanics cannot be copywritten—Upper Deck is claiming that this former employee used previously developed work to develop Lorcana. They point not only to the timeline of employment but also the very similar base mechanics of both games.
io9 will continue to follow this story as it develops and will update this piece as necessary.
Updated 6/8, 9:05 PM: Added Ravensburger's response and additional details on the complaint.Updated 6/9 10:40 AM: Added an additional response from Ravensburger.
---
Want more io9 news? Check out when to expect the latest Marvel, Star Wars, and Star Trek releases, what's next for the DC Universe on film and TV, and everything you need to know about the future of Doctor Who.