Lucasfilm just released a brand new Star Wars book following the adventures of Darth Vader. But this book won't give you any insight into Jedi mythology or the man once known as Anakin Skywalker. It's a children's book and, in fact, the first Star Wars picture book not tied to a cinematic film.
It's called Are You Scared, Darth Vader? and it's written and illustrated by Adam Rex. The book teaches kids about fear in a fun, relatable way with a decidedly Star Wars spin.
"The original theatrical release of Star Wars is literally the first movie I remember seeing in a theater," Rex told io9. "I was four, which was probably too young? For a while I thought Darth Vader was a robot. But I ate and breathed the action figures and early picture books and pop-up books. I had all the cantina extras nobody really wanted but they settled for because the stores were sold out of Luke and Han."
G/O Media may get a commission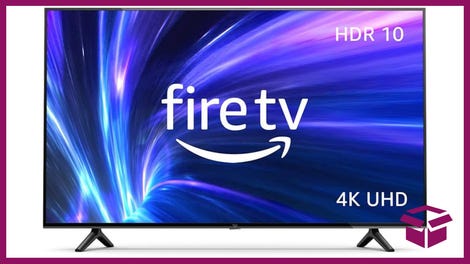 42% Off
Amazon Fire TV 50" 4K Smart TV
When Lucasfilm approached the prolific illustrator and author about making a Star Wars book for Halloween, saying yes was a no-brainer. It was also a daunting task.

"I ended up pitching a few broad ideas as well as an early draft of Are You Scared, Darth Vader?" Rex said. "As an idea, it has one of those unsatisfying origin stories where I think the title came to me while waiting for a stoplight and I sat down to figure out what kind of book might have a name like that."

As you see in the images above and below, the book follows creatures trying to figure out what scares Darth Vader. The answer is, almost nothing. Almost.
"The biggest theme that emerged as I worked on the book is that Darth Vader is an intimidating villain, but he's your intimidating villain," Rex said. "He lives in your book, your DVD player, your imagination. He's your action figure to toy with."
This is an interesting way to put it, considering that to make sure his drawings of Darth Vader lived up to official Star Wars standards, that's exactly what Rex used as a reference: an action figure.
"I imagine my drawings must have had to pass through a lot of hands before they were approved," he said. "I went with a pretty faithful representation anyway with a Black Series 6-inch figure as one of the best models I've ever had."
One model the book does break with is Star Wars canon. This book, obviously, never happened in Vader's history. It's just a fun, educational book for kids. Michael Siglain, the executive director of publishing at Lucasfilm, explained how the company approaches each differently.
"With direct film tie-ins, publishing strives to make sure those titles enhance, support, or retell the films in exciting and dramatic ways," he said. "With books not directly tied to the films, but tied to the larger saga, we have opportunities for new and different approaches to the stories we can tell. Examples of this include our current Jedi Academy books, our Shakespeare Star Wars books, and, obviously, the spooky Are You Scared, Darth Vader? The one common denominator in all our titles is that they're authentically Star Wars."

And ultimately, that's how Rex views the book: Not as some crucial piece of Star Wars, but as something that feels "Star Wars" and will help make the franchise feel special for kids.
"[My son] is young enough that when I started reading him sketched-out dummies of the book he hadn't seen any of the movies yet," Rex said. "He had some interest in the characters but wasn't ready for the stories. But he loved the book, and I really believe it helped him to decide, 'Okay, this is my dad's thing but now it's my thing, too.'"
Are You Scared, Darth Vader? is now in stores.