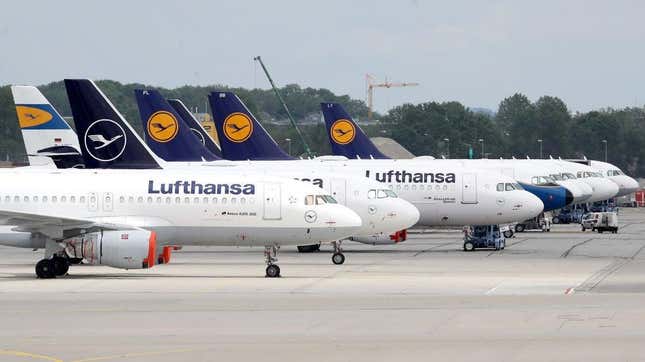 Thousands of Lufthansa Airlines passengers were stranded in Germany on Wednesday after an IT outage shut down half of its inbound and outbound flights. The company confirmed the outage on Twitter and Bloomberg reported that several Deutsche Telekom AG fiber optic cables were cut during construction at the Deutsche Bahn rail station in Frankfurt.
The outage resulted in more than 120 flight cancelations and nearly 80 delays as of mid-day Wednesday, according to Flight Aware, The New York Times reported. Lufthansa encouraged affected passengers to rebook their travel on trains or book a different flight later in the day. Frankfurt is a major airline hub for international travel, serving as the largest airport in the country.
Lufthansa confirmed the cause of the outage in an email to Gizmodo, saying "During construction work in Frankfurt, fiber optic cables belonging to a telecommunications service provider were damaged." The company said on its website that all Frankfurt flights were suspended while some flights in and out of Munich were also canceled and recommended that passengers should not travel to the airport.
Deutsche Telekom spokesman Peter Kespohl told Bloomberg that Telekom had repaired two cables thus far and is working to repair the others but did not specify how long the process would take.
Lufthansa said in its email that it "expects the situation to ease further over the next few hours" and expects its flight operations to largely resume and be back on schedule on Thursday. The company added that passengers who booked "domestic flights can switch to Deutsche Bahn until Sunday."
Telekom said in a Twitter post that it will be extremely difficult to repair the cables because of the amount of damage affected at the site. However, Lufthansa told Gizmodo that its "flight operations are currently stabilizing" and "departures are also possible again in Frankfurt."
The company suggests passengers refer to its app or website to check on their flight status before setting out for the airport and apologized once again, saying, "We regret the inconvenience this will cause our passengers."
The outage comes two days before a planned one-day strike at a number of airports in Germany including Frankfurt and Munich. Lufthansa said on its website it expects its flights will be affected alongside Lufthansa Group flights, and the flights affected by the strike will be released to the public on Wednesday afternoon.