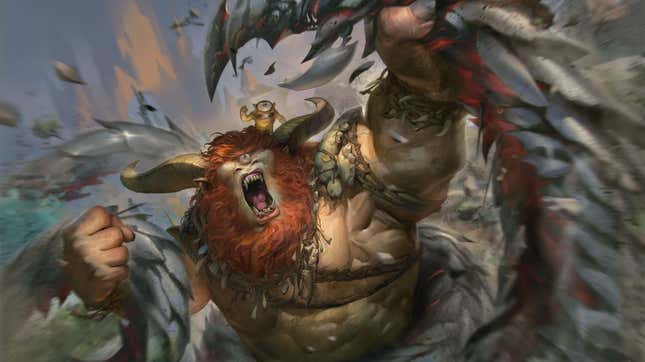 The Multiverse is at stake in March of the Machine, Wizards of the Coast's new Magic: The Gathering set. It's coming out next month, but you can get a look at the striking art from the set right here.

Here are the details of the story and setting: "The March of the Machines has commenced. The Phyrexians are ready to conquer the entire Multiverse. Commanding the charge is Elesh Norn. Phyrexia had success invading the plane Mirrodin, and now they're taking the fight everywhere. In order to travel across the multiverse, they've activated their greatest weapon: Realmbreaker, the Invasion Tree. Through its sprawling branches they send their mechanical legions to convert all planes. From Kamigawa to Ikoria the contagion proliferates. Realmbreaker's gnarled branches are puncturing the surface of every plane. The stakes have never been higher, and everyone is rising to the defense of their home. But whose home will survive the invasion, and whose home won't?"
To dig even deeper into the world of March of the Machine—which will feature a new card type and other enticements for players—you can visit Magic Story or tune into the newly relaunched MTG Story podcast on Spotify. Here's a trailer for the new set that'll also help get you into the mood:

Watch the Trailer for Magic: The Gathering's New March of the Machine Set
Watch the Trailer for Magic: The Gathering's New March of the Machine Set
And if you're not a Magic devotee but you dig cool fantasy art, well, we've got you covered here. Click through to see art from March of the Machine, which will be released on April 21. Preorder details are available here.