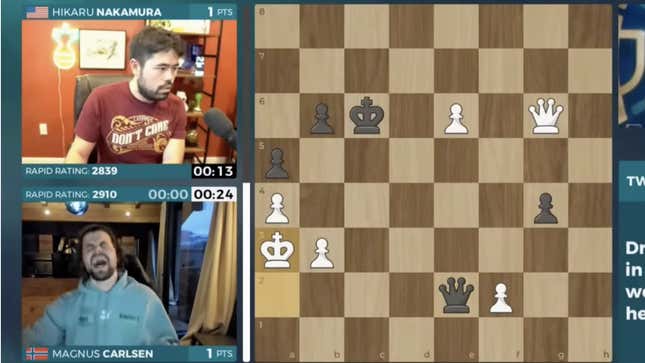 Magnus Carlsen lost his final match as world champion with a slip of the mouse during Thursday night's game against his longtime rival, Hikaru Nakamura. Carlsen made it to the Armageddon round, to face off against Nakamura after their previous two games ended in draws. Carlsen has defended his title as world champion since 2013 but elected not to defend it this year, citing a desire to make way for a "new generation."
Boogeyman's Director Talks Working on Bigger Budget Horror
As the clock on the screen ticked toward zero, Carlsen clicked on his queen to move her into a position that may have set him up to win the game, but instead dropped the piece early, putting his Queen in a position for his opponent to take her. Carlsen screamed out in frustration as Grandmaster David Howell yelled, "What's happened there? Magnus has mouse-slipped!" Grandmaster Robert Hess shouted, "Unbelievable!"
Nakamura compared the game to the MLB in an interview with Chess.com and said, "It's like comparing the New York Yankees and the Boston Red Socks. I mean, the Red Socks won a World Series in 1918; they didn't win again until, I think it was, 2004." He continued, "You know, the last couple years, I found a way to play well … I think the main thing is I don't fall apart against Magnus. In the past, I would've fallen apart very quickly," CNN reported.

Armageddon rounds of professional chess are lightning-speed rounds that guarantee a winner and puts the competitors into a frenzied state as they struggle to beat the other while racing against the clock. The player with the white pieces is given more time but if it ends in a draw, the competitor playing the black pieces is chosen as the winner. Carlsen, who was playing white, would have been given a spot in the tournament final where the winner receives $30,000. Carlsen walked away from the Armageddon competition with $15,000.
The virtual Armageddon chess round was not the first time Carlsen gave up a win in the final moments of a game, having done it at the Oslo Esports Cup last year. Carlsen made a similar mistake against Quang Liem Le of Vietnam. Howell, commentating on that tournament as well, announced for the first time, "Magnus has mouse-slipped!" Fast forward to Thursday's chess match, and Howell was once again uttering those fateful words.
Nakamura is known as a rising star in the chess world and was considered to be one of the only few players with enough talent to eventually beat Carlsen. Nakamura is the most popular chess streamer on Twitchwith more than 1.8 million followers on Twitch and excels at speed chess formats.
"You're trying to defend, defend, defend, and he can't win every match," Nakamura told chess.com after winning against Carlsen, CNN reported. He added, "I know [Carlsen's] the greatest player of all time, but he can't win every match! Somebody can't just get lucky every single time. It was just nice for a change to have something go my way."