Proposition Q, an upcoming ballot measure to rid San Francisco's streets of homeless encampments, has divided the city. One figure firmly on the side of "screw the homeless and their tents" is Zachary Bogue, the Silicon Valley investor and husband of Yahoo CEO Marissa Mayer.
As the Guardian reported earlier today, Bogue is one of several tech bigwigs who donated to Housing Not Tents, a pro-Proposition Q campaign. The $2,500 donation can be found buried in the group's campaign filings.
The documents in which Bogue's name appears cover the period from January 1 of this year until September 24. Bogue made his donation on September 15.
Other donors named in the filing include Michael Moritz, a partner at venture capital firm Sequoia Capital, and investors William Oberndorf and Ron Conway.
G/O Media may get a commission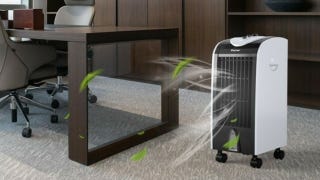 Save $10
Evaporative Portable Air Conditioner Cooler with Filter Knob
All three men gave $49,999, which roundly bests Bogue's donation, though "bests" perhaps isn't the right word to use, because Proposition Q has been resoundingly criticized for its approach to San Francisco's homeless population. The measure would give people living in homeless encampments around San Francisco 24 hours to vacate their tents; it does mandate that the city provide "transportation assistance back to loved ones, temporary shelter or permanent housing" before scrapping an encampment. But as the San Francisco Chronicle points out, that doesn't mean much when many of the city's shelters can't spare a bed. (The Chronicle advised readers to vote against the measure, which will appear on ballots on November 8.)
"With Proposition Q, we're just taking away someone's tent and making them sleep on the cold concrete," Jennifer Friedenbach, executive director of the Coalition on Homelessness, told the Guardian. "They're not going to disappear."
Yet that's apparently exactly what many tech "luminaries" seem to want. Bogue and company certainly aren't the first Valleyites pushing to have homeless people shoved out of sight, and they won't be the last. The homeless population, after all, is an eyesore for well-heeled San Franciscans, and a reminder that income inequality is alive and well in 2016. More to the point, it also refutes the idea that Silicon Valley's penchant for "disruption" will magically fix a broken system.
We've reached out to Bogue for comment, and we'll update if we hear back.