Marjorie M. Liu, writer of Dark Wolverine and the Dirk and Steele novels, stops by to talk about writing for comics and blending romance and SF in this rerun of Episode Four of The Geek's Guide to the Galaxy.
Image by Annie Leibovitz
The Geek's Guide to the Galaxy is hosted by John Joseph Adams and David Barr Kirtley.
You can download the MP3 for this episode here, subscribe to The Geek's Guide to the Galaxy podcast feed here, and browse other episodes here.
Read on for this episode's fabulous SHOW NOTES! (Note: Show note time signatures may me slightly off, as the show was re-edited prior to this rebroadcast — it's the director's cut! This episode originally aired on January 25, 2010 on Tor.com.)
G/O Media may get a commission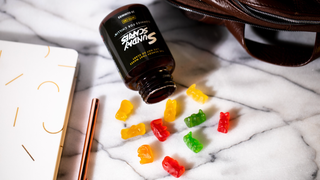 10mg CBD Gummies (22-Count)
Introduction
0:38 Dave and John introduce the show
Interview: Marjorie M. Liu
00:45 About Marjorie M. Liu
02:00 Interview begins
02:14 Early influences and the decision to write full time
05:38 On her first novel, Tiger Eye, being turned into a video game by Passion Fruit Games
06:27 On leaving law for fiction
08:03 About the Dirk and Steele and Hunter Kiss series
12:35 Asia, science, and seeing the world through the eyes of a traveller
14:34 The state of science fiction and fantasy in China
17:21 On fan fiction
18:58 Writing for Marvel Comics
21:26 Clarion Writers Workshop
23:16 Current favorite authors, and meeting Robert Jordan
25:02 What's out and what's next: novel A Wild Life, a short story in the upcoming anthology With Great Power, and a new Dirk and Steele novel, Stars Below
26:34 Upcoming comics and Dark Wolverine
29:41 The Five Cat Death Squad and a taxi service for poodles
31:29 End of interview
Dave and John talk about Comics and the legacy of the Spinner Rack
31:45 Dave and John discuss their own introductions to comics
36:18 Barriers to entry in comic book reading, and how graphic novels and the internet have changed the landscape
38:33 The vanishing home town comic store
41:06 Superhero movies, and Dave has some advice for movie makers
44:47 Getting kids into comics
46:31 People in costumes
54:13 The Tick and Too Much Coffee Man: comic book parodies
57:52 Show wrap-up
Next week: Brian Dunning of Skeptoid!
Thanks for listening!
John Joseph Adams is an anthologist, a writer, and a geek. He is the bestselling editor of the anthologies By Blood We Live, Federations, The Improbable Adventures of Sherlock Holmes, The Living Dead (a World Fantasy Award finalist), Seeds of Change, andWastelands: Stories of the Apocalypse. His most recent books are The Living Dead 2 and The Way of the Wizard, and he is currently assembling several other anthologies, including Brave New Worlds and The Mad Scientist's Guide to World Domination. Barnes & Noble.com named him "the reigning king of the anthology world," and his books have been named to numerous best of the year lists. In addition to his anthology work, he worked for more than eight years as an editor at The Magazine of Fantasy & Science Fiction,and is currently the editor of Lightspeed Magazine and Fantasy Magazine.
David Barr Kirtley has published fiction in magazines such as Realms of Fantasy, Weird Tales, Lightspeed,Intergalactic Medicine Show, On Spec, and Cicada, and in anthologies such as New Voices in Science Fiction,Fantasy: The Best of the Year, and The Dragon Done It. Recently he's contributed stories to several of John's anthologies, including The Living Dead, The Living Dead 2, and The Way of the Wizard. He's attended numerous writing workshops, including Clarion, Odyssey, Viable Paradise, James Gunn's Center for the Study of Science Fiction, and Orson Scott Card's Writers Bootcamp, and he holds an MFA in screenwriting and fiction from the University of Southern California. He also teaches regularly at Alpha, a Pittsburgh-area science fiction workshop for young writers. He lives in New York.
Snownotes compiled by (former) podtern Christie Yant
Friend us on Facebook and follow us on Twitter. If you enjoy the show, please consider making a donation via PayPal.