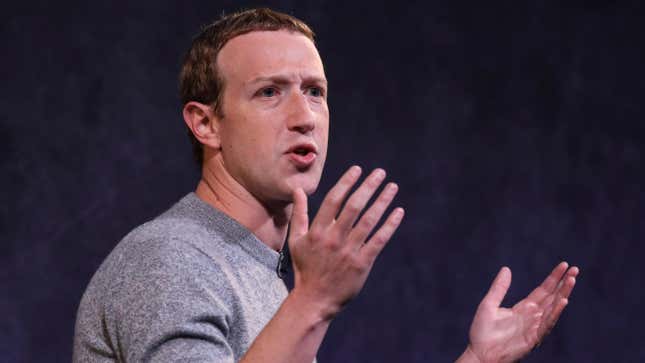 Meta CEO and avid Brazilian jiu-jitsu practitioner Mark Zuckerberg wants you to know that he definitely didn't get choked out at a competition last month. But, if you have the video of Mark Zuckerberg getting choked out at a Brazilian jiu-jitsu competition last month, please send it to Gizmodo.

The New York Times reported on Friday that Zuckerberg, who began training in Brazilian jiu-jitsu during the pandemic, was choked out last month during his first, and potentially last, competition in the sport. At the event in Woodside, California, Zuckerberg faced off against an unknown contender when referee, José Lucas Costa da Silva, a veteran fighter, halted the match after he heard Zuckerberg snoring, a sign that he had passed out. Shortly after the New York Times' piece was published, Zuckerberg told the outlet that he never lost consciousness.
"That never happened," Zuckerberg wrote to the Times in an email. Zuckerberg's coach Dave Camarillo, a popular jiu-jitsu instructor in the Bay Area, said the referee mistook Zuckerberg's grunts as snores. Elana Widmann, a spokesperson for Meta doubled down on Zuckerberg's denial to The Daily Beast, claiming "At no point during the competition was Mark knocked unconscious. That never happened." Widmann also claims that a Meta employee who watched the competition says that Costa da Silva apologized to Zuckerberg for calling the match early.
Unverified claims from a massive corporation and its CEO aside, the big question on everyone's mind is: Where's the video of Mark Zuckerberg getting strangled? In the age of vigilante paparazzi and social media clout, someone had to have been filming the match—the Daily Mail has some footage from the competition, but not of Zuckerberg allegedly losing consciousness. We live in a world where cat lovers were able to track down a cat murderer over the Internet and Taylor Swift fans incessantly hunt for Easter eggs on TikTok, so someone has to have the video of Zuckerberg flailing around and snoring.
If you have the video of Mark Zuckerberg getting choked out, please send it to tipbox@gizmodo.com