A Community star might be in the new Evil Dead. What do action figures reveal about the plot of The Dark Knight Rises? Damon Lindelof breaks down the Alien connections in Prometheus. Plus lots more on Bryan Fuller's Munsters reboot!
Spoilers from here on out!
Top image from Prometheus.
The Dark Knight Rises
I can't believe there's an inside source on this, but someone is claiming to have seen an early list of the figurines Mattel is making for their 6" Movie Masters line... wait, no, I actually can totally believe that. Anyway, the list reportedly features all the expected names — Batman, Catwoman, Bane, Joseph Gordon-Levitt's police officer John Blake, and Alfred — along with one unexpected entry: Ra's al Ghul. Assuming this is true - and again, I'm kind of dumbfounded we're now debating the veracity of a list of action figures — this raises the question of whether the figure will look like Josh Pence, who is playing the young Ra's in the film, or Batman Begins actor Liam Neeson, who has been widely rumored but still completely unconfirmed to appear in this third film. Either way, this might indicate that Ra's al Ghul plays a larger role in the film than previously expected... or it could just mean that kids really love Liam Neeson and/or Josh Pence, which I could also totally believe. Anyway, as always, grains of salt at the ready. [Comic Book Movie]
The movie has also been given an official release date of July 20, 2012 in both 2D and IMAX formats. [Coming Soon]
---
The Avengers
Tom Hiddleston discusses the moment where Loki has to just throw Tony Stark out a window:
I did get to throw Tony Stark [Iron Man's alter ego] through a window - which you can see in trailers — all I can tell you is he deserved it. He's got a sharp tongue, that Tony Stark. I had the privilege of throwing Robert Downey Jr. out of a window. So, it's pinch-me moments all the way.
G/O Media may get a commission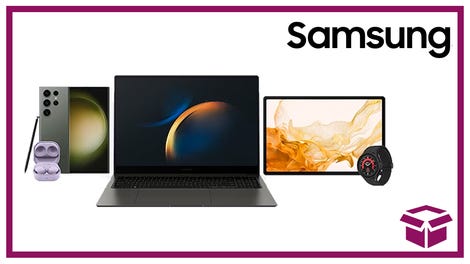 24 hour deals
Discover Samsung - Daily Deal
---
Prometheus
Writer Damon Lindelof talks some more about this movie's connections to director Ridley Scott's original Alien, something the just released trailer didn't make any clearer:
"One part of me sort of wants to be working on something where I can say, 'This is exactly what this is' without being secretive or mysterious but I think that with the genesis of this a couple of years ago - when Ridley announced that he wanted to make an 'Alien' prequel - that's where this began and where it's evolved to is this conversation: Is it or isn't it [an 'Alien' prequel]? And I think this little sort of dance that we're doing basically existed prior to anybody seeing anything. Now that people are seeing stuff I think the material kind of speaks for itself. If you're looking at it through the prism of 'I want it to be that,' you'll notice the way the word 'Prometheus' comes up [in a way that resembles the 'Alien' classic logo] or look at the production design and the way the whole thing feels. If you're looking at it from the perspective of wanting it to be something more original, I think the trailer accomplishes that by being pretty cool to people who have never even seen 'Alien.'

"It's accomplishing what we set out to do. I wish that we didn't have to be so mysterious about it but mystery can be a good thing as long as you've got the goods to back it up. In this case, when the movie arrives, one of the most visionary filmmakers in the history of cinema will be putting his cards on the table and I'm just kind of standing behind him with my arms folded."
---
The Hunger Games
It turns out Taylor Swift and the Civil Wars aren't the only ones contributing original songs to this movie's soundtrack. Other contributors will reportedly include the Decemberists, Win Butler and Regine Chassagne of Arcade Fire, and star Jennifer Lawrence herself, who will sing the song "Rue's Lullaby." Again, how much, if any of this, will actually find its way into the movie itself is an open question. [EW]
---
Robocop
Director Jose Padilha promises this movie will retain all the social commentary of Paul Verhoeven's original film, and it will indeed stay in Detroit to do it:
"The satire element of RoboCop is, I think, needed today. That kind of social, aggressive satire I haven't seen done well in movies lately. And it's almost like the politics and violence in the world is asking for this: 'Someone please make some satire now!' So we're going to keep that edge."
---
Gravity
Alfonso Cuaron's stranded astronaut movie, in which Sandra Bullock and George Clooney are the lone survivors of a destroyed space shuttle desperately trying to reach the International Space Station before their air runs out, has been given a release date of November 21 in 2D, 3D, and IMAX formats. [Coming Soon]
---
John Carter
Here's another image of star Taylor Kitsch as John Carter. [Comic Book Movie]
---
The Hobbit
Bilbo Baggins actor Martin Freeman discusses the first scene he filmed, which just happens to be one of the most crucial scenes in the film:
"The first thing I filmed was finding the ring in Gollum's cave. It's good to know, but not play, the importance of the Ring. I'm trying to put a bit more heaviness into it. It's not all comical."
Gollum actor and the film's second unit director Andy Serkis also talks about Freeman's performance in the scene:
"It was great for Martin to start off with that chamber piece. He could find Bilbo within the confines of a one-on-one scene. It was almost stranger for me: for the first couple of days it felt like I was doing an impersonation!"
Finally, Freeman notes the particular challenges of playing Bilbo Baggins, which involves a lot of unusual hobbit-related prosthetics:
"In the normal run of things, there'd be quite a lot going on for me. I've got ears, the wig and the feet, which three more things than an actor normally has… But then I look over at the dwarves and see what they're lugging! They're absolute troopers."
The movie's release date is now officially set for December 14 in 2D, 3D, and IMAX formats. [Coming Soon]
---
Jack the Giant Killer
Warner Bros. has released a promo image for Bryan Singer's gritty fairy tale movie, which has been given a release date of June 15, 2012 in 2D, 3D, and IMAX formats. There's also an official synopsis below. [Coming Soon]
"Jack the Giant Killer" tells the story of an ancient war that is reignited when a young farmhand unwittingly opens a gateway between our world and a fearsome race of giants. Unleashed on the Earth for the first time in centuries, the giants strive to reclaim the land they once lost, forcing the young man, Jack, into the battle of his life to stop them. Fighting for a kingdom, its people, and the love of a brave princess, he comes face to face with the unstoppable warriors he thought only existed in legend-and gets the chance to become a legend himself.
---
Dark Shadows
Here's a high-res version of the cast promo photo that was released a while back. Also, we now know the movie's release date is May 11, 2012.
---
Evil Dead
This is just a rumor, so take it with all due grains of salt, but two actress reportedly auditioned for roles in the film. Specifically, Community costar Gillian Jacobs and Friday Night Lights actress Jurnee Smollett reportedly auditioned, though it's not known if they were trying out for the part of Mila, the drug-addicted young woman who kicks off the demonic possessions, or one of the other characters. [Destroy the Brain]
---
Journey 2: The Mysterious Island
Here are some promo images for the sequel to Journey to the Center of the Earth, which will be released February 10, 2012 in 2D, 3D, and IMAX.
---
Wrath of the Titans
[gallery 5871505?]Here are some promo images for the upcoming Clash of the Titans sequel, which has been given a release date of March 30, 2012 in, yes, all three formats. Coming Soon]
---
Woman in Black
Here are some promo images from the Daniel Radcliffe starring horror movie. [ShockTillYouDrop]
---
True Blood
Writer Alexander Woo says he's currently working on episode four of the fifth season, and he will be doing another episode later on this season. He also talks generally about what to expect in season five:
We have gathered to discuss the storylines and themes of Season 5, and scripts for the first half of the season are being written. We are preparing to shoot Episode 1 right now...I've read episodes 1 and 2, and I'm very excited about them...Some of the things that people loved in the first four seasons of 'True Blood,' you'll be getting more of. And there will also be some surprises that will hopefully delight everyone. We have a sense of what the fans have already enjoyed in the previous seasons, and we're doing our best to give our fans more of that but also leave some room for novelty and surprise.
---
Chuck
Here's a new promo photo for this Friday's episode, "Chuck vs. the Baby", featuring Cheryl Ladd as Sarah's mother alongside Zachary Levi's Chuck. [multipleverses.com]
---
Grimm
Here's the official description for episode eight, "Game Ogre", which airs January 13 and kicks off the second half of the season:
AN ESCAPED FUGITIVE'S MURDEROUS RAMPAGE LANDS AT NICK'S FRONT DOOR — An escapee returns to Portland seeking revenge against those who put him behind bars. His unusual strength and high tolerance for pain makes Nick (David Giuntoli) take notice. As the case escalates Nick and Juliette (Bitsie Tulloch) are put in danger, and Monroe (Silas Weir Mitchell) is called into action to help put an end to the convict's deadly rampage.
[KSiteTV]
---
The Munsters
A ton more details have come out about the Munsters reboot Bryan Fuller is working on for NBC. Assuming this isn't all an elaborate work of fan fiction, check out these details on the rebooted Herman Munster, which seems to give a pretty fair idea of what to expect from this show:
Think Dawson Leery's compassionate, all-supportive dad (from "Dawson's Creek") crossed with Frankenstein's monster. Was created by Grandpa; no other man, besides one he puts together, would of course be good enough for his daughter Lily. Doesn't much look like Fred Gwynne's Frankenstein-looking fellow from the original. This Herman is more of a stud – albeit one with scars. He's a skinny, but rather attractive man in his '30s – though he's stitched together from the body parts of other men and has a mechanical steampunk heart – one that is breaking down. Though Herman does get a heart replacement – thankfully a few of those 'dead hobo's' turn up under the swimming pool – he's not doing well (he loves too much and it's killing him). Believing he has no choice if he wants Herman to live, Grandpa finds a nice man with a "good heart" for Herman (if you get my drift). A big old softie that adores his family, Herman is his son's best friend and has a passionate relationship with the Mrs.
Look, I liked Pushing Daisies as much as the next guy, but my goodness, if this is true... well, it sounds like it has all the makings of a misfire of David E. Kelley's Wonder Woman proportions, honestly. But hey, judge for yourself - there's much more at the link. [Moviehole]
---
Additional reporting by Natalie Baaklini and Charlie Jane Anders.