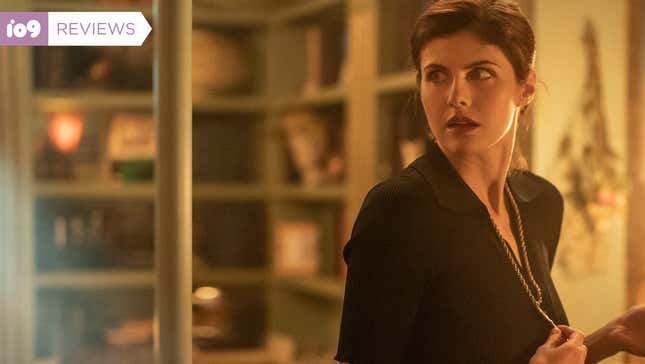 Never fully embracing its Southern Gothic roots and making some infamous sex scenes far less sexy, Mayfair Witches is a bland addition to Anne Rice's Immortal Universe, proving a disappointment after the absolute gem that was Interview With the Vampire.

Curtailing the sprawling generational epic of the original book and tamping down the gut-churning psychological horror into something much more palatable, AMC's Mayfair Witches is slow to start and never secures its footing in the first five episodes, resulting in a show that fails to create depth or excitement. In attempting to update the original trilogy of books, the show has instead produced a pale interpretation of a series that was difficult to love in the first place.

The fact is that The Lives of the Mayfair Witches trilogy—which comprises of The Witching Hour (1990), Lasher (1993), and Taltos (1994)—were never as widely beloved as Rice's Vampire Chronicles saga (although, I will happily admit that there are many out there who love these books, even over the vampire series). The plot revolves around a demon–Lasher–who attempts to cause the Mayfair family tree to curl inward (via incest, rape, possession, and other unsavory methods) in order to force the birth of a biologically perfect body for Lasher to possess. It is, to put it lightly, a deeply fucked-up supernatural Southern Gothic tale, and in the right hands, the adaptation could have been something magical, taboo, and perhaps even as raunchy as the work put in to make Interview With the Vampire one of 2022's best shows. Instead, Mayfair doesn't seem to know what to do with the unsavory bits of its source material, and instead focuses intently on Rowan Fielding (Alexandra Daddario) despite the fact that there is little about her character that makes her exciting to watch.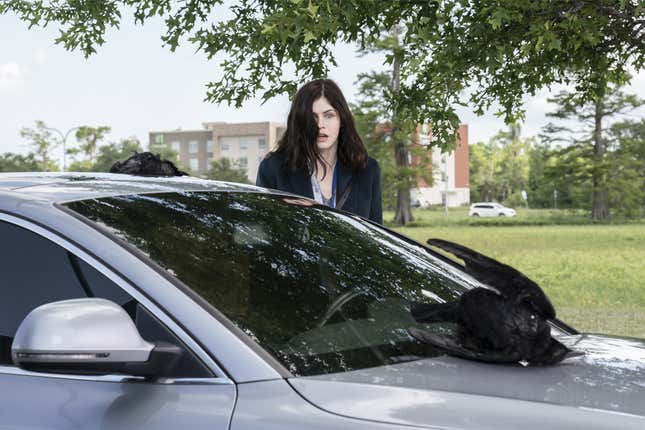 In the show, Rowan is defined by the two times in her life she's stood up to a man, and the writers assumed that was enough of a personality for the audience to enjoy for an entire series. Her storyline is terrifyingly banal; she's an adoptee who seems convinced that the weird things happening to her aren't coincidences but are somehow related to the family she's never met in New Orleans. When her adoptive mother passes away, Rowan decides to go to New Orleans and gets sucked into the drama of the Mayfair family. But amid murky inheritances and poor estate planning, Rowan finds herself entrusted with the family mansion. She also comes to the attention of the demon Lasher, who calls her the thirteenth witch, and the Talamasca, a society of magicians who are dedicated to keeping tabs on the supernatural—in Anne Rice's universe, that means witches, vampires, werewolves, and any number of people with magical powers.

I wish I liked Rowan more, but her character is watery and her motivations are constantly shifting, creating a season that quickly begins to feel aimless. It's unfortunate that Daddario cannot seem to find any energy in her performance either, Rowan's guarded stoicism never quite reaching Daddario's stunningly blue eyes. She is at her most exciting when she's playing off her Talamasca-assigned guardian, Ciprien Grieve (Tongayi Chirisa), who has the psychometric ability to touch an object and witness the past. "Sip" combines two characters from the books, (Aaron Lightner, a member of the British Talamasca, and Michael Curry, Rowan's husband) and his layered, conflicting loyalties bring out just how shallow Rowan's puddle of personality is.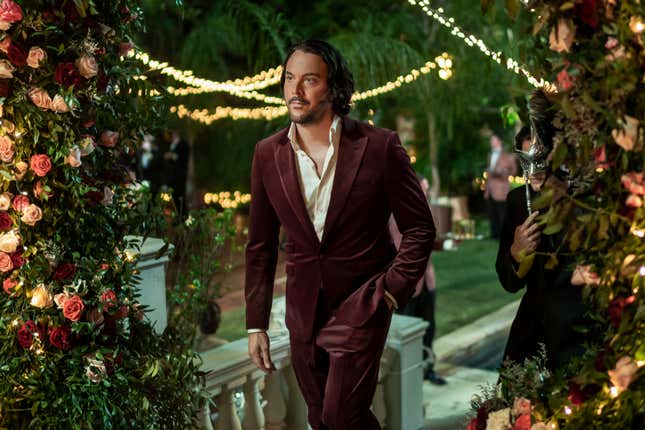 The most frustrating thing about this show is not Rowan, Sip, or the various members of the Mayfair clan fail to spark much interest, but in how the show under-utilized Lasher (Jack Huston). From the beginning of the series, nobody seems willing to talk about Lasher—but rather than adding to the mystery, it simply creates frustration as he slides in and out of dreams and darkness. He becomes annoying, a kind of nebulously all-powerful, mind-controlling asshole whose only purpose is to gaslight Rowan at various points in the series. Huston does what he can with the material provided, but just leering at girls from across the street isn't really that dramatically enticing. The bigger narrative issue is that Lasher's gaslighting doesn't work when someone can literally manipulate reality. Because there is no truth, no stability, and no emotion that the demon cannot change, Rowan becomes twisted around Lasher's little finger, but in the most dreary, agreeable way. There is no real anger, or extended conflict, or even remaining upset. She simply... goes along with it.

There's another part of this show that will disappoint many fans of Rice's original trilogy. The Lives of the Mayfair Witches did not focus exclusively on Rowan, and created a vast, family epic that spanned generations. While the show has some flashbacks to the original witch, Suzanne Mayfair, beloved characters like Julien and Mary Beth Mayfair are nowhere to be found. Not to mention that after the five episodes provided for review, none of these flashbacks actually connect to the main plot, making it difficult to care about these scenes at all.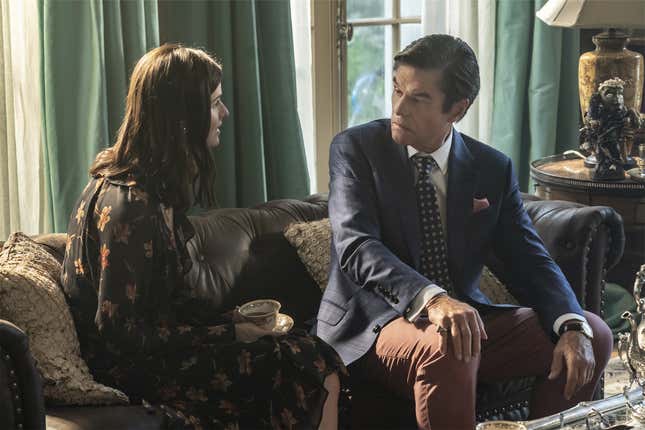 We are told of other Mayfairs as Rowan tours her newly-acquired New Orleans manse, but it's in passing, a nod towards the books that only book fans will care about or recognize. The curtailed ambition of the series results in a show and characters that feel self important without justification. There is little history or depth to the family, and without that extended sense of paranoia fostered over 400 years of demonic obsession, Mayfair Witches becomes a relatively standard haunted house horror with a poltergeist who seems very attached to linen suits.

Within the first five episodes we have nothing subversive, nothing racy, nothing that moves beyond swamp-standard horror of an evil house. There are a couple moments where the haunted house conceit works very well, but they are few and far between, and rarely culminate in something that pushes the plot forward in a meaningful way. Even the writers seem unsure of how to turn this story Southern, opting for a single jazz funeral and a lot of Spanish moss to prove the Nawlin's bona fides. That jazz funeral, by the way, leads to the most supernaturally interesting part of the series, which is then quickly forgotten in favor of Rowan making dopey faces at Lasher.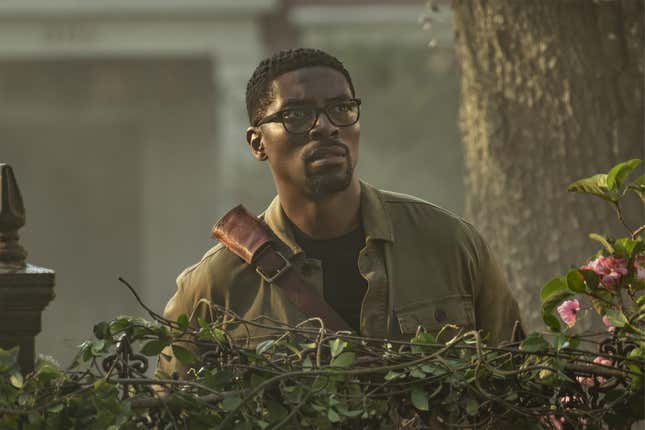 What I found most disappointing about Mayfair Witches is that there is little style to the show, it lacks language. The conversations are utilitarian, the lighting is bleak, the costumes are off the rack, the horror is mundane, and the sex is missionary. There is nothing remarkable about this show, and not even Rowan's exaggerated mid-flight phantom orgasm can't make up for the fact that every sex scene lacks the charged, unhinged, raw energy you want from a series that revolves around who's sleeping with a magical family's multi-generational, all-powerful demonic foil.

The whole show feels so uninspired that it makes me question why it was greenlit in the first place. AMC would have been better served by investing heavily in Interview With the Vampire and building the Immortal Universe out from a single, exceptional show, rather than rushing to create a multi-show franchise in the wake of its other big-name draws (notably The Walking Dead and Better Call Saul) ending in 2022.
At the end of five episodes, Mayfair Witches is a show without ambition or direction. It recoils from the truly taboo and horrific, resolves emotional hooks within thirty minutes of baiting them, as if afraid of the audience's recall, and refuses to widen its scope too far beyond its main character. If the last three episodes of Mayfair Witches hope to save the series from the burning house that is AMC's streaming cuts, it needs to start hauling skeletons out of the closet and making them pole dance. Literally nothing else could make this slow, pallid show interesting.
Mayfair Witches has its two-episode premiere on AMC+ January 8.
---
Want more io9 news? Check out when to expect the latest Marvel, Star Wars, and Star Trek releases, what's next for the DC Universe on film and TV, and everything you need to know about the future of Doctor Who.