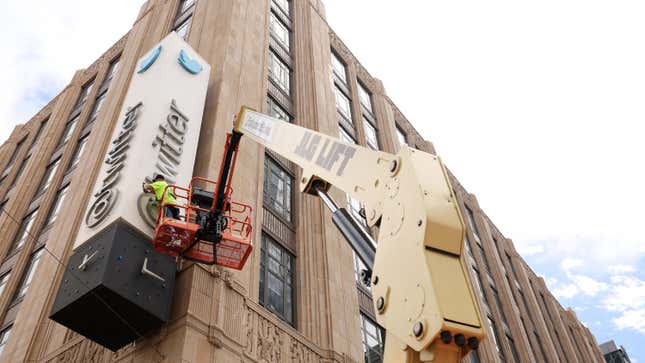 Despite Elon Musk's intentions to rebrand the bird app into a dull, bland, easily copied "X," the billionaire tech mogul might have a few roadblocks standing in his way since every company under the sun has already called dibs on the letter. There are hundreds of companies with a trademark on "X," and many could be incentivized to sue for infringement.
Did Elon Musk Regret Buying Twitter? | Walter Isaacson Interview
Patent attorney Josh Gerben told Reuters he counted close to 900 U.S. trademark registrations on "X" throughout a wide range of industries. Just within the tech sphere, Microsoft has a trademark on "X" because of its Xbox system branding. The company has owned that trademark since 2003, just a year after it released the first Xbox console. Meta also owns a trademark on an "X" logo for software and social media. That company also now has its own limp and increasingly lifeless Twitter competitor: Threads.
Twitter did not respond to Gizmodo's request for comment (which is perhaps better than sending us a poop emoji). The rebranding debacle has caused no small headache for the site still called Twitter. As the company was removing the logo from its San Francisco headquarters on Monday, local reporters said that the crane and crew were blocking traffic causing some confusion for self-driving cars. Police forced the crews to move on, and currently all that's left of the old signage is a big, bold "er" along with the old blue bird logo.
It hasn't been going great in terms of brand awareness, either. As Time reported, brand agencies were perplexed why any company would abandon such popular parlance like "Twitter," "tweet" or "retweet" in exchange for all this "X" messaging. Per that report, analysts claimed that the Twitter brand could be worth several billion dollars, and the site's owner could be flushing all that down the drain. And this for a company that Musk himself has reportedly said is worth half the $44 billion he originally paid for it.
A cursory search through the U.S. Patent and Trademark Office database reveals some of these logo patents were filed as recently as last week, just a few days before Musk started mentioning his intent to rebrand Twitter. Some trademark logos are as simple as a big "X" in a square box. Others from firms like Brand X Co. include a more stylized X that could compare to Musk's current choice of logo. That's despite the design bearing a strong resemblance to the Monotype brand font and the Unicode character (U+1D54F).
Companies could be incentivized to sue if they can claim there's brand confusion. Per Gerben, X Corp.—the company that now owns Twitter—has filed for a trademark on the Twitter name itself. If Musk finds the potential litigation is getting too hot, he does have the option to switch back.
But that's unlikely to happen considering Musk's attachment to the letter. Author Walter Isaacson told Axios that Musk had been planning for the X rebrand long before he finally agreed to purchase the platform. His intent, according to the biographer, is to create a "financial platform that helps anyone profit from creating content." That would also include letting reporters set up shop on the platform for people to support Patreon-style. So far the few folks to take up Musk on that idea have been folks like sullied ex-Fox pundit Tucker Carlson and increasingly right-wing mouthpiece Matt Taibbi.
Musk has said publicly he wants to get rid of "all the birds." He loves the "X" brand so much that he's naming the company conference rooms with the letter. The New York Times reported he's renamed conference rooms to "eXposure," "eXult" and "s3Xy," because the billionaire has apparently never left the early 2000s when leetspeak was still a thing.