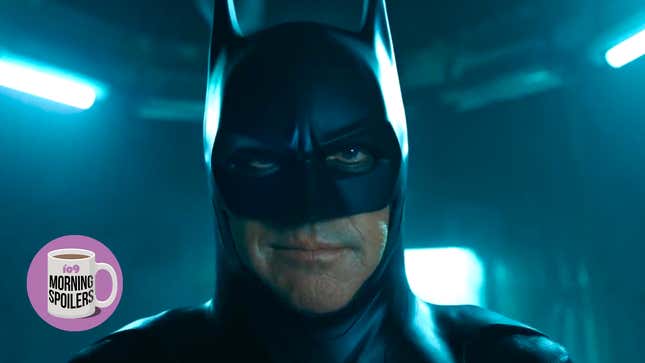 Amid WGA's extended strike—going onto week four, and strong about it!—it seems like many studios are hesitant to talk about upcoming shows. A lot of scraps here and there about casting and finished films, but it seems clear that until the Association of Motion Picture and Television Producers comes to the WGA's table to fairly bargain, not much news is going to happen. We've still got some bits of buried spoiler treasure, if you can dig spoilers, dig!
Who Should Be the New Doctor Doom? io9 Picks
---
Mortal Kombat 2
THR reports Tati Gabrielle is in "final negotiations" to play Jade in Mortal Kombat 2.
---
Ghostbusters: Firehouse
During a recent interview with Collider, Sigourney Weaver revealed she "wasn't asked" to reprise her role as Dana Barrett in the currently untitled sequel to Ghostbusters: Afterlife.
---
The Queen Mary
According to Variety, Vertical has acquired the U.S. distribution rights to The Queen Mary, a new period horror film from Dracula Untold director, Gary Shore. Set on Halloween in 1938, the film "chronicles the mysterious and violent events surrounding one family's voyage and how their destinies link up with those of another family onboard the ocean liner into the present day." Alice Eve, Joel Fry, Nell Hudson,William Shockley and Lenny Rush are attached to star.
---
The Flash

A new Flash featurette discusses Michael Keaton's return as Batman.
---
Transformers: Rise of the Beasts
Paramount has released three more TV spots for Transformers: Rise of the Beasts.
---
Jurassic Shark 3: Seavenge
Jurassic Shark returns for another adventure in the the trailer for Seavenge, coming to VOD this June 13.
---
The Swarm
Relatedly, Deadline reports The CW has bought the U.S. rights to The Swarm, an eight-part "eco-thriller" from Germany in which "an unknown enemy from the depths of the sea strikes back due to the reckless treatment of the oceans." Though an airdate has yet to be set, you're encouraged to enjoy this clip from the premiere of an episode in which various species of whale team up to eat the customers of a boat tour, not unlike real events of recent years.
---
Star Trek: Strange New Worlds
In conversation with SFX Magazine (via Comic Book), Akiva Goldsman suggested there will me more surprise Star Trek cameos in Strange New Worlds' upcoming Lower Decks crossover than expected.
I am as promiscuous as it comes when we discuss the crossing over into other series timelines. I delight in that. I think our rule is always it can't just be fanservice – which is not to say that we don't love servicing fans, but there also has to be a real storytelling get. Of which I think there are many. We had a really good time doing that and got to work with our extended family from the other show, both on camera and off. And of course Jonathan Frakes directed it. So in many ways it's a Star Trek melting pot, that episode. And there are more, but far be it for me to spoil…
---
Futurama

Collider has an official synopsis for the eleventh season of Futurama.
After a brief ten-year hiatus, Futurama has crawled triumphantly from the cryogenic tube, its full original cast and satirical spirit intact. The ten all-new episodes of season eleven have something for everyone. New viewers will be able to pick up the series from here, while long-time fans will recognize payoffs to decades-long mysteries – including developments in the epic love story of Fry and Leela, the mysterious contents of Nibbler's litter box, the secret history of evil Robot Santa, and the whereabouts of Kif and Amy's tadpoles. Meanwhile there's a whole new pandemic in town as the crew explores the future of vaccines, bitcoin, cancel culture, and streaming TV.
---
Riverdale
Elsewhere, Riverdale celebrates Halloween — again — in the synopsis for "Halloween II" airing June 7.
HALLOWEEN IN RIVERDALE — Veronica (Camila Mendes) decides to host a ghost show after learning that Riverdale doesn't celebrate Halloween the way she's use to in LA. Betty (Lili Reinhart) makes the most out of her night out with Archie (KJ Apa) and Reggie (Charles Melton), and Jughead (Cole Sprouse) makes a major discovery in a mystery brewing in Riverdale. Madelaine Petsch, Madchen Amick, Casey Cott, Vanessa Morgan and Drew Ray Tanner also star. Ronald Paul Richard directed the episode written by Felicia Ho (#711). Original airdate 6/7/2023.
[KSiteTV]
---
House of the Dragon
Set footage from the second season of House of the Dragon reveals a large CGI prop believed to be the severed head of the dragon, Meleys.
---
Fallout
We also have a few new photos from the set of the Fallout TV series at Amazon.
---
Secret Invasion
Nick Fury shoots Dermot Mulroney's helicopter with a rocket launcher in a new trailer for Secret Invasion.
---
Yellowjackets
Finally, the survivors may or may not make a new sacrifice to the Wilderness in order to improve their crappy lives in the trailer for "Storytelling," the second season finale of Yellowjackets.
---
Want more io9 news? Check out when to expect the latest Marvel, Star Wars, and Star Trek releases, what's next for the DC Universe on film and TV, and everything you need to know about the future of Doctor Who.